'Teen Mom OG': Catelynn Lowell Baltierra Responds To Pregnancy Rumors
Longtime stars of MTV's Teen Mom OG, Catelynn Lowell Baltierra and her husband, Tyler Baltierra, have been together since middle school.
As the only couple that's stayed together since the show started 10 years ago, they've certainly battled their share of rumors over the years, from pregnancy to divorce.
Most recently, it's been widely rumored that Catelynn Lowell Baltierra is pregnant again. She exclusively revealed to Us Weekly whether she and Tyler are really expecting another baby.
Read on to learn about Catelynn's plans for the future, whether she and Tyler want a big family, and, of course, where those pregnancy rumors originated.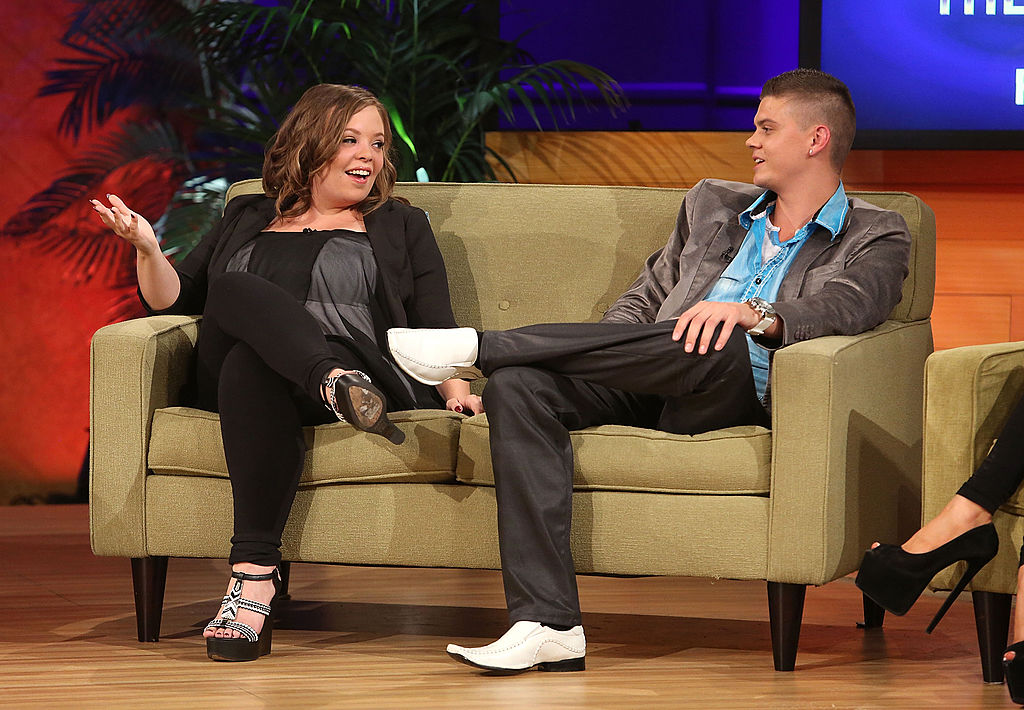 Catelynn Lowell says she's not pregnant
Catelynn sat down with Us Weekly on Oct. 9 to discuss the pregnancy rumors that have been hounding the Baltierra family for weeks.
The short answer? Catelynn Lowell Baltierra isn't pregnant. In fact, she and Tyler are using birth control, she told an Us Weekly reporter. "I am not pregnant and we are using birth control," she told the outlet.
The rumors may have started because of recent clickbait that paired a picture of Catelynn and Tyler with a "pregnancy announcement" caption. A few outlets picked it up, and a pregnancy rumor was born.
The Baltierras are hoping for a baby boy
Catelynn and Tyler, both now 27, were childhood sweethearts and became teen parents to baby Carly 10 years ago in 2009.
Carly was adopted by her adoptive parents, Brandon and Teresa Davis, as soon as she was born. The Baltierras' bittersweet, sometimes heartbreaking adoption journey was documented by MTV.
Later, Catelynn gave birth to daughter Novalee (nicknamed Nova), now four years old, and baby Vaeda, seven months. In Vaeda's pregnancy annoucement, Catelynn revealed that she suffered a miscarriage after Nova, making Vaeda their "rainbow baby."
After three daughters, Catelynn told Us Weekly that she and Tyler are hoping for a son at last. She added that, while they're "hoping" for a baby boy next, they'd be happy with any new addition to their growing family.
Catelynn and Tyler want only four kids
Although Catelynn Lowell Baltierra is not pregnant now, the Baltierras do hope for another child in the not-so-distant future. In her exclusive interview, Catelynn told Us Weekly, "We are thinking of having another when Vaeda is about one or two years old."
Still, although she and Tyler hope for a baby boy, Catelynn said they won't be having more than four kids total, even if they only ever have daughters. She told the outlet, "If we're meant to just have girls, I guess that's what we were meant to have."
The MTV star added jokingly that she already felt like she was "going gray with just two" kids, so a huge family was likely not in the cards for her.
Catelynn Lowell's mental health struggles
Catelynn has had her share of mental health struggles over the years. She often had second thoughts about placing her biological daughter Carly for adoption, wondering what might have been if she had raised her herself.
Catelynn and Tyler also struggled because of their difficult upbringing, as both of their parents dealt with severe addictions. Tyler's father, Butch, has been in and out of prison for his entire life. Catelynn's mother, April, also struggled with addiction, making her childhood chaotic.
Catelynn went to rehab several times for mental health issues
After Nova's birth, Catelynn experienced postpartum depression. She has since sought therapy both at home and in an inpatient facility in Arizona to manage her trauma history as well as her ongoing depression and anxiety.
Catelynn also went through deep pain and emotional distress after her miscarriage in 2017. She shared at one point that she developed suicidal thoughts after her devastating loss, for which she sought mental health treatment.
How Catelynn Lowell is managing motherhood
Despite her past struggles, with two young daughters at home, Catelynn says that she and Tyler are managing their home and family in Michigan well.
Although she said that Vaeda's conception was "a surprise" (a happy one!), Catelynn described her to Us Weekly as a "super chill" baby who is "easygoing" and "cuddly."
Catelynn Lowell Baltierra and Tyler Baltierra are still filming Teen Mom OG, so if Catelynn does get pregnant again, fans will probably be able to follow her journey to baby #4 on MTV. Their relationship seems stronger than ever, making the pair ongoing fan favorites.