'Teen Mom': Tyler Baltierra and Catelynn Lowell Shut Down Comments Saying Nova Has Abandonment Issues, Anxiety
Teen Mom OG's Tyler Baltierra and Catelynn Lowell have a complicated past. In a preview for an upcoming episode, Lowell spoke about how her temporary split with Baltierra was, ultimately, the right choice for them.
"I think it was good for me, looking back at it now, realizing if he ends up wanting to divorce me, I guess, whatever. I'll be sad but I don't f****** need you. I can do this on my own. If you were to leave, I could be a mom—I could be a bada** mom and not even give a s***," she said.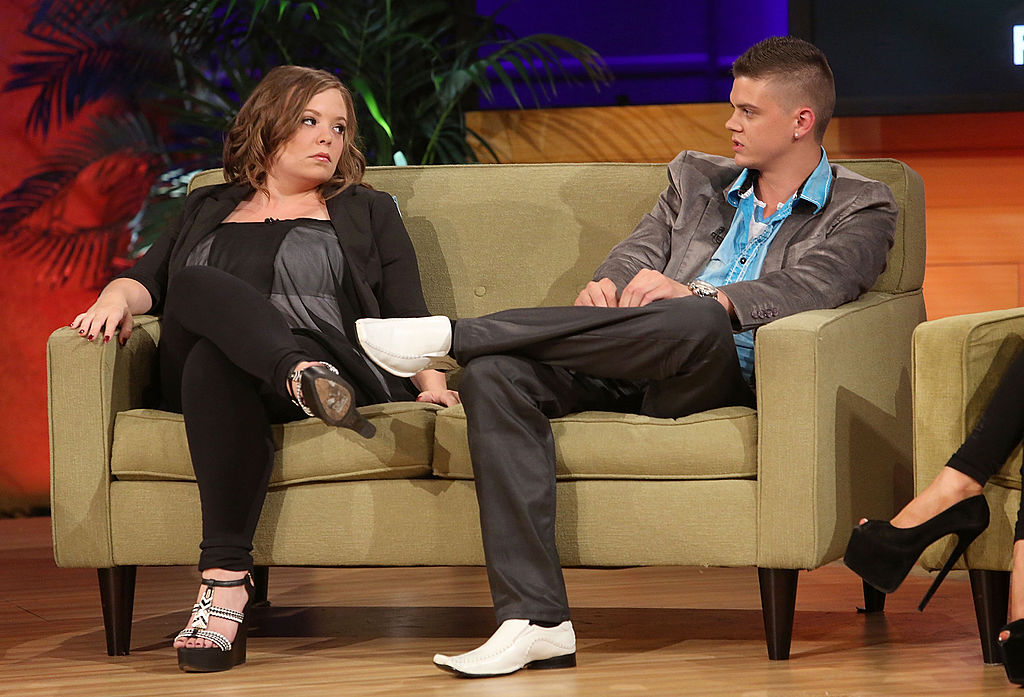 Apparently, she and Baltierra have been going to couples' therapy and are currently "in a good place."
"We're really opposite, but we have a lot of similarities. I just think really open, honest communication [works]," she told Us Weekly earlier this year. "I feel like some people are just meant to be with one another and I really just feel like that's him and I; we just really bond and click and connect."
The couple's up-and-down relationship typically grabs the attention of Teen Mom viewers but, recently, the couple received some negative social media feedback on their parenting.
On Monday night's episode, the couple's daughter, Nova, could be seen having a tantrum. Afterward, viewers took to social sites to suggest she could be suffering from "abandonment and anxiety issues."
Tyler Baltierra and Catelynn Lowell respond to comments about Nova having 'abandonment and anxiety issues'
"Wait…so a kid throws a fit nowadays & we're calling it 'abandonment anxiety issues'!? I must have not received that memo, but thank you to all of the social media child therapists for this new diagnosis," wrote 27-year-old Baltierra.
Lowell also responded to the criticism.
"Also Nova was FINE two minutes after I left! That was my first time by myself in MONTHS!!! And it was my birthday! If you are a parent you know that sometimes u need me time!" she wrote. "Love the block button! Keep on saying dumb crap so I see you and can block!"
She also made a point to thank her followers who continue to show her support:
"Also HUGE thank you to all my supporters I see you and I LOVE you!!!!!"
As Teen Mom OG fans can tell you, Lowell is no stranger to anxiety disorders. She's left several times to receive treatment for her anxiety and depression. On Monday's episode, she said "it's OK to not be OK."
"Don't be ashamed, talk to somebody, and find a therapist you like, even if you have to go through three," she said. "You can get through it and change as long as you are willing to put in the work. Remember that your past does not define you."
After her separation from Baltierra, Lowell says she's feeling stronger and more independent. Now that they're back together, she hopes their relationship will benefit from the mental health work she's been putting in.
"I grew a lot more independent during our separation, so now that we're back together, I don't want Tyler to feel like he's my caretakers again," she said. "I don't want Tyler to feel like he's walking on eggshells around me again, because I'm stronger than I was before the separation. So I want to communicate openly so resentment doesn't build up."
Read more: 'Teen Mom 2': Kailyn Lowry On Her Divorce: 'Nobody Cheated'