'Temptation Island' Casey Starchak Calls Show and Host 'a Joke' After Mark L. Walberg 'Liked' Questionable Tweets
Casey Starchak and his girlfriend Ashley Howland are one of the couples on USA Network's Temptation Island. In the beginning, Starchak was cocky and thought that Howland wouldn't have fun without her and assumed they would leave the island together.
However, that looks unlikely as Howland moved on to Ben Knobloch after watching Starchak say he wouldn't care if she dumped him. Seeing his girlfriend in bed with Knobloch upset Starchak, and the reality star punched his seat as well as cried almost the entire next day.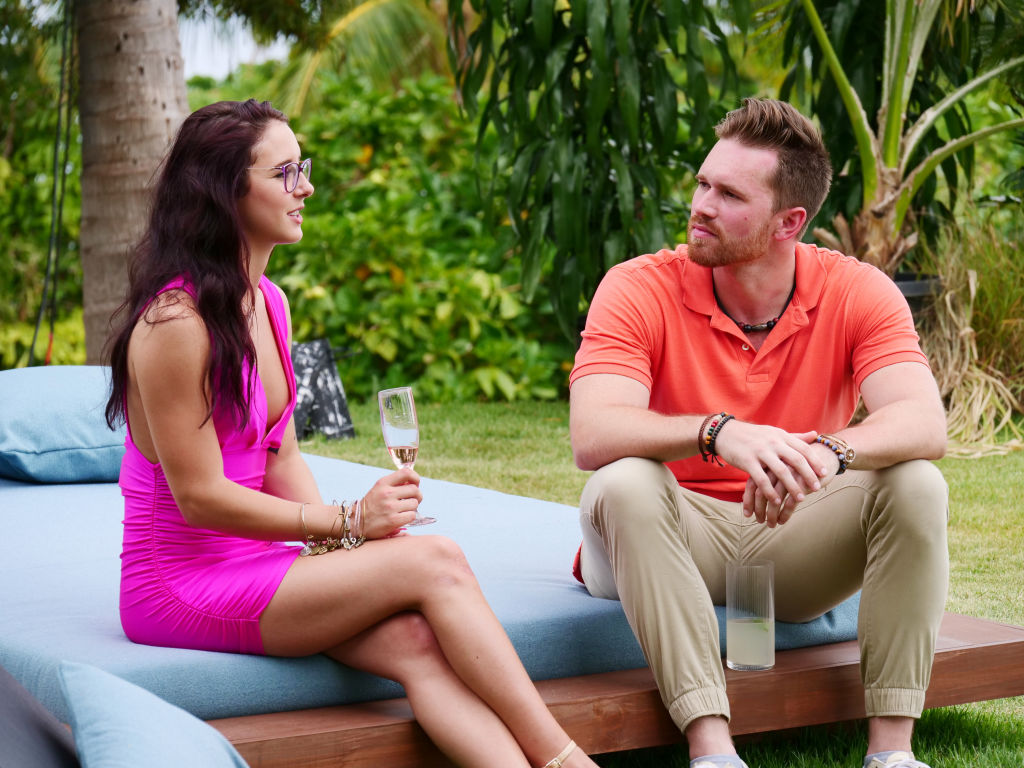 While some fans are happy that Howland may leave Starchak, others think she acted prematurely because he also told one of the girls that he wanted to marry Howland.
After noticing that host Mark L. Walberg liked tweets made fun of his situation, Starchak blasted the host on Twitter.
Casey Starchak called Mark L. Walberg out for 'liking' tweets
On Sunday, November 24, Starchak blasted the host for not being supportive of him. His first tweet claimed Walberg "pretends to be there for everyone" but only cares about "what will make USA [Network] the most money."
Starchak then included a screenshot of Walberg's "liked" tweets, showing one that made fun of him for crying after saying he would be fine if Ashley Howland left him.
He then found another tweet that Walberg "liked," where the Twitter user commented, "Pure comedy when a weak woman turns strong, and a cocky man turns weak," adding that Starchak can go home while his girlfriend continues "flourishing."
The Temptation Island star screenshotted it and wrote, "My boy Mark always supporting! He's a joke, and the show is a joke. #manipulationisland #sueme."
Evan Smith and Casey Starchak got into a fiery exchange
About three hours after Starchak's tweetstorm, Evan Smith, from Temptation Island Season 1, responded, telling him to "leave" the host "outta this" because Walberg has their "best interests." Smith also said Starchak should "take the L" and "would have showed up to the reunion" if he "had something important to say."
Starchak quickly shot back at Smith and asked him why he's "so invested" in their lives. Smith responded and advised the Temptation Island star to "pick your battles." Starchak then told the Season 1 contestant to "get the f**k out of here" because his "battles" are not Smith's business.
In a final response to Starchak, Smith clarified that he's only concerned about the reality star attacking Walberg and doesn't care about anything else relating to Starchak.
The Temptation Island contestant ended the tweet storm by saying he understands Smith's defensive position because Smith "made USA a lot of money." He later continued ranting about Smith calling him a "cheater" and "USA Network's b***h."
Mark L. Walberg responded to Casey Starchak
After Starchak told Smith to "get the f*k outta here," Walberg responded and apologized "for liking a meme that was insensitive." He said, "it was not on purpose" and "completely understands why he'd be angry."
A Twitter user commented, saying they didn't understand how it was not an intentional act because he "liked" multiple questionable tweets. Walberg responded, explaining he "likes nearly all show related tweets" and doesn't always pay attention to the content. The host also clarified that he did not agree with the meme, "likes Casey very much," and "completely respect his feelings."
An insider claims they have no idea "what is going on" with Starchak, but if he showed up at the reunion, "he would have been given ample time to speak his mind."
Watch Temptation Island Thursdays at 10 p.m. on USA Network.