'Temptation Island' Stars Kate Griffith and David Benavidez Reveal They're Still Together After the Show
After watching David Benavidez behave on Temptation Island Season 2, viewers were almost certain Kate Griffith would never take him back, and they applauded her when she stood her ground during the final bonfire.
However, the couple took to Instagram to confirm they are still dating.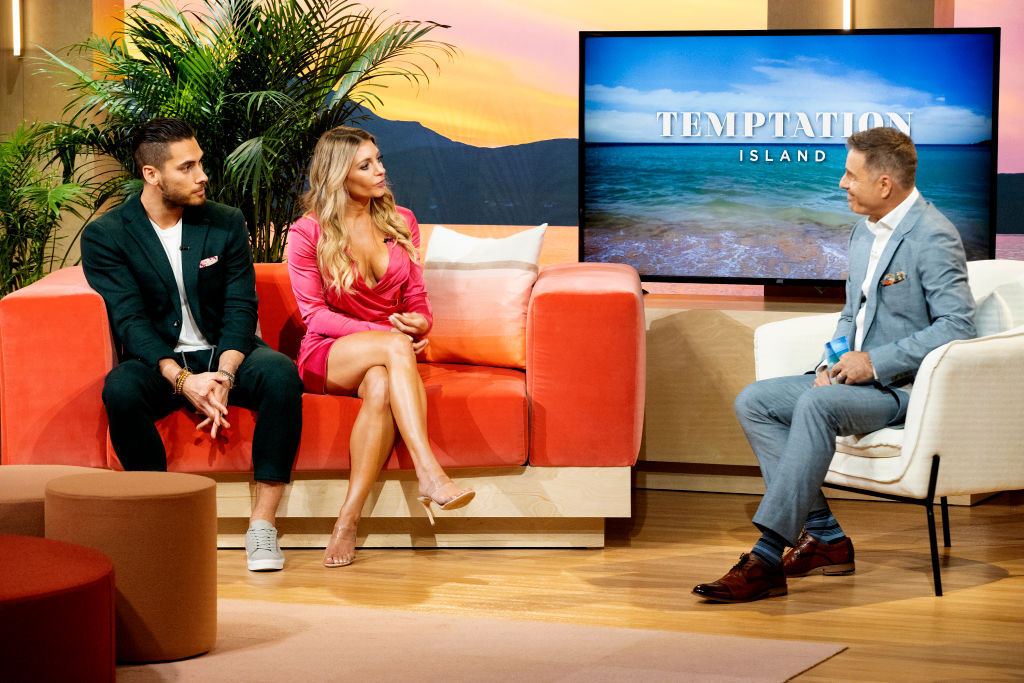 Kate Griffith and David Benavidez on 'Temptation Island' Season 2
New Jersey-based couple, Kate and David, dated for three years and lived together before arriving at the island. While they hadn't cheated on each other, both had been unfaithful in past relationships, causing feelings of insecurity and doubt.
Additionally, Kate is 34-years-old and ready for marriage and kids, but David is a few years younger and has difficulty being vulnerable with his girlfriend.
Therefore, the two came to Temptation Island to prove trust and figure out if they were ready for the next step. While Kate enforced boundaries with the guys in her villa, David showered with Samantha Hoffman and engaged in a "threesome."
Even though he initially expressed regret for his actions, David ended up falling for Toneta Morgan and chose to leave the island with her. After Kate saw David opening up to Toneta, she allowed herself to be vulnerable with Dominique Price and chose him for the overnight date.
Despite their connection, Kate decided to leave the island single and work on herself. A few months after filming wrapped, production contacted the cast for a reunion.
Kate Griffith and David Benavidez seemingly broke up
According to Samantha, she and David romantically saw each other briefly after the show before he abruptly cut things off with her. At the reunion, Toneta called him out for using her, and Samantha revealed she slept with David after leaving the island, which blindsided Kate.
She also opened up about a kiss they shared off-camera in the audio room. However, David denied the allegations and promised Kate he told her the truth about everything already as he wanted to work on their relationship.
In a Reality Steve podcast, Samantha claimed she didn't lie about their sexual encounter and sent Kate "receipts," including a video clip of a clock in David's bedroom. Nonetheless, the New Jersey native supposedly blocked Samantha and then decided to take David back.
Kate Griffith and David Benavidez confirm they are still together
Around the same time on December 31, Kate and David both posted a slideshow with pictures, including each other, proving the two are still going strong.
In Kate's post, she uploaded four photos of her and David wearing matching Christmas pajamas, and started by explaining she "took a break from social media."
Kate wrote a lengthy caption to her followers, saying she has "decided I owe no one answers as to decisions that I've made after cameras stopped rolling, real-life resumed, time and space were taken, and real conversations were had between David and I!"
She then ended her post by telling the viewers they "saw a glimpse" into her and David's life, and "are more than what reality tv has shown." Therefore, she encouraged her followers to "simply unfollow if you disagree with our decisions."
David posted five photos of the Temptation Island couple and echoed his girlfriend's sentiments in his caption. He also addressed other castmates, likely Samantha and Dominique who have done interviews about them, writing, "they were rejected both on the show and after the show and are now showing their true colors by resorting to saying ridiculous things about Kate and I in an attempt to get back at us."
Kate turned her comments off, but castmates, including Gavin Rocker and Casey Starchak, commented on David's post congratulating the couple.