Tennessee Titans Defensive Lineman Jurrell Casey Competes In Nacho Face-off and Talks About the Upcoming Season
This story was originally published on April 26, 2019.
The 2019 NFL Draft kicked off on Thursday in Nashville and while team officials have been busy making selections, some of the players have been hanging out with fans in the Music City giving them the ultimate NFL experience.
Tennessee Titans defensive lineman Jurrell Casey paid a visit to the Tostitos Cantina to compete in a Nacho face-off against a lucky fan before speaking to The Cheat Sheet about his nacho-building skills. He also shared his memories from when he was drafted and what he's looking forward to the most this season.
Casey remembers when he was drafted
The draft was held in Nashville for the first time this year.Sportscasting.com noted that a large temporary stage was set up at the intersection of Broadway and 1st Ave. in heart of the city not far from Nissan Stadium where the Titans play. That stage is where Commissioner Roger Goodell announces the picks and congratulates the draftees.
Casey recalled his memories from when he was selected in the third round of the 2011 draft. He described that day as a life-changing experience and was happy to be selected by the Titans.
"It changed my life a whole lot," Casey said. He called Nashville a fun place with great people who show love and support for their team.
Who he thinks is the Titans biggest threat in the AFC South
The Titans are in a solid AFC South division with J.J. Watt and the Texans, Andrew Luck and the Colts, and now Nick Foles and the Jaguars. So who does Casey see as his team's biggest threat?
"I don't believe any of those [teams] are our biggest threat," Casey said. "All of them are great competition."
What he's looking forward to most about the upcoming season
Casey suffered a knee injury late last season in a game against the Washington Redskins and was placed on injured reserve with a sprained MCL. When it comes to the upcoming season, the defensive tackle is looking forward to being out on the gridiron again with his teammates.
"The biggest thing is just getting back there on the field," he said. "After getting hurt to get back out there and back in the grind."
Casey also praised the Titans first-round pick Jeffery Simmons out of Mississippi State saying, "He's gonna be a great addition when he gets back out there on the field ready to go."
Simmons tore his ACL in February while training for the draft.
Casey explained that he's very excited to see what Simmons can do when he gets going and he knows 100% of the game plan.
Casey hung out with fans at the Tostitos Cantina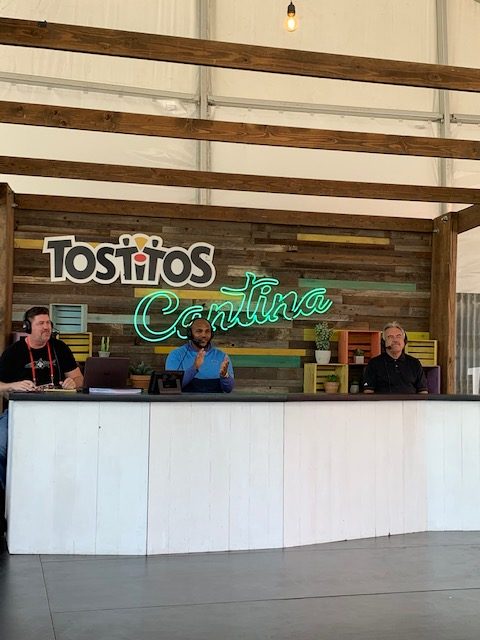 We know Casey is a force against his competition on the field but how is he at making nachos?
On Friday, Casey stopped by the Tostitos Cantina to compete in the iconic Nacho face-off. After he was done he stayed around to chat with fans for a while.
"It was definitely a great face-off with the fans out there and a good turnout," he said.
Tostitos, the official chip and dip of the NFL, is all about friends coming together to celebrate special moments.
Casey wanted to remind "fans around the country to make sure to stock up on your favorite Tostitos chips and dips for your NFL draft watch parties."
The Tostitos Cantina is open until Sunday hosting various players and more friendly nacho competitions so if you're in the area be sure to check it out.
You can follow Jurrell Casey @Jurrellc on Twitter and tattedmonster99 on Instagram.