'Real Housewives' Star Teresa Giudice Was at the Gilroy Garlic Festival Just Before the Tragic Shooting
The tragic shooting that occurred at the Gilroy Garlic Festival in California has left the entire nation stunned. While investigators are still searching for answers, one person is very thankful to be alive. Teresa Giudice, who stars on The Real Housewives of New Jersey, was at the festival the day before the shooting occurred. And today, she's counting her blessings.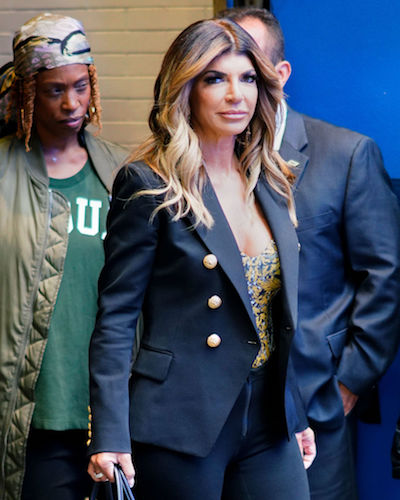 Giudice stars on 'The Real Housewives of New Jersey'
We all know Giudice as being one of the stars of RHONJ, but the past few years have not been easy for her. For more than a decade, Giudice and her husband, Joe Giudice, have been battling financial troubles that ended up landing both of them in jail. In 2013, Teresa and Joe were charged with committing various types of fraud, including mail, wire, and bank fraud. In 2014, both of them were convicted and sentenced to jail time; Teresa surrendered herself in January 2015 and was released just before the holidays that same year. Joe is currently serving the last month of his 41-month sentence. But the two have been battling with Joe's deportation back to Italy for several months now, too.
On July 28, a shooter opened fire at the Gilroy Garlic Festival in California
On Sunday, July 28, for reasons which still remain unknown, a shooter opened fire at the Gilroy Garlic Festival in Gilroy, California. According to CNN, six-year-old Stephen Romero was shot in his mother's arms and died at the hospital. 13-year-old Keyla Salazar also died in the shooting, along with 25-year-old Trevor Irby. The gunman was identified as 19-year-old Santino William Legan, who was fatally shot by police after killing three people and injuring more than a dozen. Right now, many questions are still unanswered.
Giudice had attended the festival the day before the shooting occurred
On Saturday, one day before the shooting, Giudice attended the festival to promote her cookbook as well as participate in the garlic cook-off, according to TMZ. She was photographed at the festival and now is feeling extremely lucky to be alive. She posted a long note to her Instagram, sending her thoughts and prayers to those affected. "I was at the festival yesterday with wonderful staff, volunteers, and many many families & I'm flooded with thoughts of them now as they navigate this tragic situation," part of her message read. "Prayers and love to the community of Gilroy tonight." Giudice's Instagram followers showed their support in the comments section and were glad to know the star was safe. 
Right now, there is no known motive for the shooting
There is an ongoing investigation into why the shooting occurred, and since police were forced to fatally shoot Legan, they're relying on evidence to provide answers. It could be a while before they draw a conclusion for why the tragic shooting happened, though possible links to the white supremacist movement have surfaced, according to the Los Angeles Times. It is also suspected that Legan purchased the gun in Nevada, then illegally carried it over state lines into California.