'Terminator: Genisys': Did It Kill the 'Terminator' Franchise?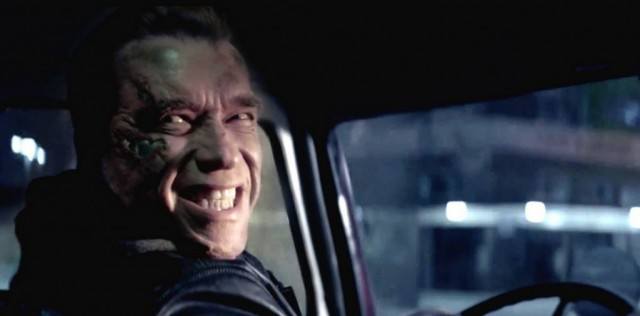 The Terminator will be back…or will he? Following the disappointing box office performance of this summer's Terminator: Genisys, the future of Arnold Schwarzenegger's long-running franchise is now being called into question – and not just by fans.
Genisys marked Schwarzenegger's first return to the famous role since 2009's Terminator Salvation, which received poor reviews and led the actor to briefly distance himself from the franchise. His comeback to the action series was widely hyped, with Paramount originally billing Genisys as the beginning of an exciting trilogy meant to revamp the franchise. The studio was so confident in the series future, it even preemptively dated the next two Terminator installments for 2017 and 2018. But it seems it's now changed its tune.
According to The Hollywood Reporter, the planned follow-up flicks are no longer a sure thing. Instead of charging forward with the two sequels, Paramount has reportedly decided to take a cautious, wait-and-see approach before moving forward with more Terminator films.
The news shouldn't come as a huge surprise, given that Genisys failed to live up to expectations upon its theatrical release. Since opening on July 1, the movie has grossed only $81 million domestically. It's fared better overseas, grossing nearly $200 million abroad. Though that's far from a complete box office bomb, it's also not nearly successful enough to ease the studio's hesitations – especially when considering that Genisys cost $155 million to make and tens of millions more to mar­ket.
As THR points out, Genisys's so-so performance at the box office makes it a "bubble" movie – a title whose returns aren't enough to make a sequel a no brainer, but good enough that the studio may not be quite ready to give up just yet. In short? The Terminator franchise is at a crossroads and Paramount has to figure out where to go.
What the studio will ultimately decide is hard to predict. Other "bubble" blockbusters have suffered varying fates. Snow White and the Huntsman earned a sequel, as did Pacific Rim. Prometheus and Percy Jackson weren't as lucky, failing to inspire any follow-up films.
Of course, Terminator is already a globally known brand. But as fans have argued time and time again, it hasn't truly lived up to the potential since the '90s and for many, the underperforming Genisys is just further proof that it's best years are long over. Despite its best efforts, the movie failed to provide anything truly new and exciting and its stars – other than Schwarzennegger – weren't huge draws.
On the other hand, if it doesn't pursue more sequels, the studio could risk losing out on millions. Case in point? The Fast and Furious franchise seemed on the verge of petering out after the fourth film, but has since bounced back hugely, with its most recent installment grossing over $1 billion worldwide.
One thing's for sure: if it does choose to move forward with any sequels, Paramount would have to make some significant changes – either by introducing more appealing cast members and compelling story elements to the film or by reducing the budget (as Pacific Rim 2 is reportedly doing). Otherwise, another Terminator sequel could be even more of a disappointment than Genisys.
Paramount has yet to make any comment on the franchise's future, so audiences will have to stay tuned to find out whether Schwarzennegger's reign as the Terminator will continue or officially come to a close.
More From Entertainment Cheat Sheet: