'Terminator': The 1 Thing Linda Hamilton and 'Dark Fate' Director Tim Miller Hate About the Ending of 'T2'
When it comes to action movies, few can compare with James Cameron's 1991 release Terminator 2: Judgment Day. The film set the bar so high that — nearly 30 years later — the franchise has yet to deliver a satisfying follow-up. Terminator: Dark Fate might finally be able to change that.
The new film comes from Deadpool director Tim Miller and notably sees Linda Hamilton return as Sarah Connor. But perhaps the biggest distinction is that Cameron himself is producing and has a "story by" credit on Dark Fate. After three sequels attempting to live up to T2, this might be the series' best chance yet.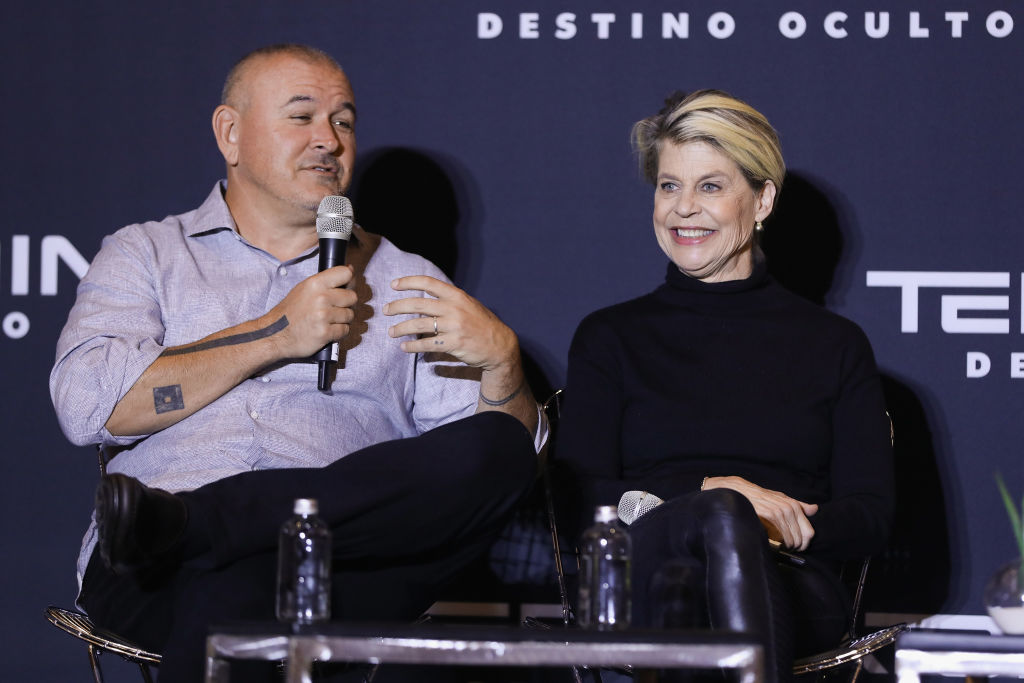 Building on the 'Terminator' legacy
Much like last year's Halloween, Terminator: Dark Fate ignores everything that came after T2. So Terminator 3: Rise of the Machines, Terminator Salvation, and Terminator Genisys have all been officially stricken from canon. Ultimately, that's not much of a loss considering even those films cherry-picked what narrative threads to acknowledge.
Besides, this approach gives Dark Fate the opportunity to take the reins left by T2 without any additional baggage. After all, that film's ending is heavily beloved by fans. So Miller and Hamilton had to be feeling the pressure to build off of what is generally considered a perfect ending, right?
The trouble with how 'T2' ends
As it turns out, the Dark Fate director and his star share the same complaint about how T2 ends. For those of you who need a refresher, Arnold Schwarzenegger's Terminator — after defeating the T-1000 — decides to sacrifice himself to prevent Judgment Day from happening. As John (Edward Furlong) mourns his friend's fate, Sarah lowers the T-800 into a vat of molten steel.
Just before he disappears forever, the T-800 holds up a hand to give John a thumbs up. It's a testament to the bond the two have shared over the course of the film. But it's also the one moment Hamilton and Miller take issue with.
In fact, their unpopular opinion helped the pair bond early on during production. Miller shared the story during an upcoming episode of CinemaBlend's ReelBlend podcast after one of the hosts named it as a favorite moment.
I can only say that that was not my favorite part of the movie. And the fact that it is yours is a symptom of your age [when] you saw it. Because when I saw T2, I was 27, right? But one of the first things I asked Linda is, "How do you feel about the thumbs up moment?" And she's like, "No." And I went, "Okay, we're going to be fine." … Well, Jim [Cameron] loves that scene. Many people love that scene. For me, it's just — it's iconic, I know — but maybe a little too sentimental for me.
Miller may have a point about how that moment resonates with viewers. After all, those moviegoers who were around John's age when they first saw T2 are more likely to relate to the poignancy of that relationship. In any case, Terminator: Dark Fate will hopefully still be able to honor Cameron's work in the first two films.
Will 'Terminator: Dark Fate' recapture the magic of the first two?
Although Miller harbors less sentiment than Cameron, his film does appear to mostly serve as a worthy successor to T2. Reviews may be mixed thus far, but it is easily getting a better response than any other film in the series since Cameron left. This feat is even more impressive after the disastrous release of Terminator Genisys.
Could Hollywood have finally figured out how to breathe new life into the Terminator franchise? And where does the series go from here, back to televison? We'll know soon enough, now that Dark Fate's release is finally upon us.
Terminator: Dark Fate hits theaters on November 1.