This Thank You Message From Joanna to Chip Gaines Shows the Two Are More in Love Than Ever
In fall 2018, Magnolia turned 15 years old. Magnolia is the home remodeling and construction business started by Chip and Joanna Gaines, the stars of HGTV's former hit, Fixer Upper. The couple launched it together, and since then, they have built a Waco empire. But when the couple's 15th business anniversary came around, Joanna wrote a sweet thank you to her husband of all those years, Chip Gaines, on Instagram. And it only proves to lovers and haters alike that this couple is in it for the long haul.
Chip and Joanna Gaines' business recently celebrated 15 years
The couple launched their home construction and remodeling business, Magnolia, back in 2003, just after they got married. Chip had been flipping homes since college, and Joanna had a knack for design. The two thought it only made sense to go into business together. They started Magnolia and began flipping the worst house in the best neighborhood to please their clients. Joanna opened Magnolia Market but closed it once their construction business started to take off. Someone at HGTV caught wind of the couple's remodeling skills and goofy personalities and offered them a show. They said yes, and Magnolia quickly turned from a small business into a home empire.
Joanna posted a sweet Instagram photo thanking Chip
When the business officially turned 15 years old, Joanna took to Instagram to remind herself and her fans that her loving husband was a big part of their success. "It all started with a dream that I jotted down on a legal pad back in 2003," she wrote. "Thank you Chip Carter for helping me turn what was on that piece of paper into a reality. These last fifteen years have been equal parts scary and exciting and there's no one else I'd rather by my side than you." She tagged Chip in the photo.
She noted he always 'saves the day'
In addition to her thank you to Chip, she also posted a throwback photo of the couple from when they first opened Magnolia Market in 2003, along with photos of the shop. (They closed the store down but reopened it in 2014 in a bigger and better location.) She went through each item and explained how it reminded her of where they came from. "The sign on the building was what [Chip Gaines] surprised me with when we found out we couldn't afford a real sign," she wrote. "He always saves the day."
Joanna plays a major role in her company, but she thanked her husband in a way that shows neither of them would be where they are today without the other. It always helps to have someone else on your team.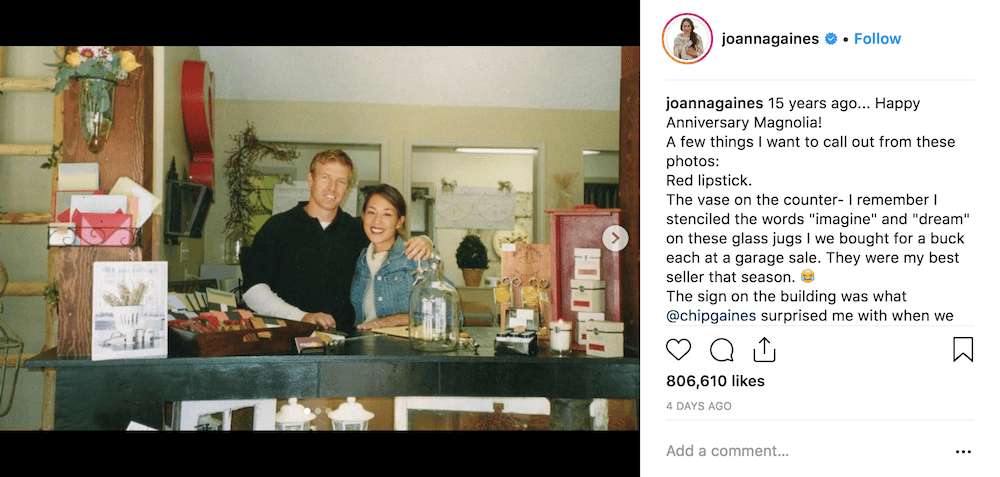 Joanna reminisced on her Magnolia memories and thanked fans for sticking by her the couple's side
The sign Joanna mentioned in her Instagram post wasn't the only item she strolled down memory lane for. She also noted glass jugs she'd stenciled herself and an antique counter she wishes she'd never sold. But the post was meant to put into words how thankful she is for the people in her life — her husband, her fans, and everyone else — who have made Magnolia possible. "I have zero regrets though about stepping out and just going for it," she wrote. "This shop, this business, it has our hearts."
The couple has been through a lot of fame, ups, and downs since they were married, but it's sweet moments such as this that show they're more in love than ever.
Check out The Cheat Sheet on Facebook!