The 1 Crucial Way 'Star Wars: The Last Jedi' Shaped 'Knives Out'
Like any other work of art, a film speaks volumes about its creator. Regardless of the circumstances behind it, a movie bears the distinctive voice of its filmmaker. Such is the case with Knives Out.
The murder mystery, in many ways, is a classic whodunnit. It features a cast full of archetypes but also carries some unmistakable trademarks of writer/director Rian Johnson. For instance, Johnson's previous film, Star Wars: The Last Jedi, had a clear hand in the creation of his latest release.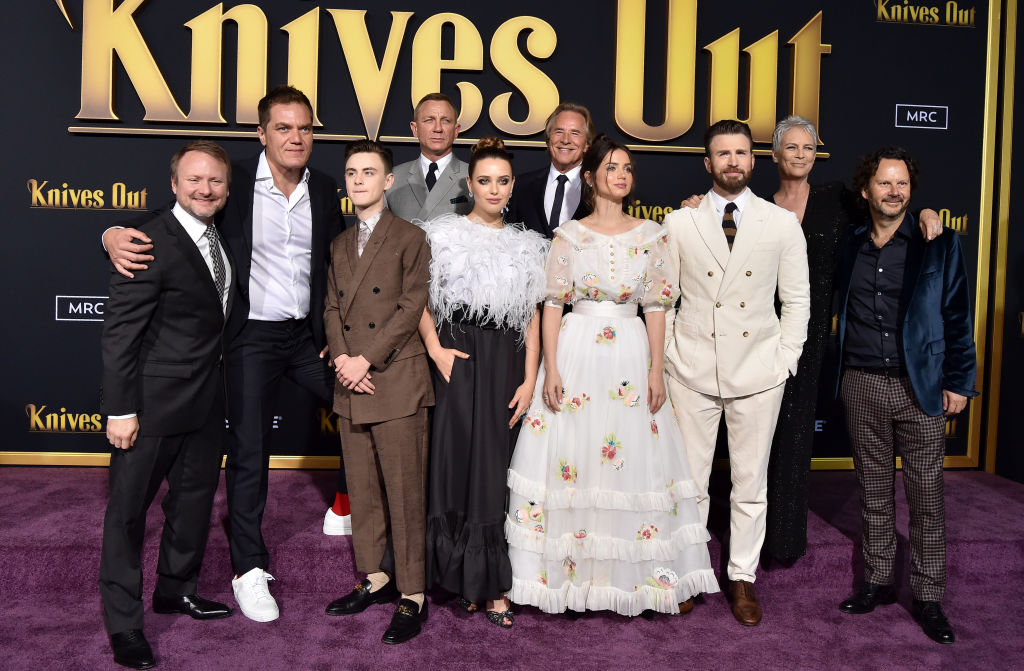 Fans are still arguing about 'Star Wars: The Last Jedi'
Two years have passed since The Last Jedi's release. Yet, to some fans outraged with Johnson's take on the saga, the travesty is still fresh. After all, Star Wars might never be the same again.
Of course, The Last Jedi was also Johnson's first time working within an established franchise. The director previously created his own unique tales with films like Brick and Looper. To many Star Wars fans, his voice just wasn't a good fit.
Further aggravating a certain percentage of the fanbase, Johnson was tapped to head a new Star Wars trilogy early on. In the time since his film's release, that project has seemed unlikely at best. In any case, Johnson learned a valuable lesson during his work on The Last Jedi.
Why Rian Johnson is thankful for the haters
Johnson recently made an appearance on CinemaBlend's podcast, ReelBlend, and the director said the negativity surrounding The Last Jedi has helped him grow.
Before I made The Last Jedi, I had never had anyone hate me on the internet. … The thing is though, I am really, really thankful. Because what that meant is that my sense of self-worth was attached to the notion of everybody liking me online. And the fact that this process has made me, out of survival, disconnect from that. … It just sort of gets boring after a while. It doesn't even give me that little negative ping anymore. And I don't think it's even my skin growing tough. It's just I've put in perspective. … So overall I found it made me adjust to social media where I'm seeing it and using it in a healthier way.
The filmmaker has developed an extremely healthy way of processing the vitriol online trolls have been heaping in his direction. But, of course, he's absolutely right. Negative feedback can only affect you if you let it, and Johnson's — in a way — been fortunate to get a broader context behind it all.
Internet trolls even inspired a 'Knives Out' character
Johnson's experience and acceptance of the divisive response to The Last Jedi even gave birth to a character in his next film. With Knives Out, the director sought to turn a magnifying glass on the current political climate. Therefore, Jacob Thrombey (Jaeden Martell) — a hateful alt-right teen — was born to comment on the current online climate, Johnson told USA Today.
[Knives Out is my way to] investigate the modern world the way that [Agatha] Christie did with Britain back when she was writing, using it to really draw this kind of caricatures of all these different types in society at the time. … Every fandom, every journalist who's writing right now – anything you put out in the public eye, you're going to experience some version of [online toxicity]. It's not about Star Wars. It's about online culture in general, and it seemed like something everyone on some level can, unfortunately, relate to.
Johnson's political and social commentary may not work for everyone. But then again, he has made his career on bringing his distinctive voice to different genres. So it stands to reason that Knives Out would be just as potent as his previous work.