The 1 Food Rachael Ray Won't Touch, Says It 'Smells Weird and Costs More'
Rachael Ray has a few opinions about food. The 51-year-old celebrity Food Network personality and best-selling cookbook author is a bona fide wizard in the kitchen, plus her bubbly personality and friendly demeanor make her such a joy to watch. Ray is not afraid to dish advice on what to eat and how to eat it, and her fans love her for it.
But what about when Rachael Ray is home alone with her family, cameras off? What is she eating then? Read on to discover what you'll find Ray eating on any given weeknight and the one food she thinks is a disgusting waste of money.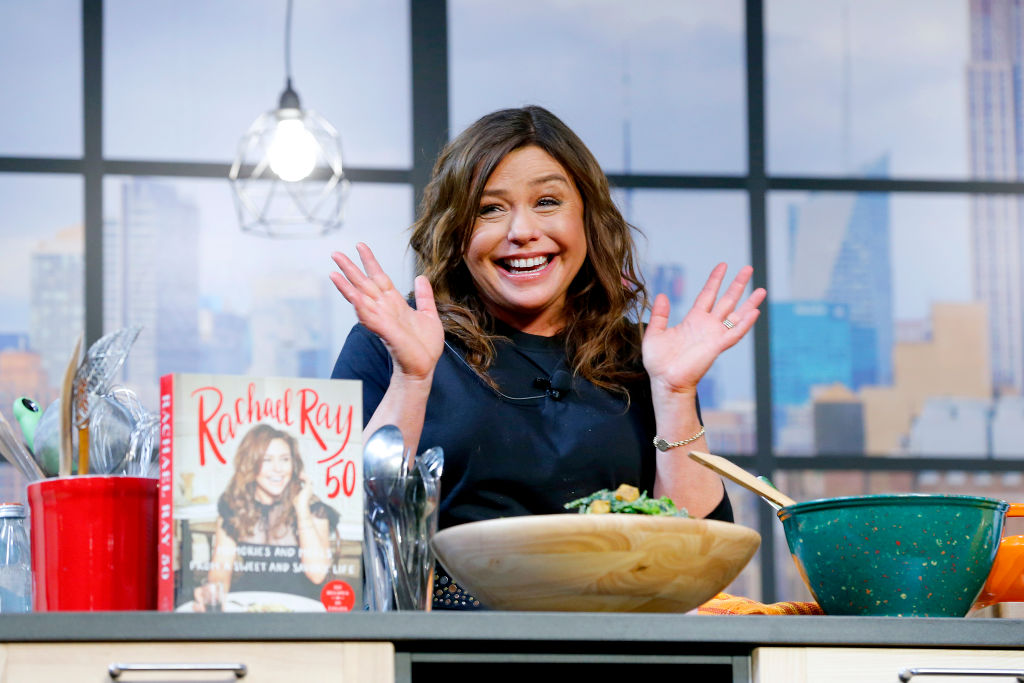 Rachael Ray's favorite dish is surprising
With so many cooking skills at her disposal, Rachael Ray isn't afraid to tackle complicated gourmet dishes that novice chefs might avoid. But her favorite thing to eat isn't something fancy. In fact, it's a cheap and easy meal that almost anyone can make.
In her magazine, Ray explained that Italian cuisine is her comfort food. "I guess pasta is my favorite," she admitted. More specifically, she loves cooking pasta carbonara, which is her husband John Cusimano's favorite thing she makes.
"When I'm cooking, I'm thinking about the person I'm feeding and I want to make them whatever they want," she explained.
There's one food Rachael Ray can't stand
Even though Rachael Ray is a huge fan of salads, especially loaded with protein and veggies, there's one common salad ingredient that Ray finds personally offensive.
"Oh my god, the chopped lettuce in a sack sucks! Stop it!" she said during her Rachael Ray Every Day "Like a Boss" panel in February 2019, as reported by Food & Wine. "I'm sorry, sue me lettuce industry. It smells weird and it costs more."
Instead, Ray recommends purchasing fresh, leafy greens for a heartier and healthier salad that tastes better. She's also a huge proponent of the Mediterranean diet, which includes loads of healthy fats.
"Beets, colorful peppers — so sweet or hot peppers — and dark greens, they're all activated by the olive oil. They're fat-soluble nutrients, right?" Ray said during a Dr. Oz Show appearance. "Great for brain power."
She doesn't eat 'healthy' food all the time
Even though Ray has a varied diet and a trim figure, she does allow herself indulgences sometimes. Eating in moderation and limiting these occasions is what keeps her looking and feeling fantastic.
For example, Rachael Ray loves pizza (she is Italian, after all) and hamburgers. In a Food Network profile, she dubbed herself a "burger-obsessed person" and even was considering opening a burger-centric restaurant in Manhattan. Ray released a burger cookbook with more than 300 recipes, including healthier combinations that don't include meat.
"I am burger obsessed and I love playing with the idea of what a burger can be for people. I make burgers out of everything from grains to seafood to, of course, browned meats of every kind. What I love about the burger is it makes food accessible and fun for everyone," Ray said during an interview with The Adrienne Gale Experience.
Rachael Ray wisely balances out those burgers and pizza days with plenty of salad. Just not the kind you find in a bag!