The 1 Guest Prince Harry Banned From the Royal Wedding
Meghan Markle and Prince Harry's wedding day was magical for anyone who witnessed it. Even from our televisions screens at home, we could see how happy the royal couple are. May 19, 2018, was a day full of festivities for the Duke and Duchess of Sussex. After their wedding ceremony which was hosted at St. George's Chapel at Windsor Castle, the prince's grandmother Queen Elizabeth II hosted a lovely lunch reception for all of the wedding guests.
However, the real festivities didn't kick off until later in the evening at the royal couple's 200-person reception which was held at Frogmore House. While every single wedding guest wasn't invited to this evening event, there was one celebrity friend of Markle's who was banned from attending the royal wedding altogether. You won't believe why Prince Harry vetoed her attendance (page 6).
An intimate reception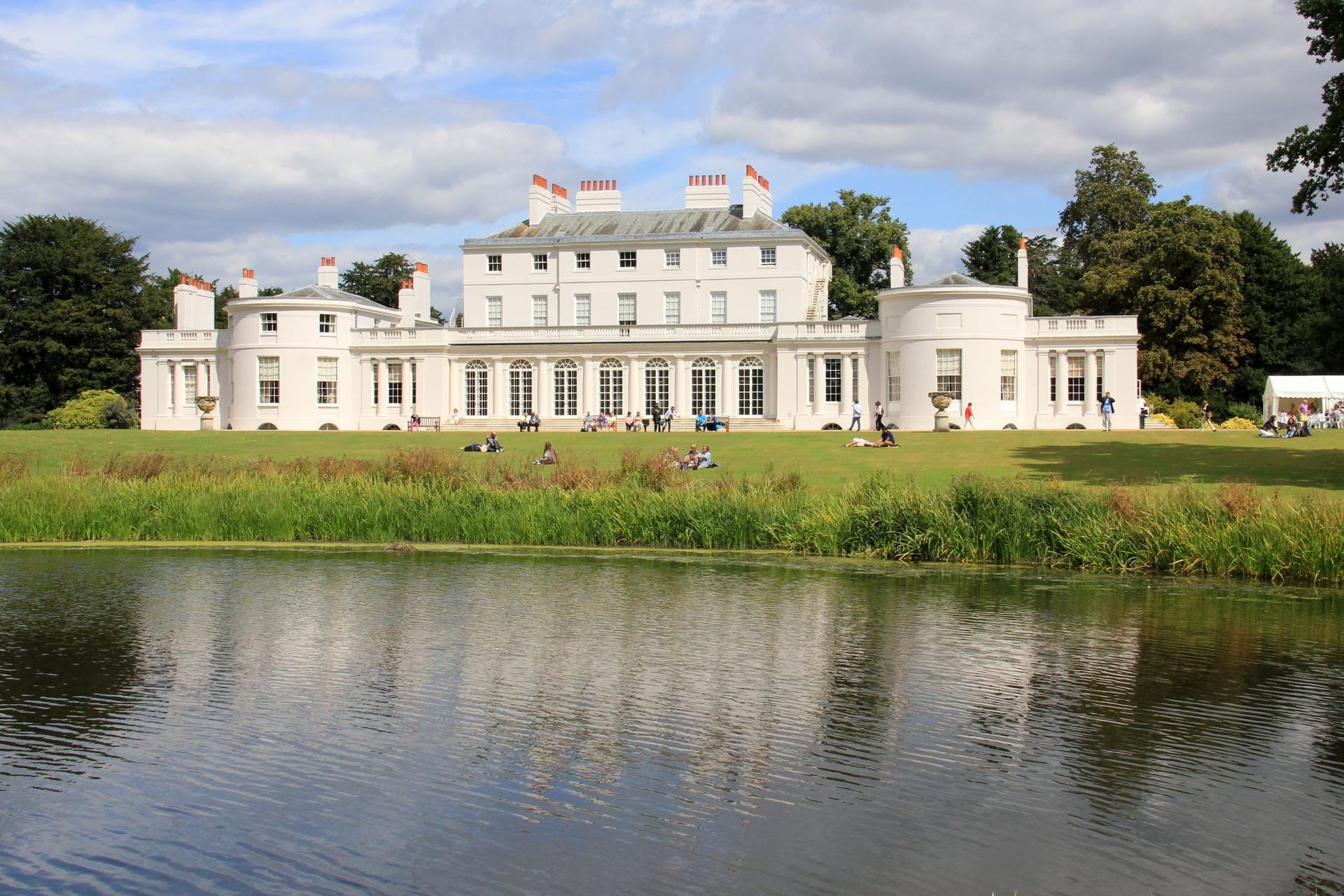 The couple's closest celebrity friends attended their evening reception
The couple's reception at Frogmore was an intimate night of fun and included everything from burgers and cotton candy, to a signature drink called, "When Harry Met Meghan." Tennis legend Serena Williams hosted a beer pong table, and actor Idris Elba was the DJ for various parts of the evening.
Guests partied until the wee hours of the morning, and the entire evening ended with a bang of sparkling fireworks.
Next: A surprising royal wedding guest 
A royal snub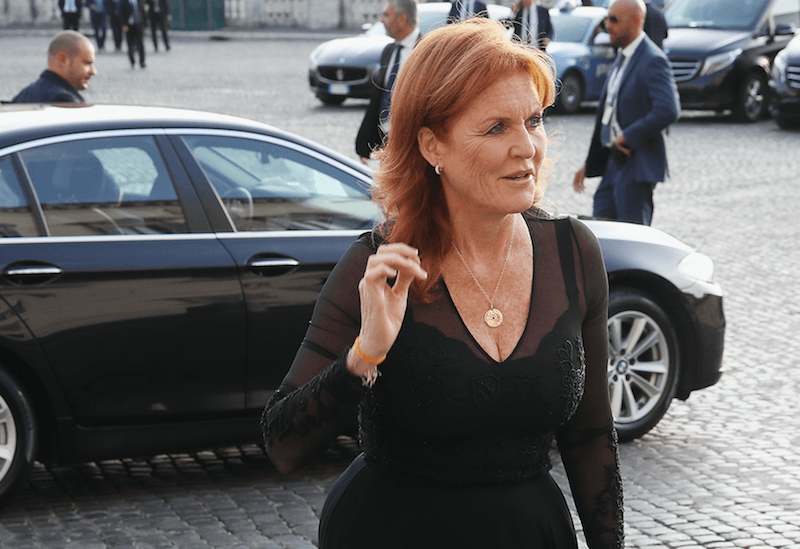 Sarah Ferguson was invited to the royal wedding, but she was left out of the evening reception
Though 200 guests were invited to the couple evening reception, one royal wedding guest did not get an invitation. Sarah "Fergie" Ferguson, Duchess of York, has been divorced from Prince Andrew since 1996. Despite their failed marriage, the couple has remained in a partnership over the years, and Ferguson has often attended royal events.
However, because of the scandal surrounding her divorce and a more recent extortion attempt, Fergie has been dubbed a "parasite" by the royal family. She wasn't invited to Prince William and Kate Middleton's 2011 wedding at all. Though she was invited to Markle and Prince Harry's wedding ceremony, she was miffed that an invitation wasn't extended to the evening soiree.
At least she has her daughter, Princess Eugenie's upcoming wedding to look forward to.
Next: A celeb everyone expected to see on the big day 
An expected wedding guest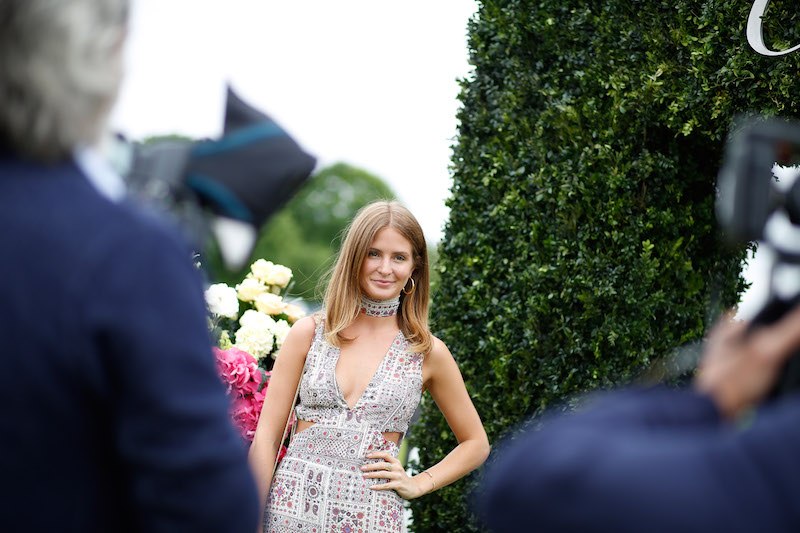 There were rumors that Millie Mackintosh would be a part of the big day
When the duke and duchess announced their engagement, there were rumors that U.K. celeb Millie Mackintosh might be a part of the couple's wedding party. Other sources claimed that Mackintosh was helping Markle with the details for her big day.
The ladies first connected in 2016, around the same time Markle began dating Prince Harry. In fact, in September 2017, Markle shared a snap of the pair cycling at Soho Farmhouse in Oxfordshire on her now-deleted Instagram account.
Next: Some background on Mackintosh 
Who is Millie Mackintosh?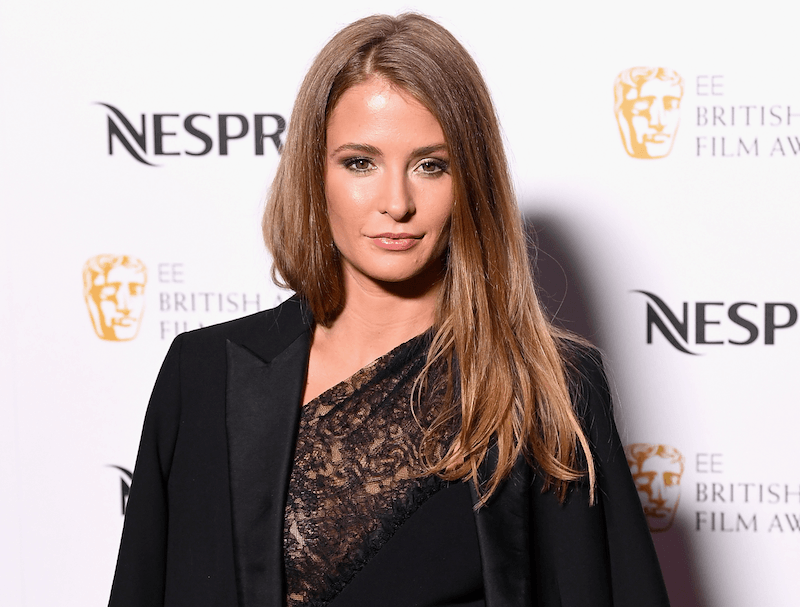 Millie Mackintosh is well known in the U.K and has made a name for herself on the social scene
Mackintosh is an English celebrity who first rose to fame in 2011 on the E4 reality series, Made in Chelsea.  Though Mackintosh left the series in 2012, she has remained in the public eye with a massive following. Since leaving reality TV, the businesswomen has started multiple ventures including her own brand of clothing, eyelashes, workout videos, and a jewelry collection.
Mackintosh's name certainly means something in the U.K. Her great-grandfather and great-Uncle Harold and Douglas Mackintosh created Quality Street, a mega-popular sweets company. The heiress also has her own connections to the royal family. Mackintosh's good friend Spencer Matthews is now brother-in-law to Pippa Middleton and the fashion mogul's fiance Hugo Taylor once had a fling with Princess Eugenie.
Next: A lesson on discretion 
Spilling all the tea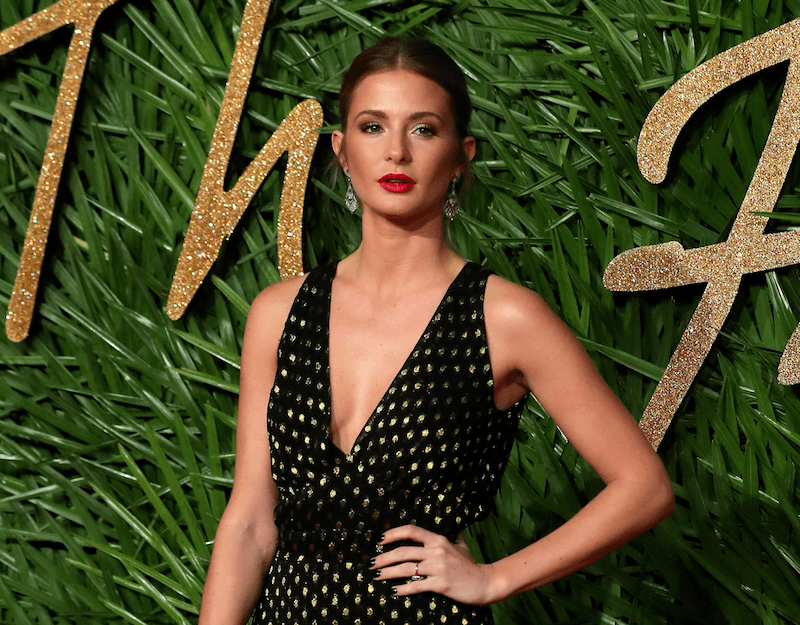 Millie Mackintosh was constantly in the news gushing about her connection to Meghan Markle
As soon as Markle and Prince Harry announced their engagement, Mackintosh was continuously in the press. She maintained that she and Markle were extremely close and that she was helping the duchess plan her big day and get acclimated to living in the U.K.
Mackintosh also gushed to the media that Markle is "a really lovely girl. She's fun and nice and she has great style."
Next: Prince Harry's warning 
Prince Harry's veto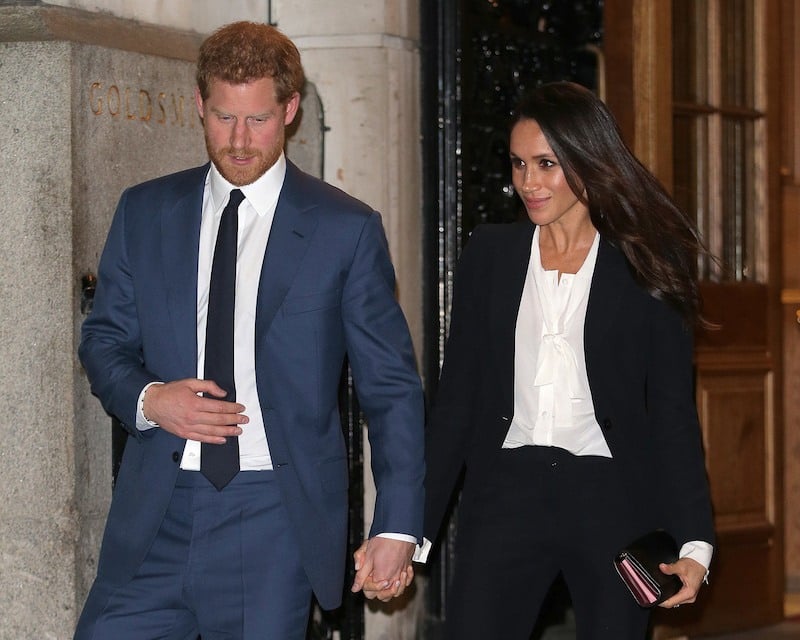 The prince told Meghan Markle that Millie Mackintosh couldn't be trusted
When it came time to send out the royal wedding invites, it seems that Prince Harry had become irritated by Mackintosh speaking about Markle to the press. In what is said to be a rare display of firmness from the red-headed prince, he put his foot down when it came to inviting the heiress to the festivities.
An insider told The Daily Mail, "Harry warned Meghan off Millie. He seemed to believe she was a blabbermouth and better off out of the loop. Harry doesn't often tell Meghan what to do, but he put his foot down."
Next: A true friendship?
Not as close as they seemed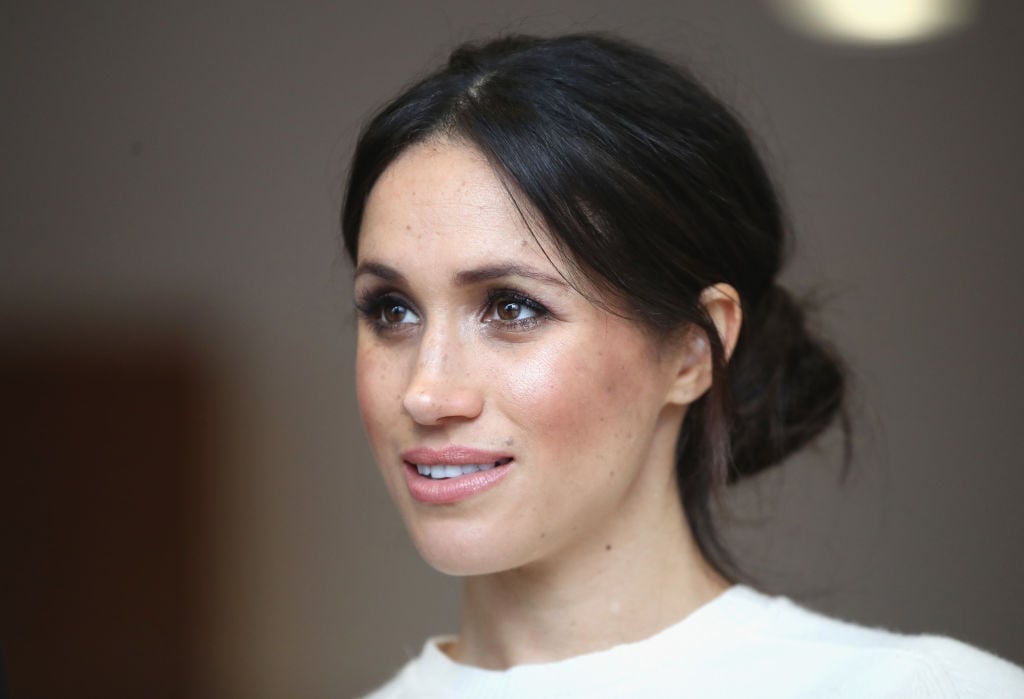 Millie Mackintosh and Meghan Markle may not actually be as close as the fashion mogul claims 
Though Mackintosh spoke about her bond with Markle every time she got the chance, in reality, it appears the women aren't exactly as tight as the heiress made them seem. An insider told The Daily Mail,
I hear she has met her precisely three times in her whole life. Luckily, when they both happened to be guests at Soho Farmhouse in Oxfordshire last year, Meghan shared a snap on social media of the pair on bicycles. Their two previous encounters were both at commercial events: the opening of Soho House in Istanbul in 2015 and a lunch at the Ivy Chelsea Garden.
Next: How Millie celebrated the royal wedding 
A celebration at home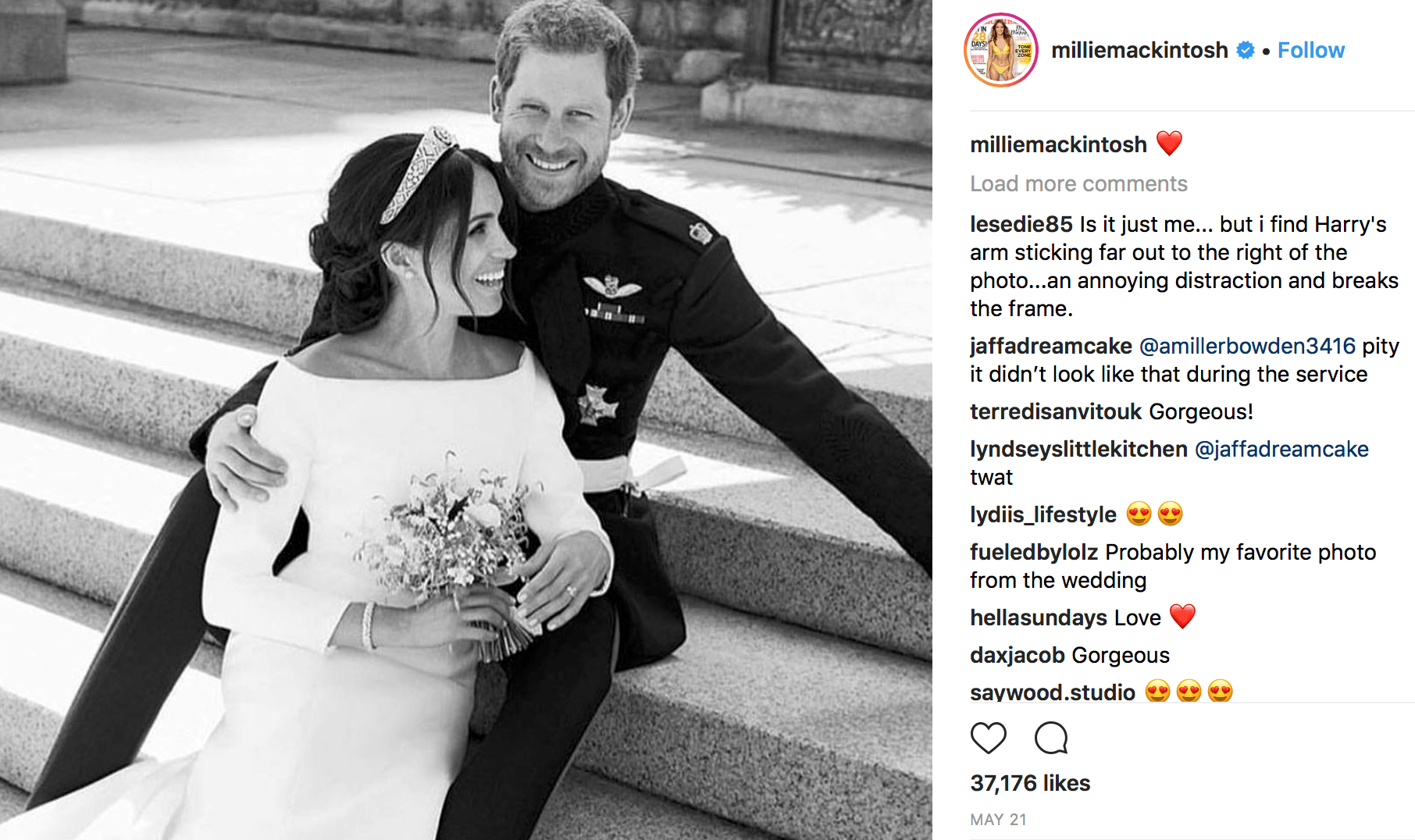 It looks like Millie Mackintosh still wants to be in the duke and duchess' inner circle
When a royal wedding invite didn't hit Mackintosh's doorstep, she was said to have been humiliated. A source told The Daily Mail, "'It's very embarrassing. But she's putting a brave face on it.'
That didn't stop Mackintosh from celebrating the duke and duchess just like everyone else. The day of the nuptials she posted pictures of her pug watching the wedding from her home, and two days later, she posted a black and white wedding photo of the happy couple.
It looks like it pays to be discreet if you want to be close to the royals.
Follow Aramide on Twitter @midnightrami.
Check out The Cheat Sheet on Facebook!