The 1 Question Eddie Murphy Had to Answer for President Obama
Eddie Murphy is one of Hollywood's most famous funny guys. As a comedian, he's not shy about putting other celebrities on the spot. Sling a question at him and he'll usually come back with a witty response.
The comedian is always on his toes and is rarely caught off guard. But recently, the SNL alum revealed a particularly awkward conversation and one question that completely took him by surprise.
We're guessing his response might have had something to do with who was asking the question. 
Eddie Murphy got his start where many comedians do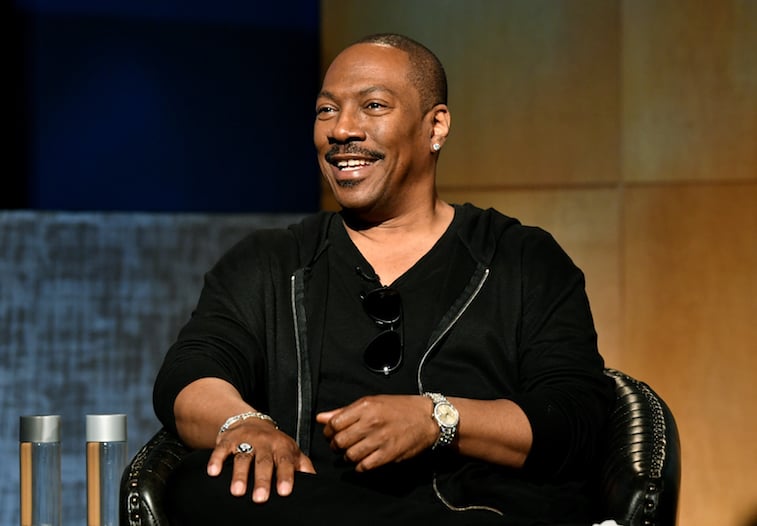 Long-time Eddie Murphy fans know that the comedian got his start on the popular variety show, Saturday Night Live. SNL has been the launching point for so many famous stars including Bill Murray, Tina Fey, and Jimmy Fallon.
When it comes to stars who have found success after the show, Murphy ranks among the best. In 2015, Rolling Stone Magazine released its list of the best SNL stars of all time and Murphy came in at No. 2, falling only behind comedic legend John Belushi. 
After SNL, Murphy found success in movies. One of his first hits Beverly Hills Cop won him a Golden Globe nomination in 1985. After that, it was a couple of Beverly Hills sequels, The Nutty Professor, and Dr. Dolittle.
But arguably one of the comedian's most famous and fan-favorite roles was one in which he didn't even appear on the screen at all.
In 2001, Murphy voiced the role of Donkey, the loveable sidekick to the ugly and disagreeable ogre, Shrek. In 2007, the comedian earned his first and only Oscar nomination to date for lead actor in Dreamgirls.
His recent meeting with a former president didn't go as expected
It doesn't matter how famous you are, you still get nervous when you meet the president. On a recent appearance on The Late Show with Stephen Colbert, Murphy recalled meeting then-president Barack Obama when he was awarded the Mark Twain Prize for American Humor in 2015.
Murphy said the first thing the president asked him was when he was going to return to stand-up (we're wondering too). But after that, the questions were not what the Nutty Professor star expected. So what was the one question that had the famous comedian caught totally by surprise? It turns out, President Obama wanted to know what kind of rinse the comedian uses. He said the president noted, "You don't have any grey hairs."
Murphy says there's this one picture of the two of them talking in the White House. From all appearances, the picture looks normal. But what you can't see in the picture is at the exact moment the camera clicked the 44th President of the United States was asking Dr. Dolittle what kind of rinse he uses.
What is Eddie Murphy up to today?
Eddie Murphy may not be returning to stand-up for now, but he has quite a few projects in the works. Fans will be excited to learn that Murphy will be returning to SNL this Christmas for a special holiday show. He's already revealed that he will be doing a few of his fan-favorite characters.
The comedian is also promoting his Netflix movie Dolemite Is My Name. On deck, Murphy is filming Coming 2 America and is in pre-production on Triplets. But SNL isn't the only home Murphy will be returning to. Beverly Hills Cop 4 has been announced, marking the first film in the franchise since 1994.
After many years of keeping out of the spotlight, it looks like Eddie Murphy is finally back. All we can say is it's glad to see him return to what he does best, and we're still not giving up hope on a return to stand-up.