The 1 Reason Archie Has to Bow to Prince George But Meghan Markle Doesn't
What's in a name? As it turns out, a lot.
Royal fans realize that Prince Harry and Meghan Markle are just trying to give their son, Archie Harrison, a normal life that's free from drama and overly ambitious paparazzi. They certainly have their work cut out for them in that department. But no matter how good the Duke and Duchess of Sussex get at hiding their child away from the adoring public, there's no escaping the life he was born into.
Like it or not, Archie is a member of the royal family through and through. And while he'll most likely never see the throne, he will need to learn certain etiquette rules and customs associated with his elevated status in life. One of those? He'll need to bow down to his future king cousin, Prince George. Which might get a little confusing since neither of his parents have to show the same courtesy.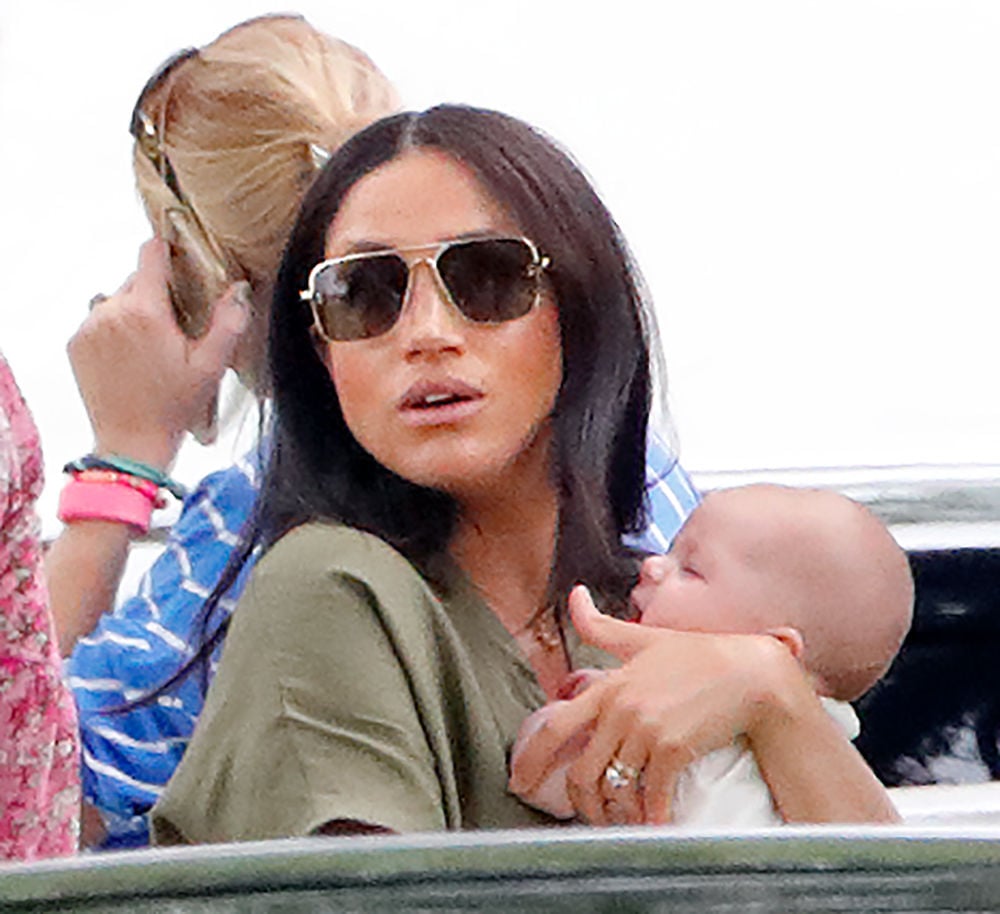 Prince Harry and Meghan Markle may have refused a title for Archie
Royal rules state that Archie wasn't automatically granted a title when he was born. However, most royal insiders speculate that Queen Elizabeth would have given him one if the Duke and Duchess of Sussex had wanted him to have one. The queen gave titles to Princess Charlotte and Prince Louis even though neither of them technically deserved those titles by birthright.
No one knows for sure if Queen Elizabeth refused her newest great-grandson a title or if Prince Harry and Meghan Markle turned down her offer in an effort to stick with those "normal life" goals. But ultimately, the decision to leave Archie without a title made the royal protocol he must follow different.
Archie will have to bow to anyone with an HRH title
The HRH (His Royal Highness or Her Royal Highness) title carries a lot of weight in the royal family. A royal butler recently revealed to Express that the rules of who bows or curtsies to who are all based on that detail. As a sign of respect, anyone who doesn't have the HRH must bow to anyone who does, even if they're technically all family members.
That's precisely why Archie will have to bow to Prince George and his other Cambridge cousins, but his mom Meghan Markle doesn't have to. Since she has the HRH title, the Duchess of Sussex is on the same level as the others with the same name styling.
Meanwhile, everyone must follow royal protocol and bow to Queen Elizabeth regardless of their HRH status.
Things will be casual with the cousins
Though all this bowing sounds incredibly formal, the cousins probably won't treat Archie any differently in their normal everyday interactions. Rumor has it that Prince George and Princess Charlotte are already quite taken by their baby cousin Archie and it's easy to imagine a future where all the children go on outings and play together nicely.
Archie probably won't call him "Prince George" but will instead use the more informal George or "cousin." Amongst each other, royal family members don't bother with formal titles and addresses like we all imagine they do.