The 1 Reason Why People Should Stop Defending Aziz Ansari After Sexual Misconduct Allegations
Aziz Ansari is the yet another Hollywood star to be accused of sexual misconduct, and many aren't sure how to feel about it. It's not that they don't believe his accuser — they just think the situation may have been blown out of proportion. An overwhelming number of people have come to the defense of Ansari, but here's why they shouldn't.
A woman detailed her experience with Ansari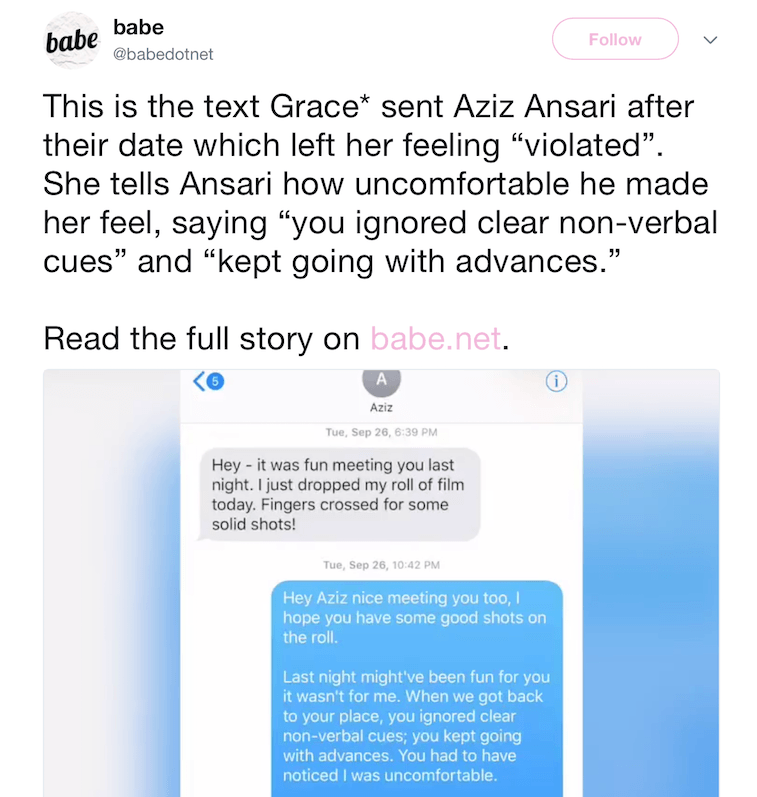 The allegations against Ansari were in the form of an anonymous report on Babe.net. A woman who went by the pseudonym "Grace" detailed her sexual experience with the actor, which she said left her feeling "violated."
When Ansari wore a Time's Up pin to stand against sexual assault and harassment at the 2018 Golden Globes, Grace knew she had to speak out. "It was actually painful to watch him win and accept an award," she admitted. "And absolutely cringeworthy that he was wearing the Time's Up pin. I think that started a new fire, and it kind of made it more real."
Grace explained in detail the events that took place over the course of their date in September 2017. According to her account, Ansari reportedly rushed her through dinner and took her back to his apartment in New York City, where she felt he crossed the line sexually numerous times.
She described Ansari as being forceful, despite her verbal and non-verbal cues of discomfort. "Most of my discomfort was expressed in me pulling away and mumbling," she explained. "I know that my hand stopped moving at some points. I stopped moving my lips and turned cold."
However, Grace doesn't specify whether she used the word "no," which has some wondering whether this is a case of sexual misconduct or a misread situation. Ansari's response only muddled the situation further.
Next: Ansari's response suggests it was a matter of misread signals. 
Ansari's response confirmed the details of their date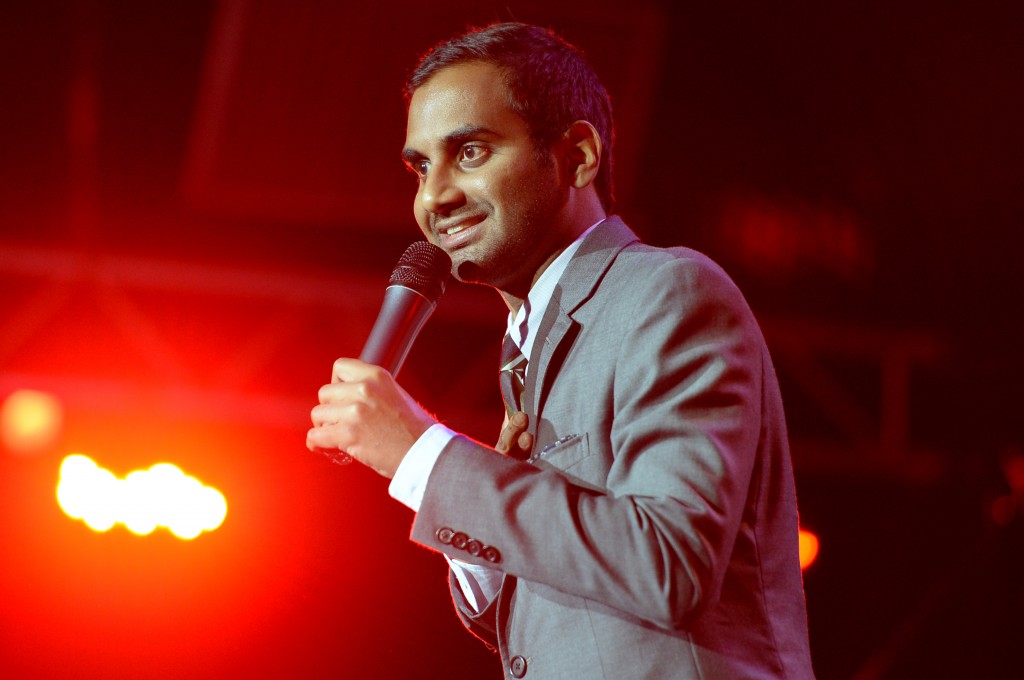 Ansari quickly responded to the allegations, but in his recollection of their evening, stated everything was "completely consensual." In his statement, he confirmed the events described by Grace. He even admitted that looking back, he can see how she felt uncomfortable.
He explained:
The next day, I got a text from her saying that although "it may have seemed okay," upon further reflection, she felt uncomfortable. It was true that everything did seem okay to me, so when I heard that it was not the case for her, I was surprised and concerned. I took her words to heart and responded privately after taking the time to process what she had said.
Next: Twitter users have a lot to say.
Many are blaming the victim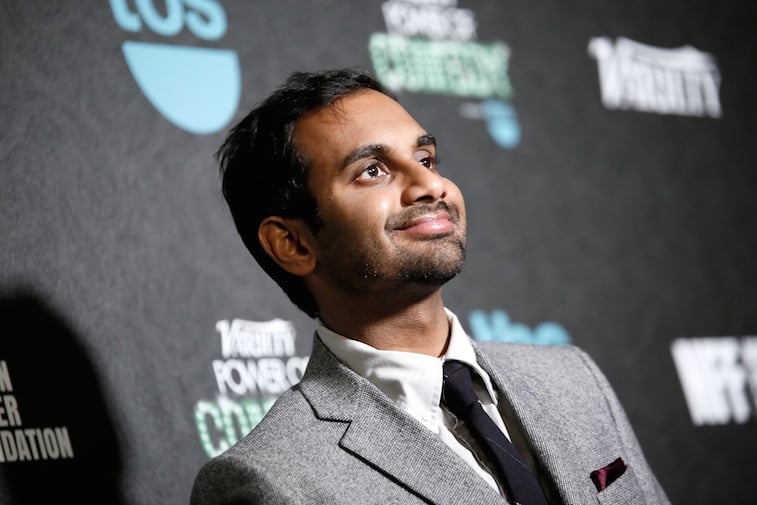 Unsurprisingly, many have taken to Twitter to voice their opinions. An overwhelming number of tweets are in defense of Ansari, and in turn, placing the blame on the victim.
One user wrote, "There were a couple of moments where 'Grace' could've easily walked away and go home after all the foreplay you claim you were doing. Just say you should meet another time with a better state of mind or not see him ever again."
Another user wrote, "You know what's clearer than any non-verbal cue? A verbal one."
Next: This is why blaming the victim in defense of Ansari is wrong. 
Why people should stop defending Ansari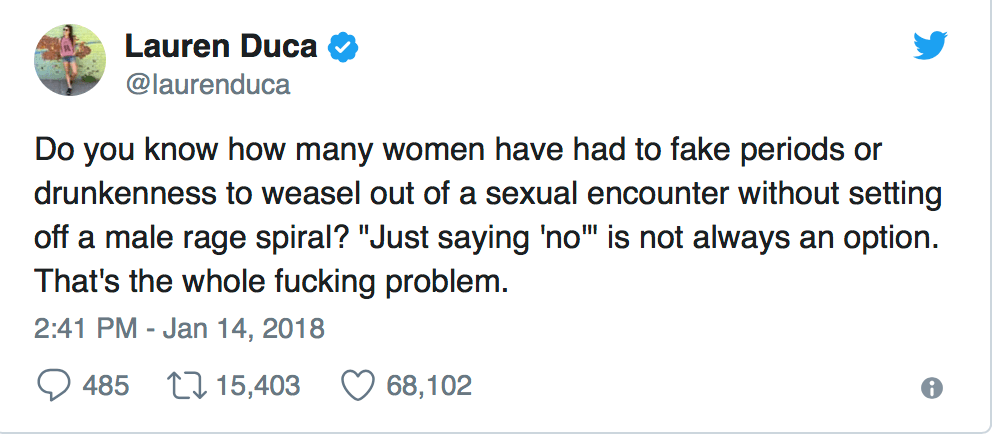 While it's easy to point fingers at Grace for not using the word "no," verbalizing it doesn't always feel like an option. As described by Mashable, "What's absent from this discussion is an acknowledgement that saying 'no' is not always simple and straightforward. This statement doesn't take into account most women's overwhelming fear of what could follow that verbalised 'no.'"
Even if Grace detailed every specific moment of her night with Ansari, no one can know exactly how it felt for Grace during their encounter. As readers, we have the luxury of slowing down the night and analyzing every play-by-play. But to Grace, it's possible that no moment stood out as a comfortable time to say, "Stop."
Writer Lauren Duca tweeted, "Do you know how many women have had to fake periods or drunkenness to weasel out of a sexual encounter without setting off a male rage spiral? 'Just saying "no"' is not always an option. That's the whole f***ing problem."
Next: This is what Ansari reportedly kept telling her.
'He kept telling her he was going to stop'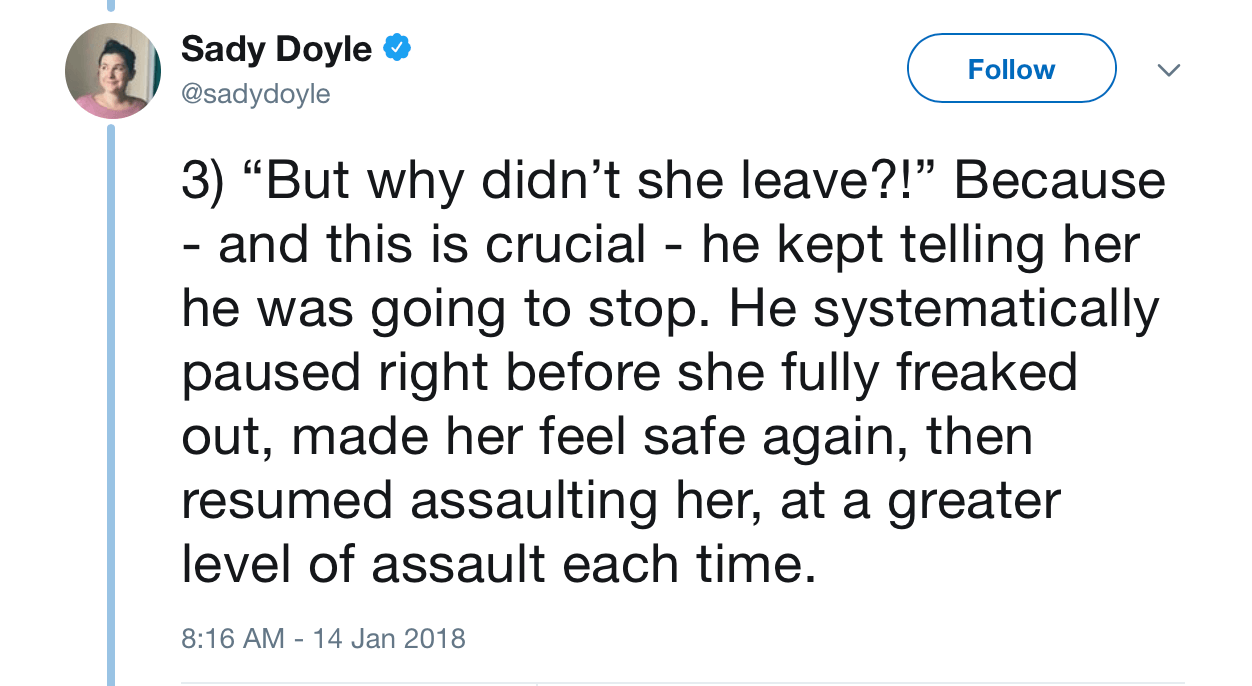 While some searched through Grace's experience for moments that she could have said "no," others analyzed how this experience was, in fact, assault. Writer Sady Doyle explained her view in a Twitter thread. "'But why didn't she leave?!' Because — and this is crucial — he kept telling her he was going to stop."
She continued, "He systematically paused right before she fully freaked out, made her feel safe again, then resumed assaulting her, at a greater level of assault each time."
Next: How much do we know Ansari?
We only know Ansari's public personality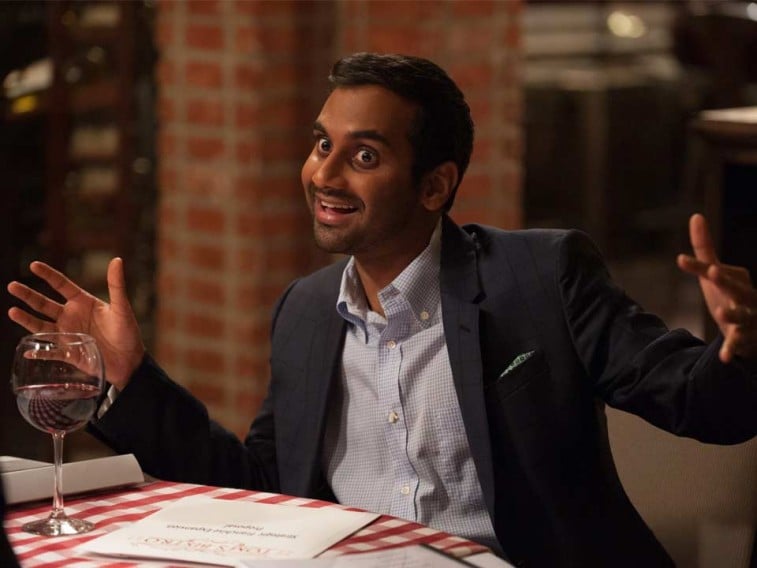 People are quick to defend Ansari because his public personality is lovable, funny, awkward, and wholeheartedly feminist. He wrote Modern Romance about navigating romance in today's culture, put that concept into the form of a Netflix show, Master of None, and even integrates it into his stand-up comedy.
As Megan Garber of The Atlantic explained, Ansari has defined himself "as a male feminist, as a proud ally — as the kind of person who could both wear the Time's Up pin and actually explain what it means to wear it."
Ansari may have seemingly proven to be one of the "good guys," but in reality, his public personality is all we know — which is not enough of a reason to defend him.
Next: This problem needs to be acknowledged.
This encounter speaks to a bigger problem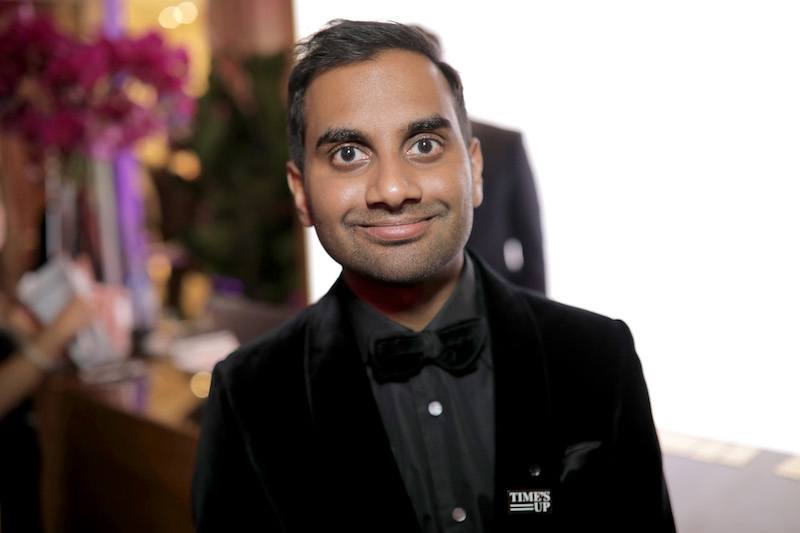 Grace admitted to Babe.net, "It took a really long time for me to validate this as sexual assault." This is a feeling that many people likely experience after being assaulted, which lies in a bigger problem. Both men and women should realize that lack of consent comes in many forms, rather than believing the word "no" is the only understandable option.
Mashable explained, "That conversation needs to go beyond 'no means no.' We're talking about identifying the non-verbal ways a person may try to demonstrate discomfort and a lack of consent."
Check out The Cheat Sheet on Facebook!