The 1 Sign That There's More Between Kylie Jenner and Tyga Than They're Letting On
Kylie Jenner and Tyga want the world to know that there's absolutely nothing going on between them. 
Earlier this week, the former lovers sparked romance rumors after they were reportedly spotted together following Jenner's split from Travis Scott. However, they quickly shut them down, saying that the outing wasn't what it looked like.
Of course, not everyone believed them, and there's a reason why they maybe shouldn't.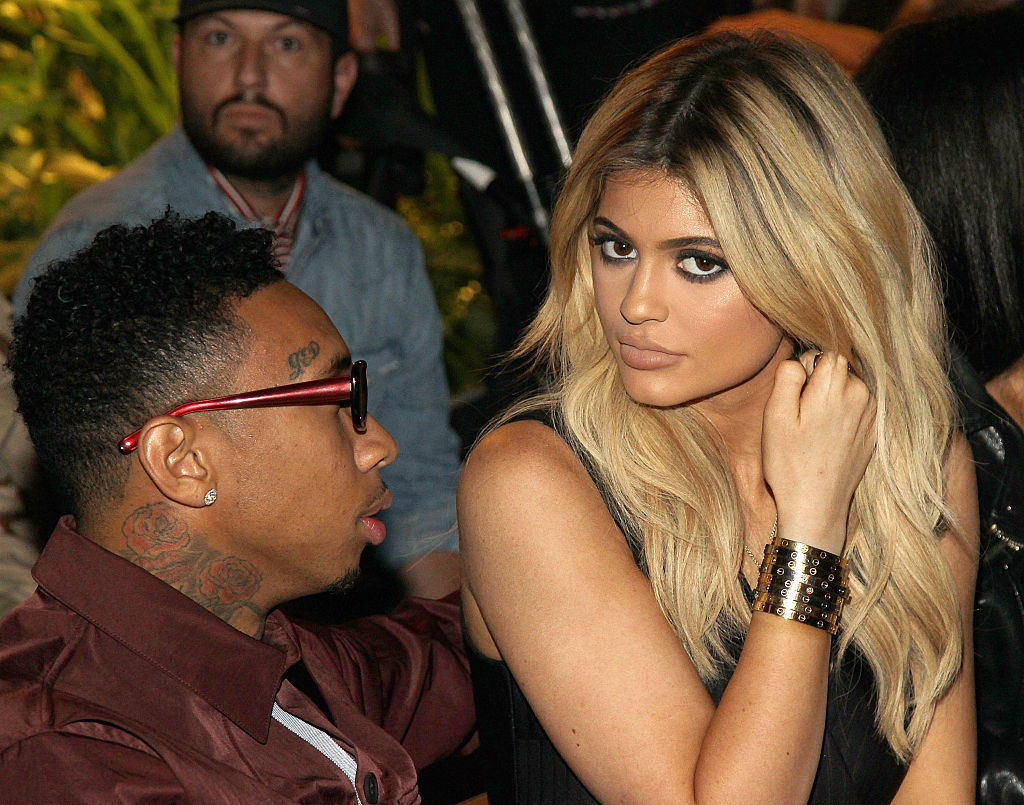 More on Jenner and Tyga's reported outing
On Oct. 1, it was reported that Jenner and Tyga hung out at a hotel where he was recording music. The news came hours after sources confirmed that the reality star had split from Travis Scott weeks before.
"He was with a few of their mutual friends at Sunset Marquis and invited Kylie and her girlfriends to come hangout, since they were already out," a source told E! News on Oct. 2.
The insider also said that Jenner and Tyga "have been in touch" since they broke up in 2017 but noted that they "don't talk often."
"Nothing romantic is going on," the insider continued.
Jenner and Tyga respond to the outing
On Oct. 3, the Kylie Cosmetics mogul took to Instagram to offer clarity and set the record straight on her alleged night out with her ex.
"The internet makes everything 100 times more dramatic than what it really is," she wrote on Twitter. "There was no '2am date with Tyga'. You see me drop two of my friends off at a studio that he happened to be at."
Meanwhile, he posted a message on Instagram seemingly accusing the media of making things up.
But that wasn't the first time they reportedly hung out
In August, Jenner and Tyga were reportedly in Las Vegas at the same time. TMZ reported that Tyga reportedly had a performance in the city, while Jenner was there celebrating Sofia Richie's 21st birthday.
On Aug. 24, they hit the same strip joint, Sapphire Club, where Jenner and Tyga "exchange[d] friendly greetings and some chitchat," and their groups partied together.
A source did say that the meeting happened "coincidentally," given that they run in the same circles. But is there a chance that the meet-up hashed up old feelings and made Jenner end things with Scott? Fans definitely think so.
Three days after the Vegas meeting, Jenner hit the red carpet with Scott at the premiere of his Netflix documentary, Look Mom I Can Fly, which was their last public appearance together. They reportedly split days after the event.
But maybe it's all one big coincidence?
Sources claim Jenner broke up with Scott for other reasons
Reports say that Jenner had been at odds with the ASTROWORLD rapper since February when she allegedly caught him cheating. Though the Kylie Cosmetics mogul took him back, she allegedly never could bring herself to fully "trust" Scott again.
"The couple has been hot and cold since their last breakup, and haven't been able to fully get on the same page again," a source told Entertainment Tonight on Oct. 2. "They are both extremely busy with different schedules and since Kylie found out about Travis messaging another girl on Instagram, the rebuilding of trust has been hard."
"Although they aren't together now, they're both open to getting back together in the future," the source said. "Above all, Kylie and Travis know their priority will and always has been Stormi."
We'll see who she moves on with.