The 1 Thing David Harbour Wants to Happen in 'Stranger Things 3'
David Harbour is one of the biggest breakout stars from the Stranger Things franchise. Since the sophomore season dropped in October 2017, he's spoken at length about what he hopes to see for Hopper, Eleven, and the rest of the Hawkins gang in the upcoming seasons.
He's entertained fan questions and speculation. And he's also made his own feelings known about what he wants to see happen in Stranger Things 3.
1. Hopper is one of Stranger Things' most popular characters
Jim Hopper had a rough go of it in Stranger Things 2. As a new surrogate father in the midst of yet another government conspiracy-gone-bad, he barely made it out alive. And now he has to learn how to parent an adolescent on the fly. In other words, Stranger Things 3 could prove to be even harder for Hopper to survive.
While Hopper hasn't really enjoyed his time as a small town sheriff, the character has become one of the most celebrated parts of the Stranger Things universe. His prickly disposition, combined with his genuine desire to save the people around him, make him one of the most complex characters in the series.
Because fans love Hopper so much, they've taken a liking to Harbour, too. And they're always interested in his theories about what's next for Hawkin's sheriff.
2. David Harbour is also pretty popular
Like his Stranger Things character, Harbour's personality is approximately 50% sarcasm and 50% fuzzy teddy bear. And, it seems, that's exactly what fans love about him.
The actor's personality is apparent, whether he's giving impassioned speeches or shooting the breeze online. And as of late, he's turned his Twitter and Instagram accounts into veritable goldmines for fans.
Harbour shares memes, and jokes about his co-stars. But he also shares behind-the-scenes photos from Stranger Things. He talks at length about how much he loves his fellow Upside Downers. And he hasn't been shy about showering attention on one co-star in particular.
3. Since the beginning, he's been all about Winona Ryder
In August 2016, shortly after Stranger Things hit Netflix and became a phenomenon, Harbour shared an Instagram photo of himself and co-star Winona Ryder, who plays Joyce Byers, behind the scenes. The image shows the actors goofing off while filming one of the most intense moments of Season 1: their journey to the Upside Down.
The photo may be a bit silly, but Harbour's accompanying caption is honestly pretty sweet. He wrote, "Found this amazing/sexy/iconic actress in the upside down looking for will. Ugh, those suits. Bathroom break = 1/2 hour, blech. Poor car covered in slugs too."
That picture-perfect Instagram moment became the first of many instances in which Harbour has spoken glowingly about Ryder. He was amused by her meme-worthy response to his SAG Awards speech. And he spoke at length about his respect and admiration for Ryder in an interview with Variety. All told, it's clear they've developed quite a friendship during their time on the Stranger Things set.
Harbour has admitted that his close bond with Ryder has carried over into their performances as Hopper and Joyce.
4. Harbour thinks Hopper is pretty fond of Joyce too
Hopper and Joyce have shared some remarkable moments together. And they've clearly got a mutual respect for one another, if nothing else.
But some fans have noticed a spark between Hopper and Joyce. And according to Harbour, Hopper could be hanging onto some feelings for Joyce. He told Variety:
"I just adore Winona Ryder and working with her and that just shows in the work. Even when I'm playing Hopper I can't divorce my personal feelings from loving playing scenes with Winona Ryder. Part of that just comes through, the dynamic that I have with her."
So what does that all mean for Joyce and Hopper in Season 3?
5. Harbor revealed that he really wants Hopper and Joyce to date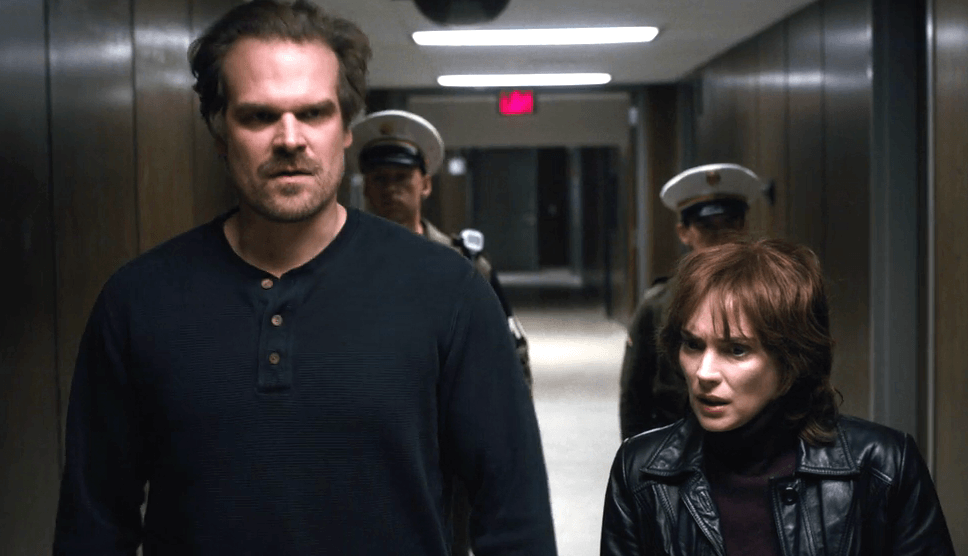 If Harbour has it his way, Hopper and Joyce will realize their feelings for each other in Stranger Things 3. And he's not particularly shy about the fact that he'd love to see that happen.
Harbour (jokingly) criticized Bob Newby's bedroom abilities in Netflix's Beyond Stranger Things. He's insinuated that Hopper's now infamous dance moves would be even better if Joyce was dancing with him (to Supertramp, no less).
And when asked, seriously, whether he thought Joyce and Hopper would make a good pair, he had this to say to Variety: "Ever since I read the pilot I loved the relationship with Hopper and Joyce… These are two lost, broken people who need each other but are so prideful and messed up that they'll never admit it."
Even if he thinks Joyce and Hopper are facing an uphill battle, he's not shy about admitting he's a full-fledged 'shipper. And he can prove it, too.
6. Harbour has fully embraced the Hopper and Joyce fandom
Hawkins class of '60. She and Lonnie went to Prom winter of '59 and Hopper sat outside in his steel blue GTO smokin' camels😒 https://t.co/qvqxTq4KB5

— David Harbour (@DavidKHarbour) October 30, 2017
Fandom can get a little weird sometimes. But Harbour has completely embraced the Stranger Things fan fervor. And apparently, he's done his research, too.
In October 2017, he acknowledged the fandom name for their pairing (Jopper) in an interview on Beyond Stranger Things. Harbour has even started to participate in the fandom's creative side himself. In July 2016, he put a call out for ST fanfiction recommendations. And he even shared a bittersweet headcanon of his own about Joyce and Hopper's earlier years (and the future Sheriff's heartbreak) with fans on Twitter.
All in all, Harbour's preference for Hopper's love life have been well documented. But will he get a chance to see his dreams come true?
7. Will Harbour get his wish in Stranger Things 3?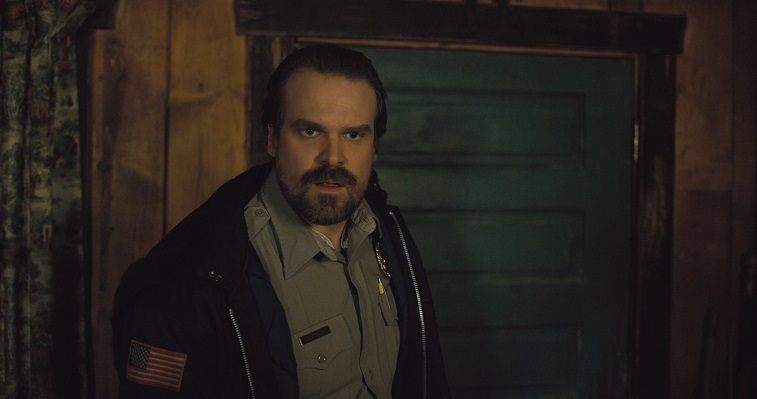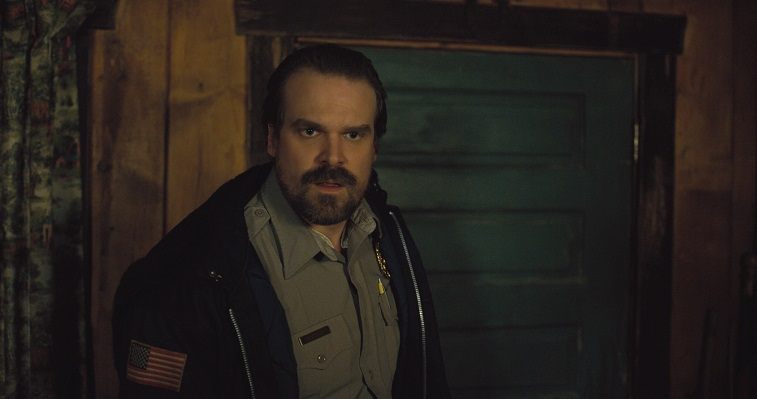 Harbour isn't the only Stranger Things superfan who's holding out hope for Joyce and Hopper. And since he does have an insider's perspective, he's offered some hints that everyone's ship of dreams could set sail in Stranger Things 3.
When discussing his dynamic with Ryder, he told Variety, "The Duffers are writing with that in mind as well. I think that we'll have to see where that goes in the future."
He cautioned fans that Joyce and Hopper might have a rough go of it, due to the walls they've built up over time. But he also ultimately saw their potential for love as something that could be positive for both characters.
"It's a special connection. I think that's something that's very deep between them. We'll have to see where that goes in future seasons," he said. "But I root for some happiness for Joyce and Hopper. If they can find that together, that would be great."
Follow Katherine Webb on Twitter @prufrox.
Check out The Cheat Sheet on Facebook!