The 1 Thing Tim Tebow Misses Because of His Keto Diet
Tim Tebow is following a keto diet and this is the one thing he misses the most.
Former NFL quarterback Tim Tebow adopted the keto diet back in 2012. Although Tebow doesn't feel this diet is for everyone, it has certainly worked for him. Despite his success with it, there is one forbidden food he misses to this day. Learn more about the star athlete and his diet.
Tim Tebow's NFL career
Tebow played quarterback for the University of Florida winning both the Heisman Trophy and the BCS National Championship. He joined the Denver Broncos as the 25th pick during the first round of the 2010 NFL draft. 
According to Biography.com, Tebow was referred to by an NFL coach as "the strongest human being that's ever played the position of quarterback." He was traded to the New York Jets in 2012. He then played for the New England Patriots in 2013 and the Philadelphia Eagles in 2015. 
Sportscasting reported Tebow was one of the most polarizing figures in professional sports during his brief time with the NFL. Unfortunately, his talent as a professional quarterback was lacking. 
Tim Tebow's baseball career
In 2016, Tebow made a surprising career change when he announced that he would be pursuing professional baseball. Baseball scouts gave him mixed reviews, but the New York Mets decided to take a chance on him and signed him to a minor league deal. This gamble made sense for them at the time because they could profit from his popularity in ticket sales and merchandise. He has not made it to the MLB.
Tim Tebow's Keto diet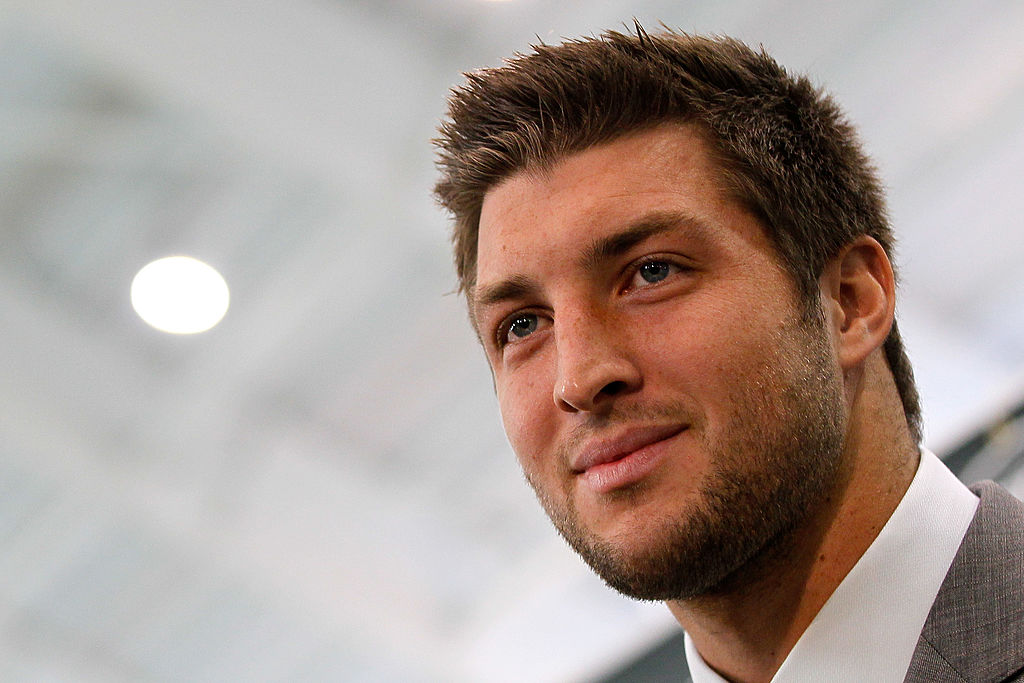 Tebow told People magazine that he was one of the first followers of the keto diet, beginning it back in 2012. The ketogenic diet is a high-fat, low-carbohydrate diet that claims many health benefits.
According to Healthline, studies show that the diet can help one to lose weight, and may have benefits against cancer, diabetes, epilepsy, and Alzheimer's disease. Reducing carbohydrates puts the body in a metabolic state called ketosis. Ketosis causes the body to produce ketone bodies out of fat. These are used for energy rather than carbs. Those on the keto diet do not eat grains or candy, and they totally avoid sugary soft drinks. Potatoes, legumes, and fruit are also severely cut back.
Tebow said when he started the diet, he didn't know anyone else who was on it. He credits his trainer at the time for introducing him to it. "You learn carbs are the enemy," he said.
Because he no longer eats carbs, Tebow can't eat one of his favorite things that his mom used to make.
"It was something called pizza pie," he said. "It had a crazy huge dough on the outside."
Strongly believing that this diet is right for himself and his family, Tebow formed a partnership with KetoLogic.com, a 30-day diet challenge designed to kick start weight loss. The company sells keto-friendly food products and supplies participants with recipes and support for getting on-track with the lifestyle.
"They make the keto lifestyle easy for the average person," he said.
He also praised restaurants that provide keto-friendly options.
Tim Tebow and his fiancée endorse the diet
Some nutritionists say that cutting out carbohydrates can be detrimental long term. To this, Tebow says he has no rebuttal.
"When you stand up for something, you will get criticism for it," he said. "It has worked for me and I believe in it."
He and his fiancée, former Miss Universe Demi-Leigh Nel-Peters, recently appeared on the Rachael Ray Show, to discuss the keto diet. 
"I want to encourage people to try the lifestyle that's right for them," he says.