The 10 Best Kendrick Lamar Songs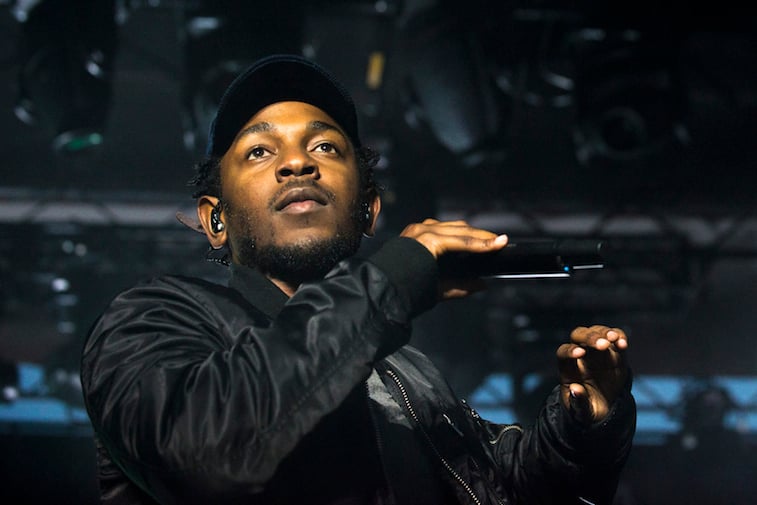 Kendrick Lamar established himself as the latest in a long line of hip-hop saviors with the release of his sophomore album, the critical and commercial hit concept album good kid, m.A.A.d city, an album brimming with creative musical and lyrical ideas that advanced a mixed-up central narrative while making powerful statements about the oppressive inner-city lifestyle that affects us all and informs the songwriting of this Compton native. Somehow Lamar managed to live up to his hype with his third album, 2015's To Pimp a Butterfly, an even more ambitious project whose meanings are all the more opaque and yet topical for the year of "Black Lives Matter."
A quick review of his recent compilation of recent outtakes untitled unmastered. or his oft-overlooked first release Section 80 just confirms Lamar's talents as a rapper and songwriter. Let's celebrate his young career and the impressive discography he's already accumulated by counting off his 10 best songs.
10. 'F*ck Your Ethnicity'
The first track on Kendrick's first album immediately set a high bar for his young career, touching upon his recurring lyrical theme of race by forcefully tossing it aside with a muffled but still infectious chorus. The illustrative opening of a man lecturing a group of inner-city teenagers around a campfire sets the narrative tone for the album and Kendrick's career so far before the powerful beat underlined by a piano riff swoops in and Kendrick begins speaking movingly about his ambitions as a rapper and a proud escapee of ghetto life willing to say what others would fear to.
9. 'Alright'
To Pimp a Butterfly often sounds like a pastiche of the many genres of American music pioneered by black musicians, using hip-hop to channel a proud history of music and the conflicted social history of racism in America as well. A mournful jazzy saxophone persists throughout this Grammy-winning single, a lovely reminder of the history of race in America as Kendrick raps over a tinny complex beat about that same history, offering a positive, affirmative but never idealized vision of the power of his people to persevere and be, indeed, "alright."
8. 'King Kunta'
His latest studio album also found Kendrick contemplating his place in the music industry as a black man not just lyrically, but musically as well, working in references to the music of black artists like James Brown, Michael Jackson, and George Clinton, the P-Funk frontman featured here and on other tracks throughout the album. This is Kendrick's version of a boastful rap track, featuring a menacing, strutting beat and painting himself as a modern incarnation of the rebellious slave Kunta Kinte, trying to get out a message of race in a world that would rather he just played along and kept his mouth shut.
7. 'ADHD'
Section 80 touches repeatedly upon the struggles of the medicated, outcast children born to life in the ghettos during the Reagan era, when children were increasingly medicated or affected by the raging crack epidemic. "ADHD" is perhaps the album's most direct address of these issues, using a lethargic, dreamy atmosphere as a swooning backdrop for Kendrick's poetic storytelling about an entire generation that feels as though they were born into lifelong misery.
6. 'Sing About Me, I'm Dying of Thirst'
Two of good kid, m.A.A.d. city's most powerful, depressing tracks rolled into one 12-minute long epic, "Sing About Me, I'm Dying of Thirst" finds Kendrick slowing things down with a gorgeous beat that chugs along as he does some of his strongest straightforward storytelling to date. He takes on the voices of a few different characters in the long first segment, including a young gang banger headed toward his own demise thanking Kendrick for comforting his brother as he died in the streets and a prostitute doing her best to overcome a conflicted past in the foster system. The moving track embodies how Kendrick often treats his music as a source to tell the tragic, unheard stories of people from his past in a way that makes their struggles relevant to the entire world.
5. 'i'
The first glimpse the world got at To Pimp a Butterfly was the joyously life-affirming "i," boasting an irresistible chorus about embracing one's self that only becomes more powerful in context, as a counterpoint to the self-loathing tirade of "u." In fact, just about every bit of this song is positively irresistible, the beat pulsing along joyfully as a positively funkadelic guitar riff and atmosphere lull listeners into a surprisingly complex listen as abrasive and ambitious as it is catchy.
4. 'Money Trees'
The story of Kendrick's Compton life wouldn't be complete without this slice-of-life that looks at the world from the view of a young hustler who dreams big and sees the entire world as an oyster to be scammed in order to gain its pearl. The smoothly building, head-bobbing beat and the lovely chorus make "Money Trees" one of the best hip-hop hangout songs in years, the kind of tune whose lyrics have enough substance to read into or that can simply serve as a showcase for the considerable flow of Kendrick and featured artists Jay Rock.
3. 'These Walls'
On To Pimp a Butterfly, Kendrick proved himself a master of multiple meanings, weaving recurring themes throughout songs and exploring subtext so every song is bursting with meaning to be explored. "These Walls" hints at many of the overarching motifs of the album, but the clearest subject is sexual. The music oozes a beautiful sensuality in its sultry electro-backdrop and gorgeous, weeping bass lines that all give way to one of his greatest choruses to date. The song's many meanings are often opaque but the lyrical and musical ingenuity are on magnificent display for all to see.
2. 'The Art of Peer Pressure'
One of good kid, m.A.A.d. city's most vital pieces of storytelling manages to capture both the raucous thrill of behaving poorly and simply being young with a group of friends, and the danger of such recklessness in the world of Kendrick's Compton. The smooth melodicism of the song's first segment gives way to a simple but powerfully sinister beat that adds a layer of menace to a night-in-the-life of Kendrick and the friends who unknowingly push him towards being someone he isn't. Kendrick's songwriting is in peak form as he turns what could have been a mandatory installment in the album's story into one of its most thrilling centerpieces.
1. 'm.A.A.d. city'
Kendrick's greatest song to date also happens to be his most sprawling portrait of his upbringing and his crime-ridden hometown. The flow comes fast and sharp as Kendrick chronicles a few of the brutal horrors he's witness in the course of his young life atop a beat that exudes all the dangerous menace and drama of its setting, featuring the dense lyricism, handcrafted layers of music and even the adventurous composition that has helped make Kendrick such a phenomenon among critics and listeners alike.
Check out Entertainment Cheat Sheet on Facebook!