The 10 Best Led Zeppelin Songs of All Time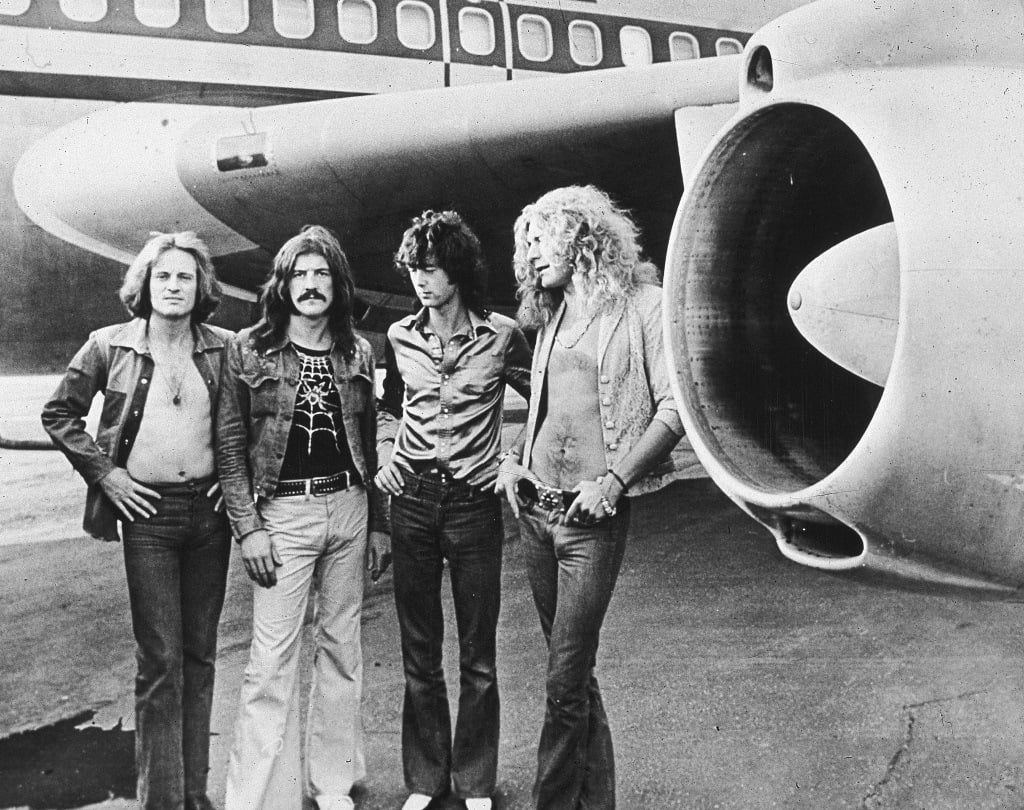 Even among the greatest rock bands of all-time, the legacy of Led Zeppelin looms large — mainly because the band made unapologetically big music. The four-man band dynamic yielded songs that worked as a whole even as each individual element shined as bright as it possibly could — John Bonham's apocalyptic drumming, Robert Plant's wailing, Jimmy Page's rip-roaring guitar solos, and even John Paul Jones's funky bass grooves and multi-instrumentalist versatility. Trying to rank the best Led Zeppelin songs is like picking between children. Well, let's start picking kids — however painful it might be to omit so many great ones!
10. 'Communication Breakdown'
"Communication Breakdown," the most propulsive track on Zeppelin's otherwise blues-centric debut album, roars along on the strength of a clean-but-mean guitar riff played on high speed. The drums, the bass, and the vocals do their part to build a catchy song around Page's skilled playing and amazing solo. While Zeppelin is best known for its towering, swaggering rock epics, "Communication Breakdown" shows the band churning out a nimbly effective two-minute beast — punk before punk existed.
9. 'Ramble On'
It's tough to pick a favorite track from Led Zeppelin's second album, whose track list reads like an inventory of legendary hard rock classics, but I'd cast my vote for the Lord of the Rings-referencing "Ramble On." It succeeds not only for the strength of its endlessly catchy chorus (you're probably humming it right now — I know I am), but for the delicate verses built around a bass-percussion interplay incorporating a bare-hand beat (how Bonham made the sound is still contested).
8. 'Stairway to Heaven'
Somewhere along the line, "Stairway to Heaven" became the biggest cliche in rock history, which is a shame since it's still a great song on its own merits. It's a naturally evolving epic of a track built around a series of cryptic lyrics and a steady escalation from acoustic loveliness to face-melting guitar solos. Some might say the song sounds too self-important, almost a parody of overserious '70s arena rock, but those people are wrong. Zeppelin embraced what was big about rock music, and "Stairway to Heaven" is one of the band's great achievements, a song so natural it sounds now as though it's always existed.
7. 'Babe I'm Gonna Leave You'
One of Page's prettiest acoustic riffs brims with a barely-contained tension in this bluesy seven-minute track, always threatening to explode into a violent fit of strumming with the rest of the instrumentation. Gradually the harder side of the track overtakes the softer, and the dynamic between tortured balladry and righteous fury makes "Babe I'm Gonna Leave You" one of Zeppelin's greatest, and my favorite from the band's stellar debut album.
6. 'Over the Hills and Far Away'
"Over the Hills and Far Away" is like two great Zeppelin songs seamlessly stitched into one — the acoustic strumming and delicate singing of the first half bursting naturally into the legendary riffage of the second half. The band made so much of placing understated beauty beside epic rock n' roll on its albums, and here Zeppelin does it within the same track to even greater effect. The lyrics are simple but still some of Plant's best and most wistful, making the trials and travels and life seem as epic as Page's shimmering guitar solo towards the end.
5. 'Going to California'
Led Zeppelin III showcases the band's folk rock instincts most completely, but the group's loveliest acoustic track came on the next, vastly superior Led Zeppelin IV (or whatever you want to call the apparently untitled album). "Going to California" is a sublimely pretty evocation of a journey to reach some idyllic place that almost certainly doesn't exist, even in California. Plant's uncharacteristically subdued vocals allow the interplay between Page's guitar and Jones's mandolin to shine. The whole thing is just almost unspeakably beautiful, the best demonstration of the band's soft side.
4. 'Immigrant Song'
Like "Communication Breakdown," "Immigrant Song" is the power of Led Zeppelin condensed into bite-sized form. The song is ostensibly about a trip the band took to Iceland, but the lyrics conjure images of Vikings — the only subject badass enough to adequately compliment the immediately memorable staccato riff that blends the guitar, bass, and drum lines into one. Unlike most of the heavy metal bands who would appropriate the subject and the sound of songs like this, Led Zeppelin knows how to make earth-shattering rock seem natural and organic rather than labored.
3. 'No Quarter'
Led Zeppelin built most of its songs around its impenetrable hard rock sound, but the band's experimentation yielded some of its best tracks. The electro-tinged atmospherics of "No Quarter" still sound like nothing else ever committed to record, and the band still finds plenty of room for its usual dynamics, as Page's guitar and Bonham's drums explode into an epic thump every so often throughout the seven-minute song — which also finds time for some beautiful tinkling piano from John Paul Jones and plenty of Plant's mystical vocals. Even when pushing its sound, Zeppelin sound like an unquestioned master of its medium.
2. 'Kashmir'
"Kashmir" embraces and appropriates the complex time signatures and world influences of Zeppelin's prog-rock contemporaries while still keeping its almost-godly epic sound. The unusual beats, Eastern influences, and pedal drone-driven propulsion of the song are all bonuses for the musically-inclined, while the rousing orchestral sounds combined with the soaring solos make the track a truly enjoyable and engrossing affair. It's hard not to imagine a triumphant but treacherous journey across the Arabian desert while listening to the towering "Kashmir."
1. 'When the Levee Breaks'
Led Zeppelin owes so much of its success to the blues musicians that inspired the band, but the group also created a sound entirely its own, built upon such confident and grandiose playing, it sounds as though it could shake the earth. No song represents this dynamic better than "When the Levee Breaks," which rides along on the powerful plodding of Bonham's drums (literally earth-shaking if you play the song loud enough). Each band member has the chance to flex for the recording, and the production style, particularly on the harmonica solo, gives the track a ghostly feeling that drives home the apocalyptic lyrical content. It's not as complex as some other songs as this list, but it's so damn powerful it can't help but obscure them.
Follow Jeff Rindskopf on Twitter @jrindskopf
Check out Entertainment Cheat Sheet on Facebook!