The 10 Best Showtime Original Series Ever
Premium cable channels and original television series didn't always go hand-in-hand. For years, channels like HBO and Showtime focused primarily on delivering movies, comedy specials, and sports events to their subscribers. But in the past few decades, the balance has shifted — and we, the viewers, are the winners.
HBO is frequently lauded for its high-profile, innovative TV series. But it's not the only channel that's consistently providing us with quality content. Since the early 1980s, Showtime has created groundbreaking series that have helped shape the TV landscape. From Queer as Folk to Billions, it's also brought in viewers that are eager to watch series that provide diverse perspectives and a critical eye on culture.
Since 1982, Showtime has produced more than 50 original series that have run the gamut as far as genre and tone. Here are our picks for the 10 best original Showtime series so far.
1. Penny Dreadful (2014-present)
Dorian Gray. Frankenstein and his monster. Dr. Jekyll. Penny Dreadful brings these iconic creepy characters together and weaves a complex, frightening narrative that always keeps viewers on their toes. The series, created by John Logan, boasts cinematic-grade cinematography, costuming and effects. And its ensemble — including Eva Green, Josh Hartnett, Reeve Carney, and Rory Kinnear — routinely deliver performances that manage to make the series' macabre subject matter come vividly to life. Penny Dreadful also benefits from rich storytelling in a setting we don't often see on our screens — Victorian England. Critics praised the series' first two seasons for their ability to deliver unique and highly entertaining horror stories. The third season of Penny Dreadful premieres on Showtime this May.
2. Homeland  (2011-present)
A series about counter-terrorism is as timely as it is controversial — but that hasn't stopped Showtime from delving deep into the world of the CIA and its quest to stop mass violence around the world. When Homeland premiered in 2012, it received universal acclaim for critics for its ability to build suspense and deliver a complex story and characters. And it has been buoyed by near-perfect performances from Claire Danes as the self-destructive but brilliant CIA case officer Carrie and Damien Lewis as the radicalized former prisoner Nick Brody. The first season was such an enormous success, it beat out favorites like Mad Men and Breaking Bad for the drama series Emmy and Golden Globe awards.
Over the years, some fans have felt like the series lost its mojo. Critical response to the series has been less effusive, too. But the fact remains that it has consistently been an intriguing — if not always plausible — examination of issues that have a serious real world impact. And anyone who's watched Homeland when it's hitting the mark would be hard-pressed to deny it's one of the most gripping shows on television. Homeland's sixth season will premiere this fall.
3. The Affair (2014-present)
Showtime viewers know the network has never shied away from racier material. But this series takes the exploration of intimacy to a new level. The Affair examines every angle of indiscretion through multiple sets of eyes. It primarily focuses on a quartet of characters — Noah (Dominic West) and Allison (Ruth Wilson), who engage in an extramarital affair during his family trip to Cape Cod, and their respective spouses, Helen (Moira Tierney) and Cole (Joshua Jackson). And by giving viewers a chance to understand each character's actions, The Affair also reveals the complexity of adult relationships and how quickly life can change. Critics have showered praise on The Affair — for both its intricately woven storylines and its stellar ensemble. The third season will air this fall on Showtime.
4. Dexter (2006-2013)
A serial killer with a soul — or at the very least, a solid conscience. That's the premise behind Showtime's edgy thriller, Dexter. For eight seasons, the series followed antihero Dexter Morgan (Michael C. Hall), a blood spatter analyst by day and vigilante serial killer by night (okay, and also sometimes day). And it gave us a glimpse into the psychological struggles he faced, balancing his murderous urges with his seemingly normal life. Though the last few seasons were a disappointment to many fans, Dexter enjoyed a long run of consistently thrilling storytelling and spectacular acting from the series' ensemble. And it brilliantly mixed comedy, drama, and its fair share of gore while letting us inside the mind of one of television's most memorable murderers.
5. Dead Like Me (2003-2004)
It's not one of the most well known Showtime Original series, nor is it one of its longest running. But Dead Like Me still remains one of the most unique, engaging and exciting shows that the premium network ever aired. Created by Hannibal's brilliantly weird Bryan Fuller, the series follows a team of grim reapers as they attempt to help dying souls cross over. And it also examined the impact that death can have on both those who leave their bodies and the loved ones they leave behind. The series features pitch perfect performances from the entire ensemble, particularly Ellen Muth, Mandy Patinkin, Rebecca Gayheart, and Jasmine Guy. Though critics and a core group of fans loved Dead Like Me's irreverent humor, Showtime and Fuller butted heads over the creative direction and the network canceled the offbeat series after just one season. A disappointing direct-to-DVD follow-up, Dead Like Me: Life After Death, did little to assuage fans' desire to see the series resurrected.
6. Shameless (2011-present)
It's one of the few British television series that has become a worthwhile adaptation stateside. And it's one of the most entertaining and heartfelt examinations of family dysfunction on the air today. Shameless follows the Gallagher family —  alcoholic, scheming dad Frank (William H. Macy) and his six children as they attempt to navigate life with little to no direction. The series relies — and thrives — on career-high performances from Macy and Emmy Rossum as his eldest daughter Fiona, who constantly struggles to balance raising her siblings and trying to maintain her own sanity. Though the premise may sound frustrating, Shameless is apt to draw you in with its layered, complex, hilarious, and heartbreaking story. The sixth season is about to wrap up on Showtime.
7. Nurse Jackie (2009-2015)
Television is no stranger to hospital dramas. But for seven seasons, Nurse Jackie managed to infuse some much-needed grit into the genre. The series followed Jackie Peyton, a smart, savvy and sometimes secretive RN in New York City as she cared for her patients, navigated the politics of her profession, and tried to keep her personal life from falling apart. Nurse Jackie was not only a meditation on the very real struggle of maintaining balance in the medical profession, but also delved thoughtfully into themes of addiction. And Edie Falco's portrayal of the titular character — equal parts forceful and vulnerable — remains one of the best performances ever given on a Showtime series.
8. Weeds (2005-2012)
A single mother starts a successful small business to support her family. The product she develops and sells just happens to be marijuana. Weeds delivered on this premise for eight seasons, thanks to the creative mastery of creator Jenji Kohan. While not always perfect, it became a hallmark series for Showtime, thanks to its inventive premise and electric performance from Mary Louise Parker. And Weeds managed to make great comedy and drama out of the seemingly more mundane aspects of dealing pot in suburbia, from navigating relationships with rivals to becoming embroiled in other illicit activities.
9. Ray Donovan (2013-present)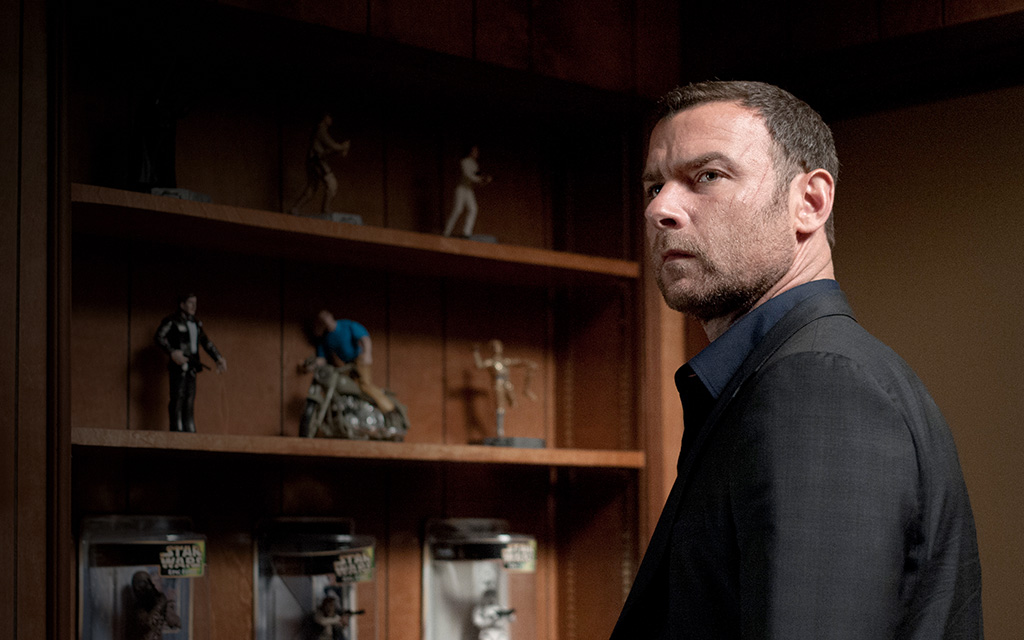 When Ray Donovan premiered in 2013, it broke records for Showtime. And with good reason. This thrilling crime drama delivers echoes The Godfather and other great mob dramas, and gives the criminally underrated Liev Schreiber a chance to really sink his teeth into a worthwhile character. Ray Donovan follows a "fixer" lawyer who tries to keep his government official clients out of jail and his family's darker secrets at bay. The series is full of swagger, but it has a darker edge to it — an off-balance edge that keeps viewers on the edge of their seats. Showtime recently renewed Ray Donovan for a fourth season.
10. Californication (2007-2014)
Most of us know David Duchovny as Fox Mulder, the sarcastic, suspicious FBI agent on The X-Files. But he proved his versatility as an actor over the course of seven seasons on Showtime's Californication. Duchovny starred as Hank Moody, a struggling novelist with penchant for some serious hedonism. The series explored his ups and downs as he attempted to get his life on track and turn his career around. Californication provided some legitimate insights into growing up long after adulthood has hit. But it's also one of the most genuinely fun series that Showtime ever produced.
Follow Katherine Webb on Twitter @katiedoubleyew.
Check out Entertainment Cheat Sheet on Facebook!  
More from Entertainment Cheat Sheet: