The 10 Books Everyone Was Reading in 2013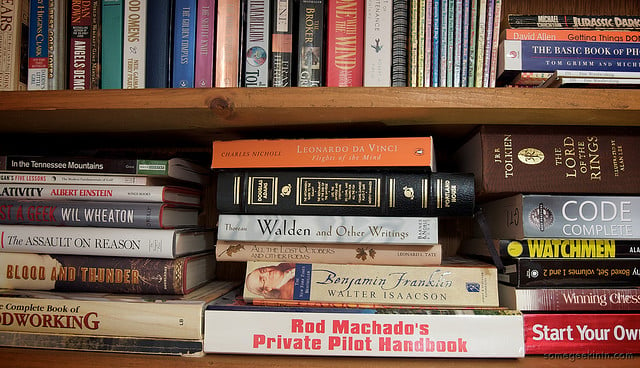 A good book is a lot like a good friend — it teaches you something new, let's you get a different perspective on things, and tells the best stories. Even when you've moved on to a new book — the old ones are always there, waiting for you to revisit them. This year, there's been a couple paper-back buddies — or hard cover companions — that have stood out the most this year. Cross listing best seller lists from the New York Times, Publishers Weekly, Nielsen BookScan, Amazon Kindle, and USA Today – I bring you 2013′s top ten best selling books.
1. Inferno, Dan Brown
Mentioned by Publishers Weekly and number one on Nielsen BookScan's top twenty — Dan Brown's Inferno returns us to the adventures of Professor Robert Langdon, protagonist from The Da Vinci Code, as he weaves his way through another thriller. Puzzles and classic literature abound as this time Langdon tackles Dante's Inferno. Both The Da Vinci Code and its sequel, Angels and Demons, were highly successful, making the high sales of Brown's third book in the series unsurprising.
"Inferno is very much a Robert Langdon thriller," said Brown, in an interview with Amazon. "It's filled with codes, symbols, art, and the exotic locations that my readers love to explore. In this novel, Dante Alighieri's ancient literary masterpiece — the Divine Comedy — becomes a catalyst that inspires a macabre genius to unleash a scientific creation of enormous destructive potential," said the author.
2. The Great Gatsby, F. Scott Fitzgerald
Even with the release of a colorful, loud, glitter-filled film version — the novel, published in 1925, still persists — proving that love of literature never dies, and movie distractions just bring us back to where we heard the story first. F. Scott Fitzgerald's classic tale is set in the 20′s and follows the protagonists wild interactions with the mysterious Jay Gatsby.
USA Today reports that while a mere 250,000 copies of the book were sold while Fitzgerald was alive, it is now Scribner publishing company's best selling title. Perhaps the film did help to remind readers how much they loved the book — at least according Amazon. "Historically, when a movie based on a book comes out we usually see a jump in the sales of the book. However, with The Great Gatsby we've seen a much larger jump than we usually see," said Sara Nelson, the editorial director of books and Kindle at Amazon.com — reports the Long Island Press.
3. Proof of Heaven, Dr. Eben Alexander
Slotted into USA Today's fourth best-selling position, Proof of Heaven is the only personal narrative to make the list, written by and about Dr. Eben Alexander. Dr. Alexander — a neurosurgeon — tackles the subject of near-death experiences, writing from personal experience, and from a uniquely scientific perspective. "This book covers topics that are of interest to a lot of people: consciousness, near-death, and heaven," said Priscilla Painton, executive editor at Simon & Schustor publishing — according to the New York Times. Dr. Alexander notes that he doesn't think that his book only targets the religious — like Heaven Is for Real, another best seller.
"It's totally different. Those who believed in heaven when they read the book were not happy. They didn't like the title. They say, 'This is not scientific proof,'" said Alexander. And according to CNN, he's quite right — "Conservative Christians aren't the only ones going to heaven, and that makes them mad," explained Reverend John Price. Controversial or not, Proof of Heaven is certainly attracting a lot of readers — and a lot of revenue.
4. Lean In, Sheryl Sandberg
Sheryl Sandberg's book delves into women's issues, asking big questions and making big points about women in leadership roles — or lack-there-of. Its place on the best seller list is good news for LeanIn.org — a group that aids women worldwide in striving higher — as the recipient of the book's proceeds.
According to the New York Post, Sandberg's praise of Now, Discover Your Strength and Conscious Business has likely been the impetus for both books increased sales on Amazon. "Lean In is resonating with readers and animating conversations across the country," said the head of publicity for publisher Alfred A. Knopf Inc., Paul Bogaard. Approximately 140,000 copies of Lean In were sold within the first week of its release.
5. Fifty Shades of Grey, E.L. James
While Lean In may have sold 140,000 in its first week for attempting to empower women, Fifty Shades of Grey broke sale records for trying to excite them — if you take my meaning. The popular erotica novel written by Erika Mitchell, or E.L. James, follows Anastasia Steele as she falls in love and into bed with Christian Grey, an emotionally tortured successful businessman who's handsome to boot.
Fifty Shades of Grey has been highly successful, surpassing Twilight and Harry Potter in initial sales, according to the Daily Mail. When asked why Harlequin, the well known publisher of romance books, didn't take on Jame's novel, Executive Editor Susan Swinwood said that the company already had writers working on erotic novels of "frankly, better," quality.
"It's just one of those things. It's lightning in a bottle. If I'd seen that manuscript come across my desk, I don't know that I would have bought it. But for whatever reason, it hit the market at the right time with the right buzz and the right marketing," said Swinwood — according to the Washington Post.
6. Gone Girl, Gillian Flynn
This book, as dark and twisted as its cover promises, delves into marriage in a way that commit-a-phobes worldwide can appreciate. Gillian Flynn, author of Sharp Objects and Dark Places, writes about not-so-happily married couple Nick and Amy Dunne — and Amy's eventual disappearance.
According to the New York Times, Flynn has book deals for two new works, possibly thanks to the success of her recent work. "Gone Girl" remained number one on the New York Times list of best-selling hardcover fiction for eight weeks, and as of last week had sold over 2 million copies.
7. Beautiful Creatures, Kami Garcia and Margaret Stohl
Beautiful Creatures targets a young adult audience as it follows the love story of two small town teenagers and a dark secret — though spoilers, it's not vampirism this time. Kami Garcia's best-selling book is just one in a series of four, followed by Beautiful Darkness, Beautiful Chaos, and Beautiful Redemption.
The book, published in November of 2012, led to a film in February of this year, starring Alden Ehrenreich and Alice Englert. The film grossed $7,582,595 upon opening, with a total lifetime gross of $19,452,138 — according to Box Office Mojo. Publishers Weekly reports that fans of the series have a spinoff series to look forward to — to be penned by Kami Garcia and her co-author Margaret Stohl — which will focus on original characters Link and Ridley.
8. And the Mountains Echoed, Khaled Hosseini
And the Mountains Echoed comes to us from the best-selling author of The Kite Runner and A Thousand Splendid Suns, and touches on family and love with a depth only Khaled Hosseini can achieve. Like his previous works, And the Mountains Echoed takes place in part in Afghanistan where Hosseini was born — but also hops around the world to places including Paris and San Francisco.
"I think at the core, all three of my books have been love stories — and they haven't been traditional love stories in the sense that a romantic love story between a man and a woman, you know, they've been stories of love between characters," said Hosseini in an interview with NPR.
9. World War Z, Max Brooks
This marks another novel being snatched off shelves in the U.S. that has also made it into theaters this year. The zombie-horror novel, penned by Max Brooks, is written in the style of a collection of short war-time memoirs and capitalizes on recent fascination with the undead. Just look at highly successful TV series, The Walking Dead — adapted from a graphic novel series by Robert Kirkman.
World War Z is Brooks' second zombie themed book alongside The Zombie Survival Guide, though the film starring Brad Pitt may not be his last foray into Hollywood. According to USA Today, some have claimed that a second World War Z film may be coming out — though for readers who liked the book and not the movie, this may be lackluster news.
10. Diary of a Wimpy Kid, Jeff Kinney
Sitting at number one on the New York Times list of top selling children's series this week, Diary of a Wimpy Kid: The Third Wheel by Jeff Kinney is a big hit with the kids. Who can blame them — the humorous book series is chock full of simple but effective illustrations, as well as witty anecdotes from the life of its protagonist — Greg Heffley — reminding us all how awkward growing up can be.
The Third Wheel is the series' seventh installment and deals with the stress of Valentines Day and school dances. The book has the added advantage of reaching a broad audience, with humor enough to attract both male and female youngsters, and an age range from as young as 7 to as old as middle school.
Don't Miss: 6 Surprising Health Benefits of Coffee.