10 Highest-Paid DJs of 2013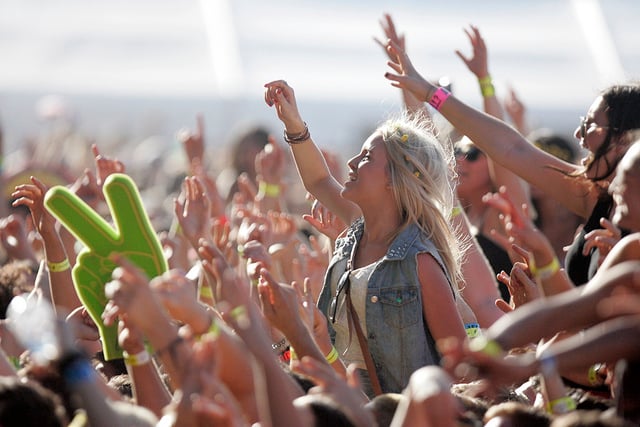 According to Forbes' annual ranking of the highest-paid disc jockeys, called the list of Electronic Cash Kings, the average salary for the strangely dressed person standing behind a turntable and a MacBook while playing pre-recorded tracks on stage has skyrocketed in the last year. The top earner in 2012 made $22 million, but the highest-paid DJ in 2013 made a staggering $46 million.
Forbes said that DJs are capitalizing on the electronic dance music trend by collecting six-figure checks to 'play' in nightclubs in the world's biggest party towns, including Las Vegas and Ibiza. EDM has exploded in popularity in the last year, and many of the DJs on the list are now making over double what they did in 2012.
With the popularity of EDM comes DJs' ability to command huge fees for gigs at clubs and festivals. As the genre became so mainstream that it dominated the Top 40 in 2013, more pop stars including Rihanna and Miley Cyrus commissioned talented DJs to add dance beats to their songs. Those fees, as well as merchandising and endorsements, were accounted for in Forbes' methodology, although Forbes didn't come any closer to answering why people are willing pay so much to see a DJ 'perform' pre-recorded music. Here's a list of the top ten DJ's who racked in the most cash in 2013.
10. Kaskade, $16 million
Kaskade is one of the oldest DJ's on the list, but even at age 42 he played over 130 shows in 2013 on a large tour. He was also one of the first DJs to establish himself in Las Vegas, according to Forbes, a trend that's been followed by many other popular DJs on this list. He's had a deal with Encore Beach Club since 2010 and also frequently performs at Cosmopolitan's Marquee. Kaskade made $10 million in 2012. But even with a $6 million raise, he still fell from the eighth to the tenth spot in Forbes' ranking.
9. Skrillex, $16 million
The most recognizable face in EDM fell from the second spot on Forbes' list in 2012, when he made $15 million, all the way down to number nine as his contemporaries surpassed him in earnings. Skrillex still makes six figures a night for his performances and has a long-time gig at Wynn's XS club in Las Vegas. Skrillex has also been one of the most critically acclaimed EDM DJ's, winning three more Grammys in 2013 to add to the three he won in 2012.
8. Armin van Buuren, $17 million
Armin van Buuren has been a successful performer in the EDM world for many years. He works in the trance subgenre of electronic music, and has a weekly radio show called "A State of Trance" that has helped him gain fans around the world, including the Dutch royal family. Armin van Buuren played over 120 shows around the world last year and released his fifth album, Intense, in May. He has also gotten the number one spot on DJ Magazine's Top 100 DJs fan poll a record five times.
7. Afrojack, $18 million
Nick "Afrojack" van de Wall is a 25-year-old Swedish DJ who likes to show off his wealth by buying and wrecking Ferraris. Afrojack has collaborated with Beyoncé, Pitbull, and Chris Brown. He came in ninth place on Forbes' list last year, having made only $9 million in 2012. Afrojack is one of the biggest DJs at the club Wynn Las Vegas and has turned down higher offers from other Las Vegas clubs to stay loyal to Wynn.
6. Avicii, $20 million
The 23-year-old Swedish DJ Avicii taught himself his craft using software he pirated online as a teenager. Avicii's album, True, came out in September of last year and the first single, "Wake Me Up," has been downloaded 1.7 million times around the world. In 2013, Avicii was also nominated for a Grammy and received an American Music Award for favorite Electronic Dance Music Artist. Avicii came in tenth in 2012 with an income of just $7 million.
5. Deadmau5, $21 million
Deadmau5 is most famous for performing with an exaggerated and creepy Mickey Mouse-like mask. Forbes said that although he doesn't play shows as frequently as some of the other DJs on the list, he still made the fifth spot by commanding up to $200,000 a night for performances at night clubs. His record label Mau5trap and merchandising deals also padded his wallet in 2013. Last year, Deadmau5 came in sixth with an income of $11.5 million.
4. Swedish House Mafia, $25 million
Even though the three members of Swedish House Mafia called it quits back in March, the group still made enough to break the top five highest paid DJs. Forbes only counted performances that the group did together for their valuation, and the individual members have gone on to form their own DJ careers, meaning the cash from Swedish House Mafia is only a portion of their year's income.
3. David Guetta, $30 million
French DJ David Guetta was up one spot from 2012, but he more than doubled his $13.5 million salary from that year in 2013. Guetta has collaborated with the Black Eyed Peas, Madonna, and Lil Wayne among many others. The 45-year-old DJ played over 120 shows in 2013, including as a supporting act on Rihanna's tour.
2. Tiesto, $32 million
Tiesto topped the list last year with a salary of $22 million, but even a $10 million raise couldn't keep him at number one in 2013. The Dutch DJ played over 140 shows in 2013, including a lucrative deal with Las Vegas nightclub Hakkasan, which has also employed other famous DJs to spin at the world's largest nightclub.
1. Calvin Harris, $46 million
Forbes made it a point to say that Harris made more than Jay-Z or Katy Perry this year, showing that EDM can bring in as much cash as pop and hip hop. Harris' earnings include cash from gigs played at the Las Vegas club Hakkasan as well as songwriting and producing credits for pop stars like Rihanna.
More from Wall St. Cheat Sheet:
Follow Jacqueline on Twitter @Jacqui_WSCS