The 10 Sexiest Women on TV
Women have long been killing it in television with their complicated characters and acting chops. Although once upon a time they were limited to roles that focused on them being wives and mothers, now their scope is broadening and many of them have been stealing scenes from the men and taking names. Of course, they are also looking good while doing it. So which women are the sexiest on television? These ten are undeniably sexy.
10. Robin Wright – House of Cards
The Netflix political drama shows Frank Underwood getting his revenge on those who betrayed him and climbing the ranks in political office. The Robin Wright plays Claire, the ambitious Congressman's wife. She's just as cutthroat as her husband and has an icy look that can kill. These things not only make her character interesting, but incredibly sexy.
9. Deborah Ann Woll – Daredevil
The actress made the move from being the redhead Jessica on True Blood to being the blonde Karen Page on the new comic book adaptation Daredevil. She's the love interest of Matt Murdock, giving viewers just another reason to want to be him. She also works as his secretary along with Foggy, and has a very interesting family.

8. Drea de Matteo – Shades of Blue
Best known for her work on The Sopranos, Matteo makes her return to television in the new crime drama. Instead of being a romantically involved with a made man, she gets her own hands dirty. On the show she's a corrupt police officer, and the actress is just as stunning as ever.

7. Aja Naomi King – How To Get Away With Murder
The dramatic show follows ambitious law students helping a criminal defense professor with her cases. They also break a few laws while they're off duty. The actress plays student and murder accomplice, Michaela Pratt. She's beautiful and although her character is less experienced in the bedroom she is definitely one of the most captivating characters on the show.

6. Priyanka Chopra – Quantico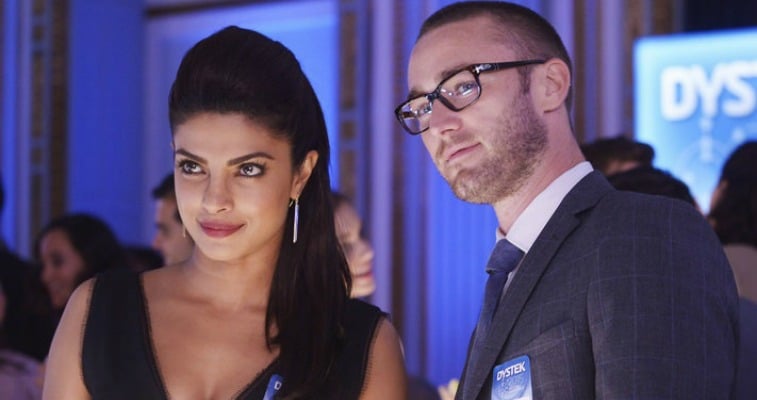 The new crime drama shows young FBI agents in training. The beautiful actress plays Alex Parrish the lead of the show and the one who is suspected of being a terrorist. Her character is brilliant, has an interesting past, and is, of course, sexy.

5. Kerry Washington – Scandal
Olivia Pope can pretty much solve anyone's problems as a crisis manager except for her own. She's also in a love triangle with a president and a secret agent. This means she has many sexy scenes involving her secretive love life. The TV show helped push the actress into stardom, and a bit of a sex symbol.

4. Jennifer Lopez – Shades of Blue
The actress and singer looks good doing pretty much anything. She has finally made her return to television as Harlee Santos, a crooked cop that is forced to help the FBI take down her corrupt precinct. The show is still in its early days, but the premise and her acting is pretty promising. Although Lopez has to be a bit tougher for the roll she still looks great with her gun and badge.

3. Ruby Rose – Orange Is The New Black
The prison comedy decided to switch it up in season three by adding the actress to play Stella Carlin. She has an Australian accent, tattoos, and is pretty irresistible. The actress made headlines for the amount of straight girls tweeting about their attraction to Rose. If making people question their sexuality doesn't make you one of the sexiest women on TV, then what does?

2. Sofia Vergara – Modern Family
The hilarious family sitcom has many interesting characters, but none quite catch our eyes like Gloria. The mother of two is gorgeous and the fashionista of the family. She also happens to be one of the funniest characters and has impeccable comedic timing.

1. Emilia Clarke – The Game of Thrones
It's impossible to talk about the HBO hit show without mentioning the actress' iconic character. Daenerys Targaryen is an awesome character because of her three dragons, she is the only matriarch ruler on the show, and she just happens to be stunning. Majority of the fans of the show either want to be her or be with her. Her long blonde locks and British accent pushes her to the top of our list.
More from Entertainment Cheat Sheet: