The 5 Best Oscar Hosts of All Time
When it comes to the annual Oscar ceremony, the host can make or break the whole show. They tell jokes. They sing songs. They set the tone for the entire broadcast. Hosting the Academy Awards is a time-honored and prestigious role — and an integral part of the event's success or failure. There have been more than 70 hosts for the Oscars since they began being broadcast on television in 1953. And from Donald Duck to David Letterman, they've certainly displayed a wide variety of personalities and emceeing styles.
This year, Chris Rock is taking up the emcee mantle for the second time — all eyes and ears will be on him to see how he addresses the recent controversy over the Academy's lack of diversity. But Rock won't be the first host faced with the challenge of blending current events and politics with the glitz and glamour of Hollywood's biggest night.  Sure, there have been more than a few duds over the years — we'd all prefer to forget David Letterman's epic fail in 1995, and the James Franco and Anne Hathaway fiasco of 2009. But there have also been more than a few incredibly successful Oscar hosts — men and women who manage to strike an excellent balance, and make the incredibly long ceremony at least a little bit more tolerable than normal. Here are our picks for the five best Oscar hosts of all time.
1. Billy Crystal
In many ways, Billy Crystal is the perfect Oscar host. As an actor and comedian, he's seen his share of hits and misses at the box office. But as host of the Academy Awards — a gig he first took on in 1990 — he's proven himself as an excellent showman. So much so that the Academy of Motion Picture Arts & Sciences has invited him to run the show on nine separate occasions. Crystal's brand of irreverent but mostly harmless humor works well on the Oscar stage. He's poked fun at the celebrities in the audience without offending them. And his allusions to nominated films from Silence of the Lambs to Lord of the Rings will go down in history as being some of the most memorable Oscar moments of all time. Billy Crystal last hosted the Oscars in 2012 — but it's not difficult to imagine that we'll see him on that stage at least one more time.
2. Whoopi Goldberg
Whoopi Goldberg made history in 1994 when she became the first African American woman to host the Academy Awards. Already an Oscar-winner herself — for her performance in the 1990 film, Ghost — Goldberg proved herself to be just as talented an emcee as she was an actress. Since then, she's hosted the ceremony on three other occasions — in 1996, 1999 and 2002. And each time, she's brought a combination of energy and wit to her hosting duties. She's not afraid to look ridiculous — as evidenced by the numerous bits that have seen her in elaborate costumes and make-up over the years. But she's also not afraid to show her enthusiasm. Goldberg stated in a recent Vanity Fair interview that the secret to being a great Oscar host is that "you can't be too cool for school and you can't try to make it your show." And she's shown that to be true in each of her hosting endeavors, balancing showier moments with a seamlessly professional ability to usher the ceremony along. Whoopi Goldberg won't be hosting this year's Oscars, but we will see her onstage as a presenter.
3. Bob Hope
If there's anyone that can be called an Oscar hosting legend, it's Bob Hope. He emceed the ceremony's inaugural television broadcast in 1953. And between 1939 and 1977, Bob Hope hosted the Oscars a record-breaking 19 times. Sometimes he co-hosted; several others, he was the lone master of ceremonies. But each time Bob Hope was the face (and voice) of the Academy Awards, he brought his trademark brand of humor and improvisational skills to the table. Hope's work as Oscar host was so prolific that he was given a surprise honorary Academy Award for his service in 1966.
4. Ellen DeGeneres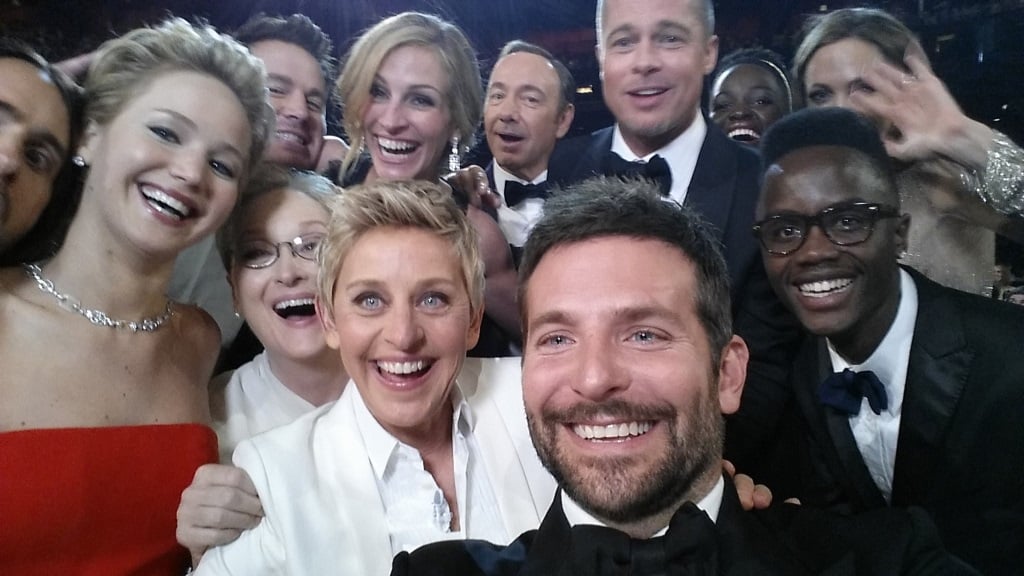 Since the dawn of the digital age, the Academy of Motion Pictures Arts & Sciences have tried really hard to make the Oscars feel hip. But it's never blended quite as seamlessly with our more modern and social media-heavy ways of communicating than when Ellen DeGeneres hosted the ceremony in 2014. It wasn't her first shot as master of ceremonies — she also led the show in 2007. But DeGeneres' second tie around, she provided one of the most refreshing and funny outings of a host in recent memory. She cashed in on her widespread goodwill in the Hollywood community by enlisting many of the night's biggest stars in her comedy bits. But despite her interaction with the audience in the theater, she still made the night's best moments work for those watching at home, too. From ordering pizza for A-listers like Jennifer Lawrence and Meryl Streep to staging the most re-tweeted selfie in history, Ellen DeGeneres showed all future hosts what a modern emcee is capable of pulling off.
5. Johnny Carson
In many ways, Johnny Carson bridged a generational gap between Bob Hope's classic hosting style and the more irreverent takes of many later hosts. Well versed in Hollywood politics, his jokes often poked fun at the industry itself — but they were never so inside-the-jar that viewers at home would be left in the dark. And each of the five times he hosted the Academy Awards — between 1978 and 1984 — he made sure to remind the audience that, yes, the Oscars are glamorous, but they're also just a little bit silly.
Follow Katherine Webb on Twitter @katiedoubleyew.
Check out Entertainment Cheat Sheet on Facebook!  
More from Entertainment Cheat Sheet: