The 17 Best Xbox One Exclusive Games Released So Far
Microsoft may not be winning the console war, but it's doing everything it can to catch up. One key reason a gamer might buy into Microsoft's ecosystem is for the Xbox One exclusive games you can't find anywhere else. It's important to note that many of the games below are Xbox One exclusives, but others, including all Microsoft-published games in the future, are also available on Windows 10. Below, we take a look at the best games available exclusively for Microsoft systems. Check out the list, and if you're interested in the other side of the console war, also take a look at our list of the best PlayStation 4 exclusives.
17. Killer Instinct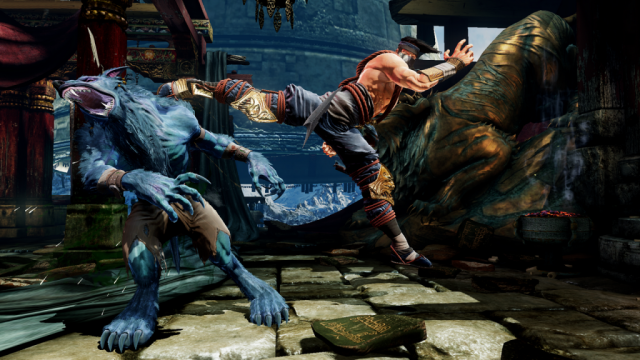 Metacritic Score: 73
The classic fighting game from the '90s is back in an all-new Xbox One exclusive, with much better graphics and more intense gameplay than before. With a heavy focus on combos, this game lets you string together a series of moves into a torrent of pain for your opponent. The only catch is that the person you're pummeling is always on the lookout for combo-busting opportunities that can quickly turn the tide of the match. One drawback is that the game only features eight fighters — a slim cast of characters compared to Street Fighter IV or Mortal Kombat —  but it makes up for the deficit with tons of unlockables. Did we mention it's free to play?
16. Dance Central Spotlight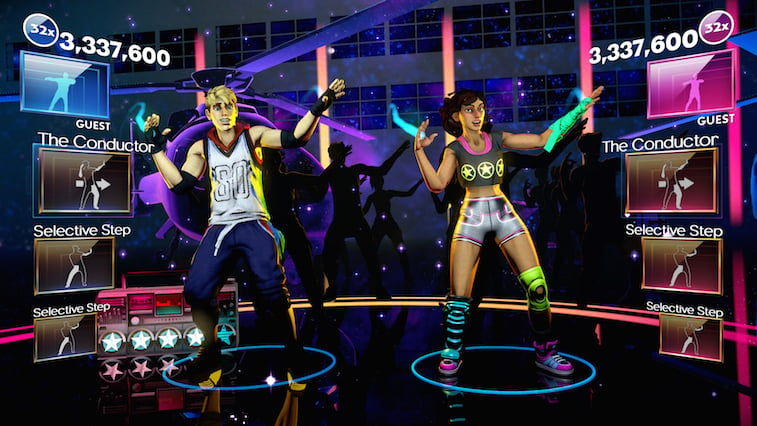 Metacritic Score: 74
Following in the footsteps of its predecessors, Dance Central Spotlight brings back the boogie with a new array of tunes and moves to dance along with. The latest installment includes hits from the likes of Pharrell Williams, Rihanna, and Lorde, as well as plenty of extra downloadable tunes and dance routines. On top of the dance modes developed in earlier members of the series, Spotlight includes a workout mode. The new features and new jams helped make this game a quick hit and rose it up the ranks to be one of the Xbox One's top exclusive games so far.
15. Quantum Break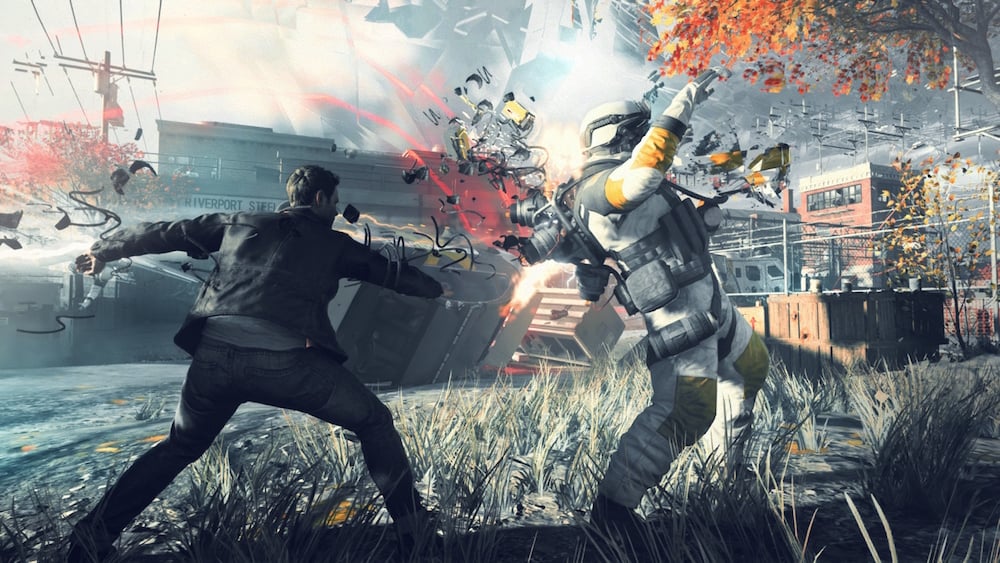 Metacritic Score: 77
Quantum Break, by the makers of Max Payne and Alan Wake, is a third-person shooter that was made alongside a live-action television series. The idea is that you play a section of the game, then watch an episode of the show, then lather, rinse, and repeat. Some of the scenes in the episodes presented to you will depend on the choices you made in the game.
While this isn't the first video game to have a TV show tie-in, the way the two interact here proves downright compelling, as do the hero's clever time-manipulating powers that help him during shootouts.
14. #IDARB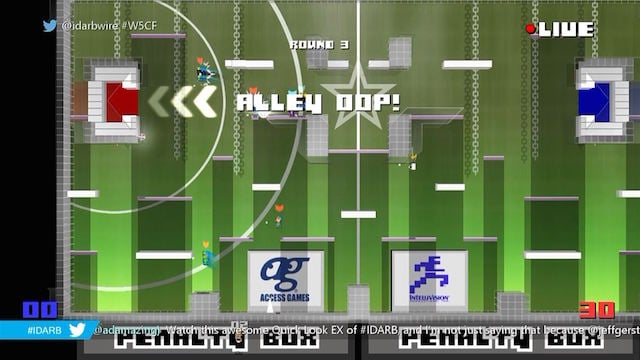 Metacritic Score: 77
This oddly-titled game is a side-scrolling pixelated game about a brand new made-up sport. You and up to seven other players engage in team-based matches in which everyone's leaping around the field, trying desperately to throw the ball into a goal. You can pass the ball to teammates, jump, double-jump, and swipe it away from opponents. It's fast-paced and highly chaotic, just how we like it.
13. Dead Rising 3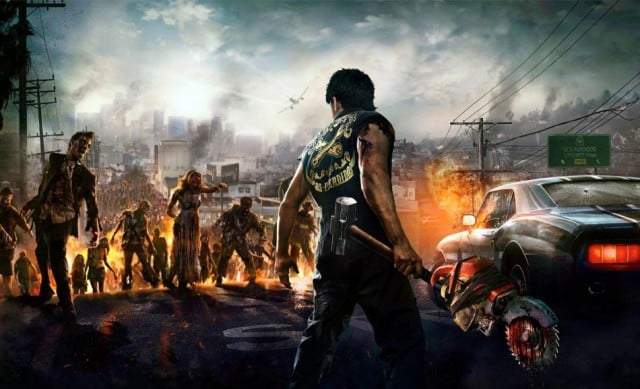 Metacritic Score: 78
Set during the inevitable zombie apocalypse, Dead Rising 3 has you make your way out of Los Angeles before the military arrives to blow the city to smithereens. Previous games in the series were more boxed-in, but this one is open-world, which means you can wander wherever you want, picking up all kinds of common items and using them as weapons against the undead. The killer feature here is how many zombies the Xbox One hardware lets the game throw at you at once. It can become overwhelming at times — which is exactly how a zombie attack should feel.
12. Forza Motorsport 5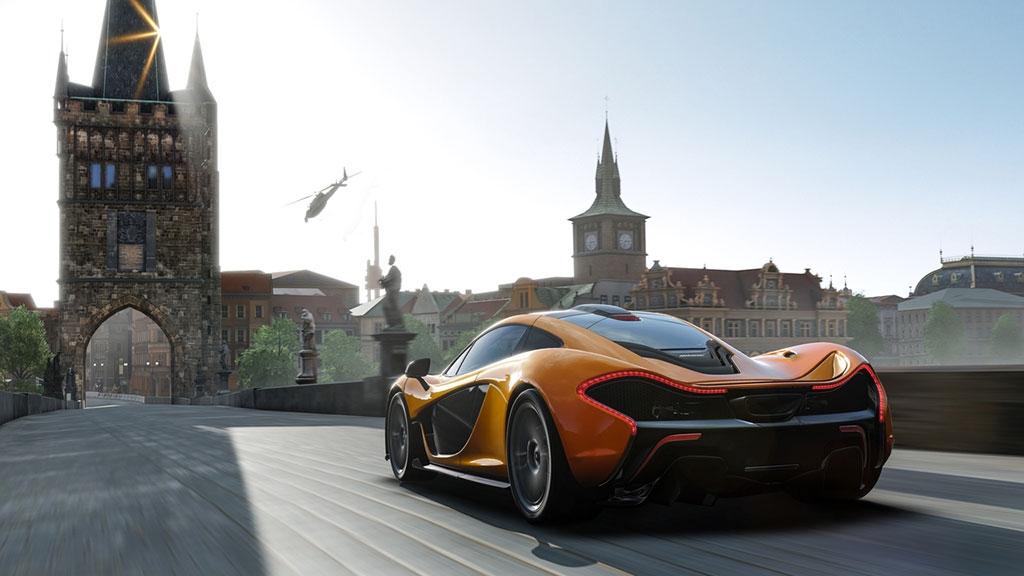 Metacritic Score: 79
This installment of Microsoft's realistic racing series was the highest-reviewed Xbox One game to date (at the time of this article's initial publication). This game delivers all the thrills of driving the best cars in the world through gorgeous locations worldwide. While this title is more forgiving than the PlayStation exclusive Gran Turismo series, it still offers a realistic driving simulator that's great for racing game veterans and newbies alike. Not to mention that the game looks better than just about anything else out there on any system. Bottom line: If you have an Xbox One and you dig racing games, Forza Motorsport 5 should be in your game collection.
11. Sunset Overdrive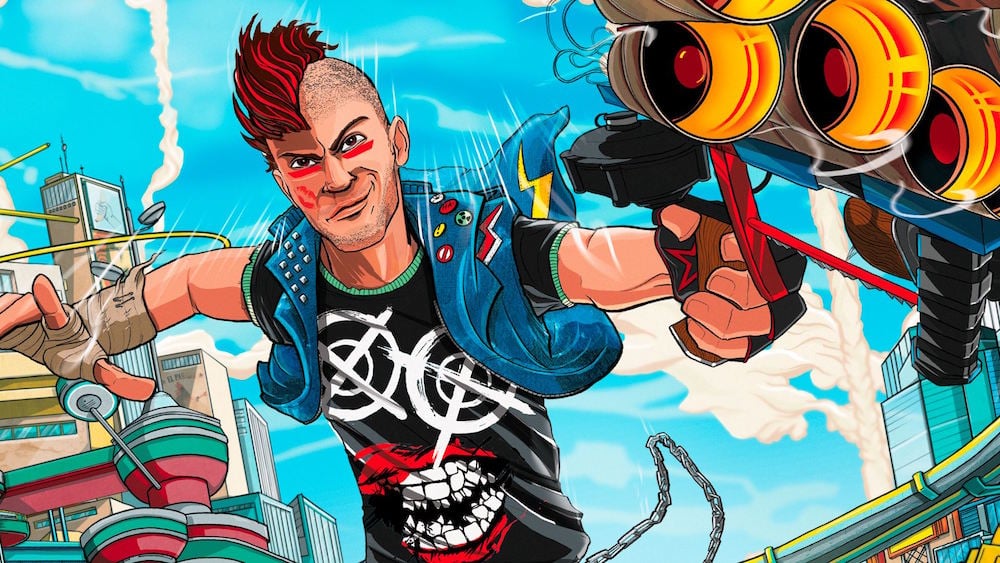 Metacritic Score: 81
From Insomniac Games, the makers of the Ratchet & Clank series, comes Sunset Overdrive, a third-person shooter that looks nuts in all the right ways. It takes place in the year 2027 when a new energy drink comes out and accidentally turns almost everyone into killer mutants. While most games would depict such a future as a dreary place, Sunset Overdrive just wants you to have fun. That's why they call it the "awesomepocalypse."
As one of the few humans left, you run around the city, blasting mutants with an array of weaponry, and traversing the environment like you're in a classic Tony Hawk game. You can run up walls, grind on railings, swing from ropes, and do all kinds of fun things to get from point A to point B. There's even a multiplayer mode so you can play with your friends. If you're a fan of parkour and shooting things in your video games, you'll want to check this one out.
10. Gears of War: Ultimate Edition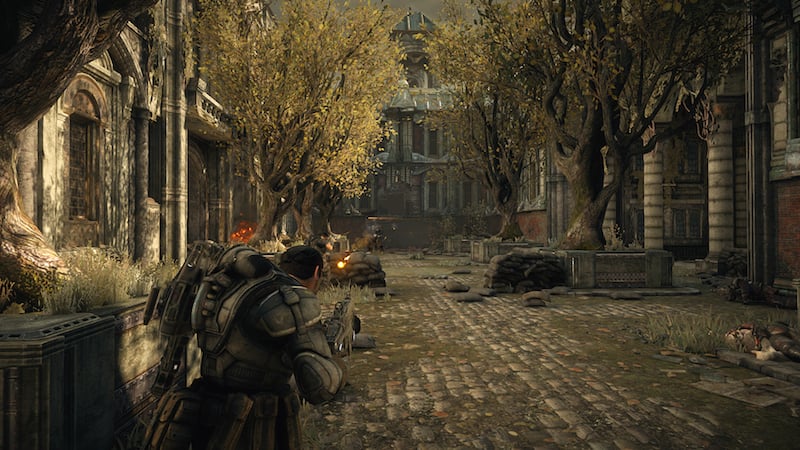 Metacritic Score: 82
The original Gears of War came out back in 2006 for Xbox 360, and it kicked off one of the best shooter franchises around. Before Gears of War 4 hit the shelves in 2016, Microsoft thought it would rekindle excitement for the series by polishing up the first installment for Xbox One.
The ploy worked, because Gears of War is looking more and more like a timeless classic of the shooter genre. The game is just as brilliant as it was when it came out, and the new graphics make it feel fresh and exciting again. Now if only they'd remaster the rest of the series …
9. Rare Replay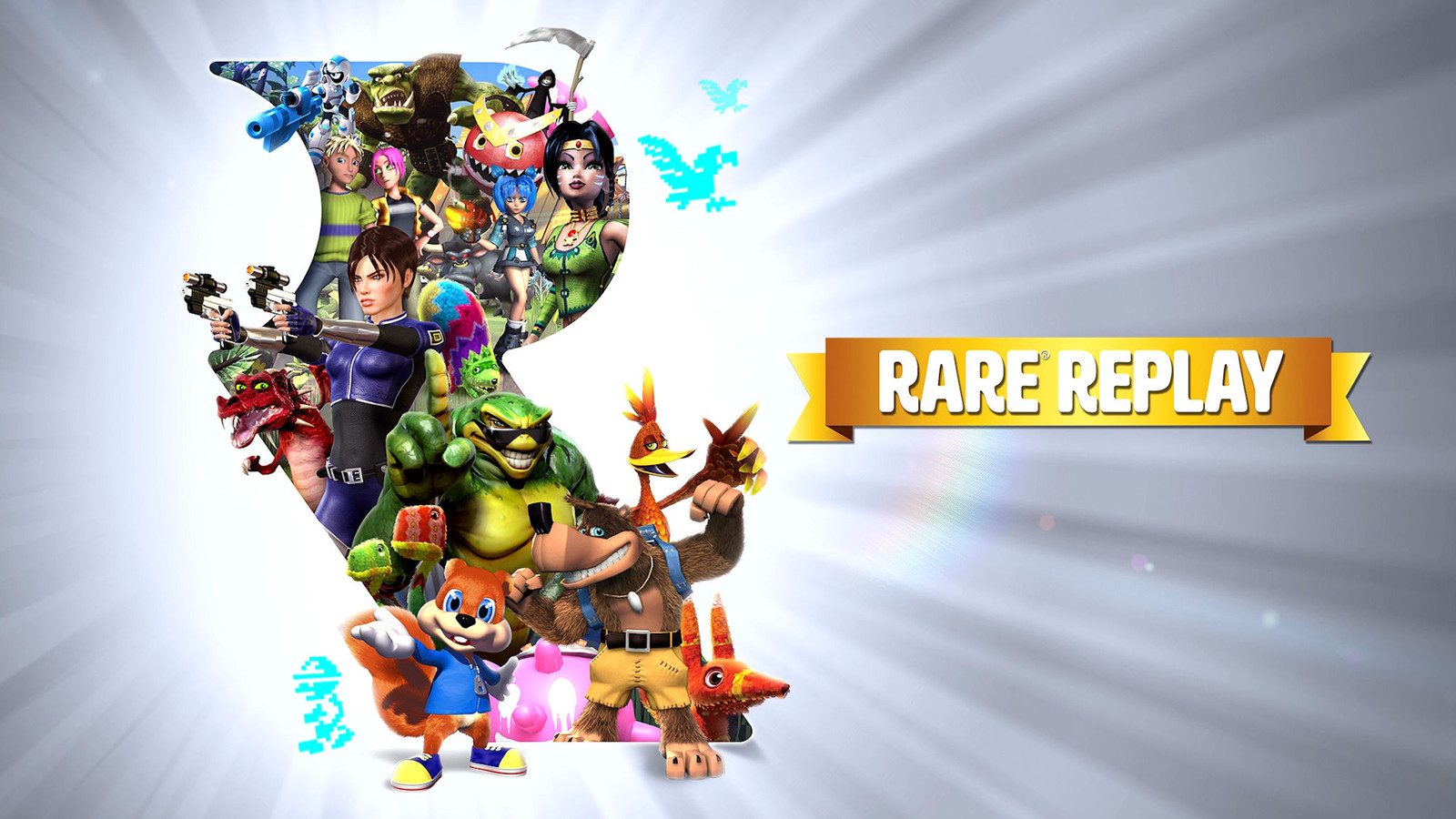 Metacritic Score: 84
Ever since Microsoft bought Rare in 2002, most of the developer's old games and franchises have been collecting dust. That changed with the release of this huge collection of 30 games from Rare's past, including classics like Battletoads, Banjo-Kazooie, Perfect Dark, R.C. Pro-Am, and more.
The only downside is that it doesn't have famous Nintendo-published classics like Donkey Kong Country and GoldenEye 007. But don't let that get you down, because the whole thing only costs $30.
8. Gears of War 4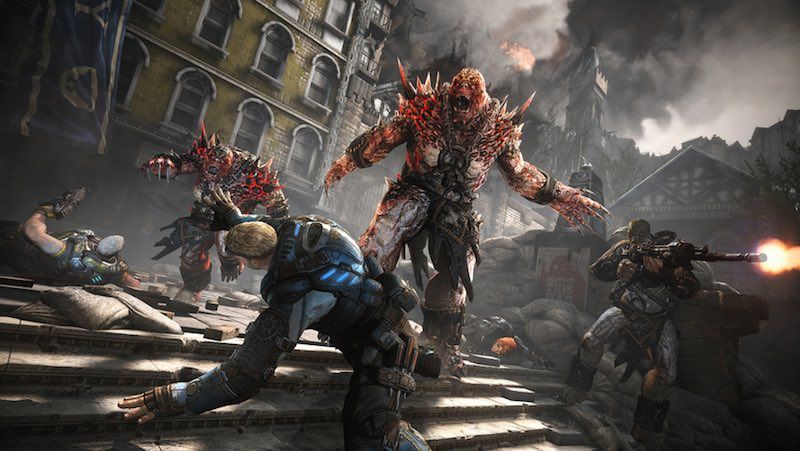 Metacritic Score: 84
The series that basically invented the cover-based shooter is back. Now that humans have triumphed over the alien threat of the previous installments, life is settling into a new kind of normal for folks in the futuristic Gears of War universe. Twenty-five years have passed, and most people are living in cities under the protection of enforcer robots. Since this is a game about shooting things, the peace obviously can't last. The game centers around a group of friends led by J.D. Fenix — the son of series veteran Marcus Fenix — as they flee the chaos of the city, meet up with Marcus, and take on a whole new threat.
The campaign only supports two-player co-op this go round, but the multiplayer is fully fleshed out. Expect to find familiar modes like Horde, King of the Hill, TDM, Guardian, and Warzone, alongside new ones like Dodgeball, Escalation, and Arms Race. Each one has a different set of rules, but Horde mode is the centerpiece.
7. Halo 5: Guardians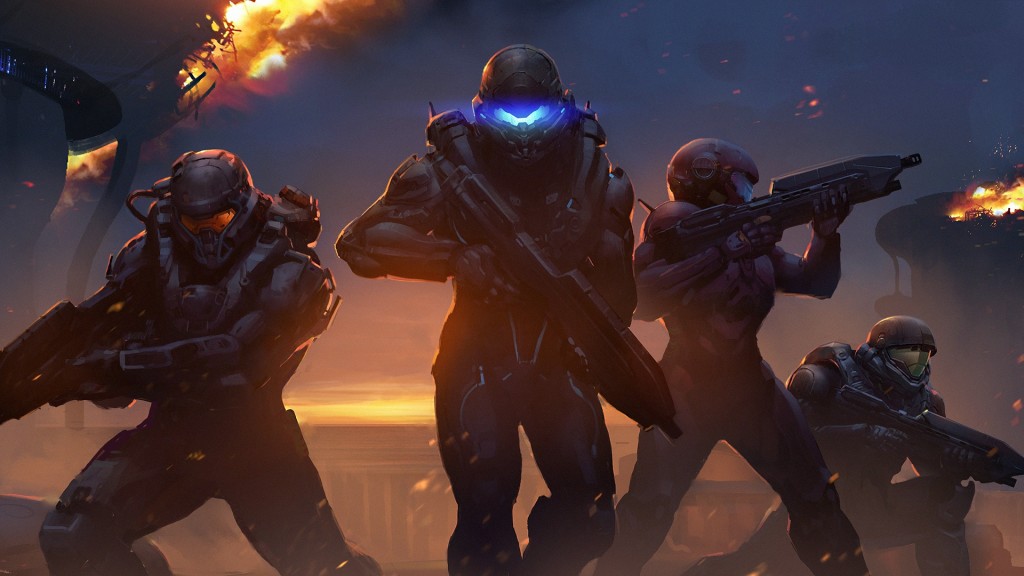 Metacritic Score: 84
Halo has been Microsoft's premier shooter series since the original Xbox, and it continues on in fine form with this entry. The story this time around catches up with Master Chief after he's gone AWOL. Missions switch between his adventures and those of Spartan Locke, who's hot on the hero's trail.
The gameplay has never felt better — which is saying something in a series that has always led the way in terms of first-person shooter controls. The game comes packed with a campaign that lets up to four players work together to take down the Covenant and a pair of extremely fun multiplayer modes. The best one is Warzone, in which two teams of 12 players start on opposite sides of the map. Each tries to conquer a central base while also fighting off Covenant forces. If you like shooters and you have an Xbox One, this game deserves to be in your collection.
6. Halo: The Master Chief Collection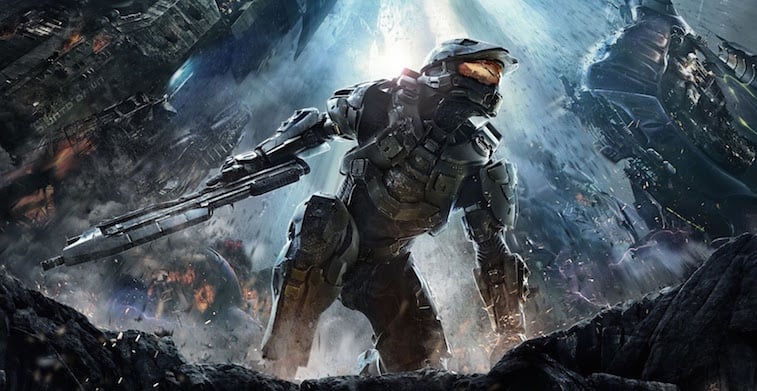 Metacritic Score: 85
Have you heard of Halo? Just kidding, that's a silly question because the Xbox-exclusive series is a household name at this point. Halo: The Master Chief Collection gathers all four of the series' main games into one gorgeous package. Best of all, the games that first came out on the original Xbox, Halo: Combat Evolved and Halo 2, have been totally remastered with graphics that look right at home on the Xbox One.
But the developers didn't stop there. They've also packed in every single multiplayer map that's ever been released for all of the games, including DLC and PC-exclusive maps. Additionally, they've remade six of the most popular multiplayer maps from Halo 2 in a modified game engine so they run even better with tweaked layouts. All in all, it's an impressive package, and a great deal for anyone with a fondness for the series.
5. Forza Horizon 2
Metacritic Score: 86
The Forza Horizon games offer an enticing mix between a realistic racing simulator and a more off-the-wall arcade-style racer. Their gameplay is realistic, but unlike the core Forza Motorsport games, they sand down the rough edges, making for a less punishing, more newbie-friendly experience. When you try to take a tight turn too fast, for instance, the game will give you an assist to keep you on track, rather than turn your car into a heap of wreckage, as would happen in real life. Forza Horizon 2 offers over 200 real cars and an open-world stretch of land that covers northern Italy and southern France. If you want to see what's happening in racing games these days, this is a great place to start.
4. Titanfall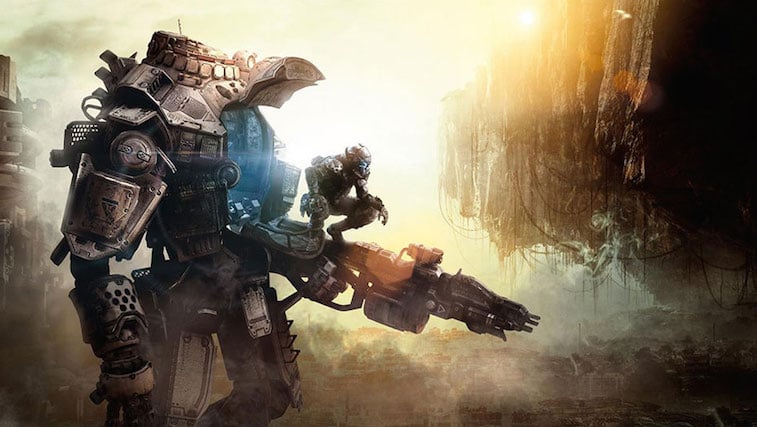 Metacritic Score: 86
Titanfall is a Microsoft exclusive that was made by Respawn Entertainment. Respawn, as you may or may not know, is headed by people who were responsible for making Call of Duty a household name — which means they know a thing or two about successful shooters. And they knocked it out of the park with Titanfall. The game made the bold move of ditching a single-player campaign to go all-in on multiplayer, and it worked: it was one of the most innovative shooters of its time. It has forward-thinking movement mechanics like wall-running and double-jumps, plus some very cool exoskeletons and mechs. What's not to love?
3. Forza Motorsport 6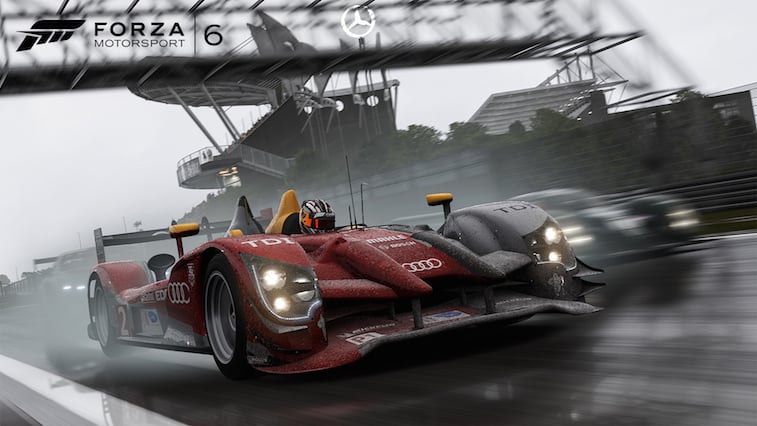 Metacritic Score: 87
Developer Turn 10 Studios has been delivering some of the best racers ever made in recent years, with the core Forza Motorsport series of realistic racing sims and the more arcade-style Forza Horizon series.
Forza Motorsport 6 makes up for the previous installment's relatively skimpy amount of content with over 450 cars and 26 tracks, 10 of which are new to the series, including Rio de Janeiro, Daytona, and Watkins Glen. There's also a major focus on weather this time around, with night and rain effects that not only look realistic, but that also affect the driving physics — just like in real life.

2. Ori and the Blind Forest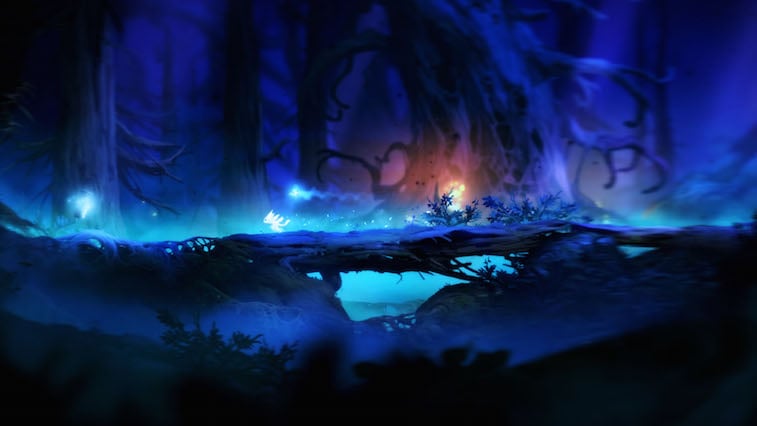 Metacritic Score: 88
This side-scrolling adventure stars a forest spirit on a coming-of-age journey. Developer Moon studios spent four years on this game, trying to give it a similar feel to Nintendo classics like The Legend of Zelda: A Link to the Past and Super Metroid. That's a high bar to clear, but they actually did it, creating what gamers and critics alike agree is one of the best game you can play on Xbox One.
1. Forza Horizon 3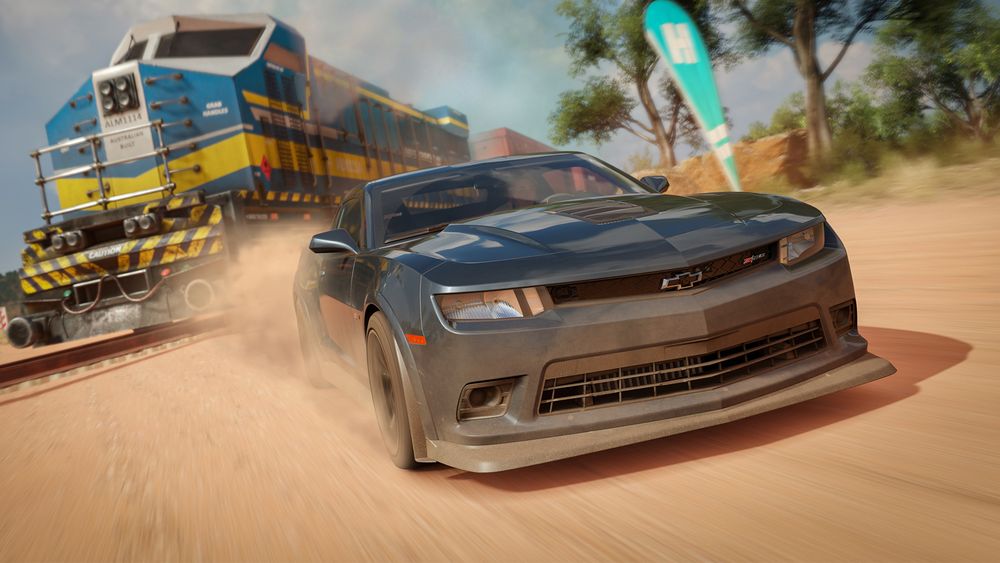 Metacritic Score: 91
Since Forza Horizon 2 was such an incredible game, it's no surprise the developers managed to outdo themselves once again with the third outing, which brings the Horizon festival to the sun-splashed (or rain-drenched, depending on the conditions) continent of Australia. It has you drive all manner of vehicles — from Ferraris to ATVs — through environments like highways, dunes, forests, caves, vineyards, and beaches. And if you get lonely driving solo, you can play with up to three friends in co-op racing. This game is utterly fantastic, so whether or not you normally enjoy racing games, read our review to see if it might appeal to you.