The 7 Best Celebrity Halloween Costumes So Far This Year
Halloween is still a few days away, but celebrities attending parties this past weekend were eager to share their costumes on social media. These are our favorite celebrity Halloween costumes so far–though we know the week is young, and the stars have several more chances to show off their gourd season getups.
7. Demi Lovato as Marie Antoinette
Actress and singer Demi Lovato is taking Halloween seriously, dressing to the nines two nights in a row. Her first costume was audacious and gorgeous take on disgraced French royal Marie Antoinette.
"I told y'all I don't play on Halloween," she captioned her picture.
But Lovato's Halloween costume prowess didn't end there. The next night, she hosted a Halloween party dressed as Pennywise from It.
6. Ashley Graham as Jessica Rabbit
Supermodel Ashley Graham stunned in a bright red strapless dress, purple gloves, and a red wig. The costume, shared on her Instagram, was picture-perfect, down to the infamous slit up the side of the gown.
Graham was, of course, a pregnant version of the cartoon Mrs. Rabbit; practical tennis shoes peek out of the bottom of the full-body shot. The body positivity icon announced her pregnancy in August of this year.
"Macho Man knocked up Jessica Rabbit for Halloween," she joked in the caption, about her husband Justin Ervin dressed as Macho Man.
5. Former 'Bachelor' Nick Viall as future 'Bachelor' Pilot Pete
The ever clever Nick Viall, The Bachelor's season 21 lead, dressed up as Peter Weber, a.k.a. Pilot Pete. Weber was named the next Bachelor this past summer.
Viall even added a bandage to his forehead, in a nod to the news that Weber was injured after falling off a golf cart and onto some cocktail glasses.
Naturally, Nick Viall went for the windmill joke, writing on Instagram that he "will probably crash into a windmill tonight."
4. Stormi Webster as Kylie Jenner
Kylie Jenner's 20-month-old daughter Stormi is winning Halloween for the Kardashian/Jenner clan so far this year.
Stormi donned a custom mini version of her mom's iconic Met Gala 2019 look: a lavender feathered Versace gown, and a purple wig.
"My baby!!!!!!!" Jenner captioned, followed a stream of purple heart emojis.
3. Caelynn Miller-Keyes and Dean Unglert as each other
Caelynn Miller Keyes and Dean Unglert had a rather rocky start on Bachelor in Paradise. But slowly but surely, they are proving to the world that they can hang.
Caelynn celebrated Halloween dressed as her boyfriend Dean, donning a fake mustache, one of his tye-dye T-shirts, and flip flops. She even carried a toy van in reference to Unglert's van-home.
Dean Unglert dressed as his beauty-queen girlfriend, complete with a tiara, heels and a sash.
The devil's in the details, and the couple nailed it. Unglert even wore a bright orange dress to match the gown Miller-Keyes wore out of the limo on her season of The Bachelor.
We have to admit, a little mascara is kind of a look for Deanie Babies.
2. Gabrielle Union and her daughter as 'Bring It On' cheerleaders
Gabrielle Union still looks that good in a cheerleading uniform? No, it's not fair, but yes, she killed the Halloween costume game. The actress dressed up as her own character, the East Compton Clovers captain Isis, from the iconic 2000 film Bring It On.
Union was twinning her 11-month-old daughter Kaavia, dressing the babe in a matching green cheerleader uniform.
"Brought It," she wrote on her Instagram.
1. Jessica Biel as *NSYNC-era Justin Timberlake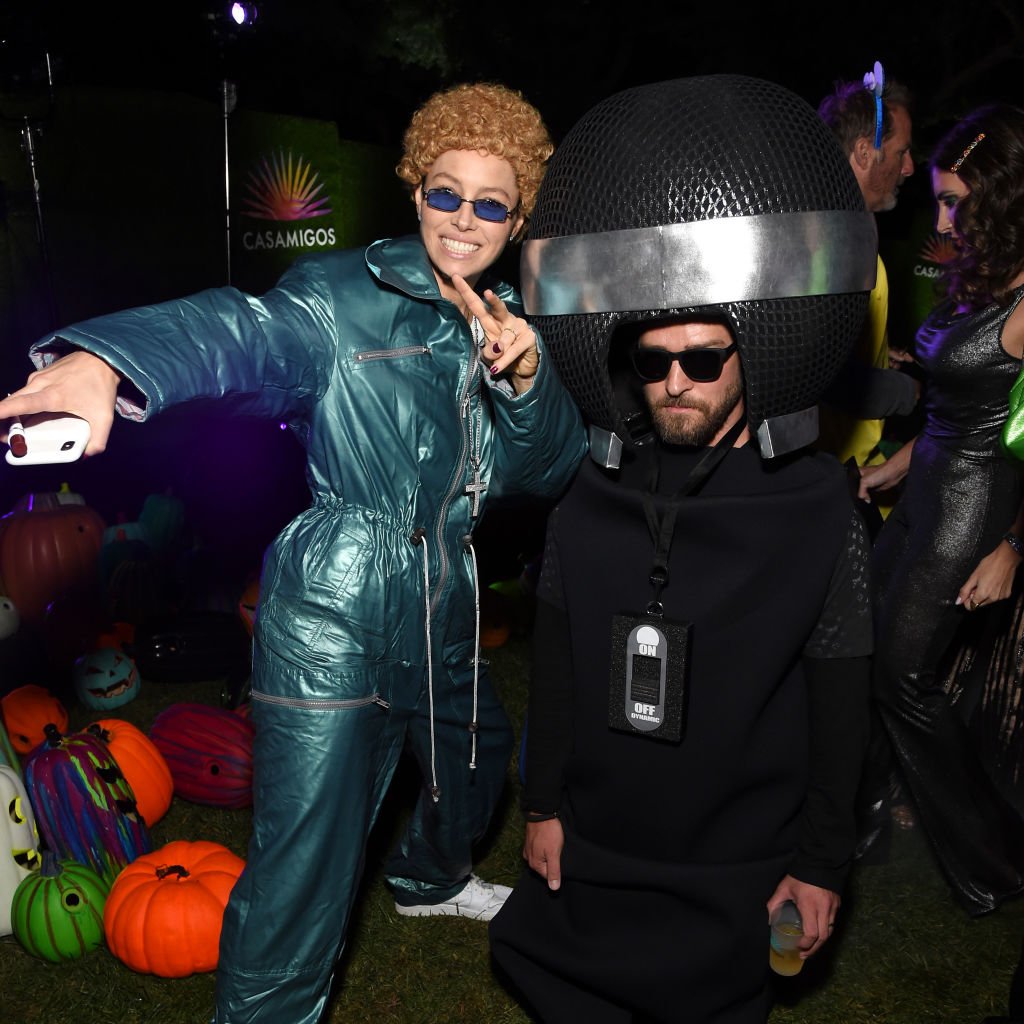 It was hard to pick a favorite, but Jessica Biel's hilarious costume just takes the cake (or the candy corn, if you're into that kind of thing).
In case you missed it, Jimmy Fallon played an old clip of Jessica Biel talking about *NSYNC when she was a guest on his late-night talk show. The actress talks in the late-90s interview about how she doesn't really know their music.
"I'm not a huge fan, but I mean cool, I guess," the actress said flippantly at the time.
This is, of course, is a tad embarrassing for Biel, because *NSYNC is the boy band her now-husband once led.
For a little revenge, Justin Timberlake had Jessica Biel dress up as him for Halloween–what he looked like back when *NSYNC was topping the charts.
Timberlake had a very distinct look at the time, so to speak.
"This is what happens when your wife admits on TV that she doesn't know any NSYNC songs," Timberlake captioned his Instagram post of the costume.
A Halloween costume that combines a celebrity couple in-joke with a nostalgic throwback to the ye olde time of boy bands? We have a winner.
But Halloweek has only just begun, so another celeb could easily nab the top spot from Biel. We can't wait to see what all the other stars choose for their Halloween costumes.