The 7 Best Music Videos of 2013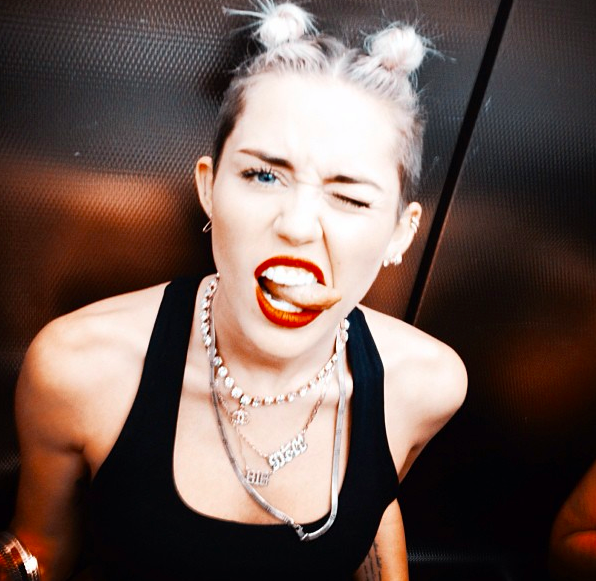 Here's a list of the top seven music videos of 2013. I picked them based on popularity, other end-of-the-year lists, what people talked about the most, and what I think was cool this year.
7. Miley Cyrus, Wrecking Ball
This video is predictably included in the list, in part because you couldn't swing a dead cat without hitting Miley Cyrus this year, and in part because it's a pretty good representation of Miley's bizarre sense of sexuality. Her licking a sledgehammer and then riding a wrecking ball naked was just weird enough that it couldn't be a complete turn-on (that hammer probably tasted disgusting!), but that kind of gross/hot dichotomy is the key to her schtick.
That schtick is important — because it's launched a huge amount of conversation about what it means to be a young feminist in 2013. Should you like Miley and all that she stands for or should you hate her? The video for Wrecking Ball also spawned a bunch of hilarious parodies for endless hours of Internet entertainment.
6. Kanye West, Bound 2
This is another video that has been heavily parodied — by Seth Rogan and James Franco, no less — but the clip is itself also a parody, with its cheap aesthetics that may look like a screensaver thrown together last minute, but were actually carefully chosen by the infamous control freak that is Kanye West.
"I wanted to take white trash t-shirts and make it a video. I wanted to make it as phony as possible. I wanted to show you that this is the type of imagery that has been presented to us for years, and the only difference is a black man in the middle," West explained to Spin magazine. The video is a love story dedicated to Kim, which is refreshing for a hip hop video — a genre usually filled with scantily clad, anonymous women. That Kanye decided to put his topless honey front and center in the video rather than a million topless models is commendable in my book.
5. Macklemore & Ryan Lewis, Can't Hold Us
Macklemore and Ryan Lewis were one of the most talked about acts of 2013. Macklemore and Ryan Lewis' album The Heist introduced the world to a white rapper from Seattle who uses hip hop to criticize consumerism and call for the legalization of gay marriage. The Heist appeals to both rap purists and those who don't frequently listen to the genre — which is part of Macklemore's greatness.
The clip for Can't Hold Us is so over-the-top it's a parody of the over-the-top hip hop video, yet another critique from Macklemore of his own genre. The MC and his crew travel across the entire world in the epic seven-minute video — from the tundra, to the desert, to sailing on a pirate ship — only to wind up back in the man's hometown of Seattle.
4. Justin Timberlake, Mirrors
Justin Timberlake's video for Mirrors from the album The 20/20 Experience won the Best Video award at the MTV Music Video Awards, which can perhaps give us some hope that a younger generation can still connect with and value a story about eternal love over a plethora of videos full of naked women partying.
The eight-minute clip for Mirrors features couples of varying ages exploring different stages of romance, saying that being with the one you love is like looking in the mirror — a refreshing message about lasting love in a culture obsessed with youth and disillusioned by romance.
3. The Yeah Yeah Yeahs, Sacrilege
The Yeah Yeah Yeahs' clip for Sacrilege starring model Lily Cole involves a backwards sequence of a man being murdered and a woman being burned alive for committing adultery; a modern-day witch hunt in which the band themselves never appear.
The video, which begins with a scene of Cole being burned at the stake and the creepily pleased expressions of her tormentors, only becomes more disturbing as the story rewinds. An eery commentary on how little society's values regarding women and sexuality have changed since the 1692 when the massacres at Salem occurred.
2. Bob Dylan, Like a Rolling Stone
Yes, this iconic song is 48 years old, and yes, it also is one of the best music videos of the year. The 27 year-old Israeli director Vania Heymann created a surrealistic masterpiece of a video comparable to Dylan's lyrics, a feat not many could accomplish. The interactive video involves viewers flipping through cable-like TV channels, with the familiar characters and images of game shows, reality shows, and sporting events miming the scathing Dylan lyrics. The video can be viewed here.
The juxtaposition between the passive act of channel-flipping and Dylan's words railing against the song's protagonist for her own passive consumption, which has led to her desperate position — her need to pawn those diamond rings and go to Napoleon in rags — make the song into a critique of all of popular consumer culture that rings as true in 2013 as it did in 1965.
1. Jack White, I'm Shakin'
Jack White's video for the Little Willy John cover I'm Shakin' has been nominated for the Best Music Video Grammy award and the clip features Jack dueling against the only man who really stands a chance to beat him at the weird rock star game — himself.
White toured in support of his first solo album, Blunderbuss, with both a male and a female backing band, choosing which would perform with him that night on the day of the show. The video pits the two groups against each other, although since guitarist Olivia Jean and backup singer Rubie Amanfu are featured in both the male and female groups, one gets a pretty clear idea of which side White has a preference for.
More from Wall St. Cheat Sheet:
Follow Jacqueline on Twitter @Jacqui_WSCS