The Adorable Reason Dwayne Johnson Feels 'Lucky' to Be With Lauren Hashian
There are many relationships in Hollywood, but only a few really make your heart melt. Dwayne "The Rock" Johnson and Lauren Hashian are lucky to have one of the sweetest relationships, and a lot of that is due to the way The Rock talks about his love.
It's obvious that he's head over heels for Hashian. When you see what Johnson says about his new wife, you'll swoon. 
Dwayne Johnson feels lucky to have fallen in love with Lauren Hashian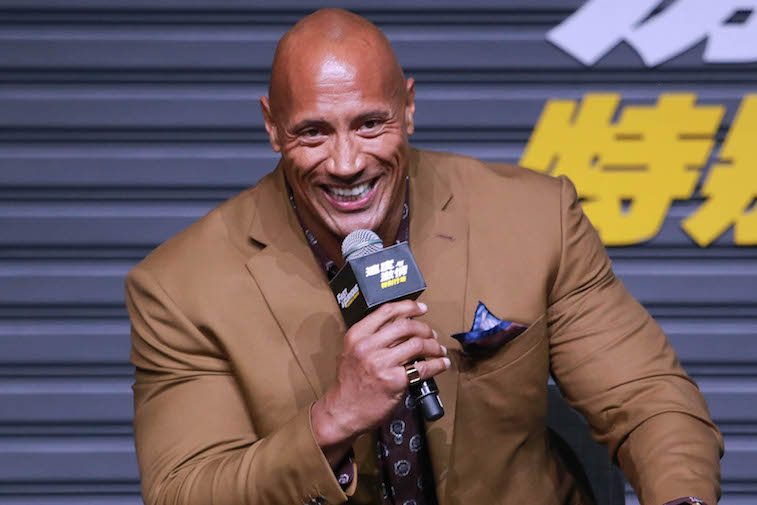 Before Hashian, Johnson was married to Danny Garcia. The couple had a daughter together, Simone, and although they divorced in 2007, they stayed friends. Garcia even continued to manage Johnson's career, and they've been able to work together as a team even though they are no longer romantic. Although their marriage didn't work out, Johnson felt lucky to have fallen in love with Garcia, and he didn't know if that would ever happen for him again.
However, one day Hashian entered his life, and Johnson realized what an incredibly lucky man he was.
"I was so fortunate to have fallen in love once," he told People in 2012. "To fall in love again? That's a hard thing to do twice in the position I'm in. I'm one lucky son of a bitch."
Dwayne Johnson celebrates Lauren Hashian's strength and beauty during birth
Johnson and Hashian welcomed a daughter together in 2015, named Jasmine. Johnson was quick to discuss the "strength and beauty" of his girlfriend during the birthing process. In an Instagram post announcing the birth, he shared a photo of the child resting on his chest along with a sweet message about the birth for Hashian.
"I was right there during labor, helping her breathe, every highly intense contraction, every second of pain, right there watching the actual birth, cutting the cord and wiping the tears. Incredible," he wrote, adding that "as men, it's a miracle we should witness because it'll give you a whole new respect for the strength and beauty of a woman."
Later, he also praised Hashian's strength as a mother, telling People that he was amazed watching her transformation into a mother. He compared it to a "kaleidoscope," watching a woman perform all the roles that she was meant for in life.
When their second daughter was born (the third for Johnson), he again praised Hashian's ability to give birth in an Instagram post. "I was raised and surrounded by strong, loving women all of my life," Johnson wrote, "but after participating in baby Tia's delivery it's hard to express the new level of love, respect and admiration I have for @LaurenHashianOfficial and all mamas and women out there."
Johnson also offered advice for men on how they can support their women giving birth. He suggested holding their hand, holding their leg, or whatever you can do to show support for them.
He ended the post with a message to his new daughter, promising to love and protect her for the rest of her life. "Your crazy dad has many responsibilities and wears many hats in this big ol' world, but being your daddy will always be the one I'm most proud to wear."
Dwayne Johnson and Lauren Hashian love to tease each other
After Johnson was named People's 2016 Sexiest Man Alive, he discussed with the magazine the secret to his successful relationship with Hashian. It all comes down to making her laugh, Johnson claimed. "First of all, she teases me about everything. Everything," he said. "Nothing is off limits in our house. And it's the beauty of it. And I tease her with everything."
The couple married in Hawaii just recently, but it's easy to tell this is only the start to their beautiful relationship. When Johnson was named the sexiest man, it was no surprise to Hashian.
According to Johnson, she already knew he was the sexiest man alive. He also claimed that they have "the greatest relationship." Judging from the way Johnson talks about her, he may just be right.