'The Bachelor': Are Chris Harrison's Scenes on the Show Real or Scripted?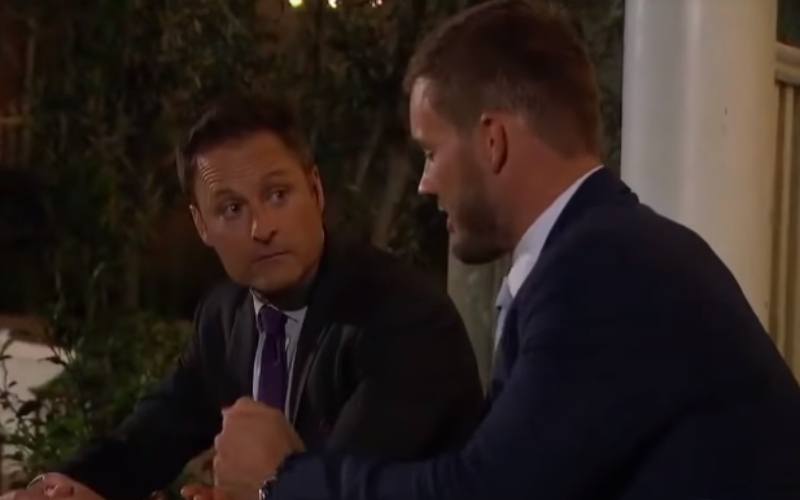 Chris Harrison has the job of getting into the mind of the star of The Bachelor as he tries to find love. Some of those scenes are the most interesting given the star gets to unload his thoughts. But are they completely scripted? Here is everything to know about Harrison's job on the show.
Chris Harrison is sometimes told to say things or get answers from producers through an earpiece
The host's introductions are most likely scripted. But there are many moments where he is just talking to the star. Those interviews aren't scripted but some of the questions are coming from a producer through an earpiece.
Entertainment Weekly reported that Mike Fleiss said, "we need to get him to say, 'I hope I lose my virginity'" while Harrison was talking to Colton Underwood on his first night. So how does the host deal with such awkward requests?
"The only thing that can prepare you for something like that is experience," Chris Harrison told Entertainment Weekly. "And having people in my ear going on three decades, it really is just the experience of being able to take in all that information. I know going into a scene what we're trying to get. Producers want certain things. Without being disrespectful, I don't always agree with [the producers] on what they want or how to get it. I just have to make a quick gut call, and sometimes they applaud me for it and sometimes I get reprimanded for it."
Harrison also tries to get contestants to avoid saying catchphrases in interviews
Every season someone says certain catchphrases, which is part of the charm of the show. However, Harrison said that he tries to break away from that when it talks to the stars.
"It's all the catchphrases: Saying someone is 'here for the right reasons,' or 'being on this journey,'" explained the reality show host. "Typically, what we do is [ask] people to repeat the question [in interviews] because you can't use a producer's questions. I call it the Soundbite Syndrome. The Bachelor or Bachelorette has to do that so much [during filming], when they get to me, sometimes they keep doing it. Occasionally I'll just whisper to them, 'Cut the bullsh*t and just talk to me.'"
He said viewers are thrown off on who will win but the show doesn't mess with 'sincerity'
The host has previously talked about how real the show's drama actually is or if it's fake. Harrison revealed the show walks a line between keeping things interesting and truthful.
"I'll be the first person to tell you we edit the show," he told Entertainment Weekly. "We try to throw people off. If you know Trista [Rehn] is going to pick Ryan [Sutter] from Day 1, it would be boring. What we don't mess with is the sincerity. Like with Ed [Swiderski] leaving [during Jillian's season of The Bachelorette], we could've talked him back. We could've fixed it. But we have to embrace it. I need to know that when I end up on Ellen's couch, I can look her in the eye and tell her we didn't lie, cheat, or steal."
So Harrison's time interviewing the bachelor isn't scripted, but he is told through an earpiece what to ask sometimes. The show generally is somewhere been reality and stirring up drama.
Read more: 'The Bachelor': Chris Harrison Reveals That Catherine Agro Is the Villain for Season 23
Check out The Cheat Sheet on Facebook!