'The Bachelor': Caelynn Miller-Keyes Posted an Instagram Photo That Is Making Fans 'So Uncomfortable'
While Hannah Brown may be taking the spotlight as The Bachelorette currently, it was her rivalry with fellow pageant queen Caelynn Miller-Keyes that caused the most drama during Colton Underwood's season of The Bachelor. Miller-Keyes fell hard and fast for Underwood — though she was left completely crushed after she wasn't given a rose following the hometown dates. And now, it looks like we'll be seeing her look for love once again on the upcoming season of Bachelor in Paradise.
Miller-Keyes has raised eyebrows since her season of The Bachelor ended, and that's because of her close relationship with Cassie Randolph, the woman Underwood chose to be with in the end. And it seems one particular photo she added to Instagram made many fans squirm with discomfort.
Caelynn Miller-Keyes was crushed when Colton Underwood sent her home on The Bachelor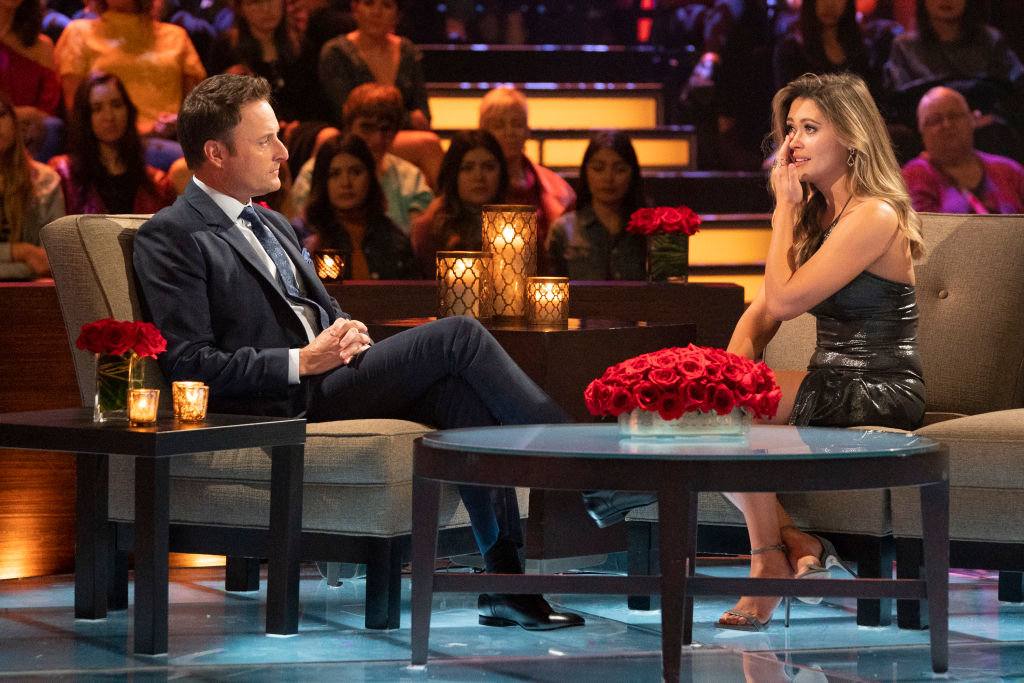 Miller-Keyes was falling hard and fast for Underwood, and she thought he felt the same. Unfortunately, she was totally crushed when she was sent packing — but she did tell her friend, Randolph, to get engaged at the end if she would be the one to win Underwood's affection. While Randolph and Underwood aren't engaged just yet, their relationship seems to be headed that way today. And to everyone's surprise, it looks like Miller-Keyes, who now lives in the same apartment complex as Randolph and remains her best friend, is happy for the couple.
That doesn't mean moving on was easy for Miller-Keyes, however. She tearfully confronted Underwood during the Women Tell All special, and after that, Us Weekly reports she told ET that she was shocked Randolph outlasted her. "And so, she didn't really talk that much about her relationship, but she did say that, you know, we both kind of felt that my relationship was a little more further advanced than hers," Miller-Keyes said. "So I was surprised that I was sent home and not her."
Miller-Keyes claims she looks at Underwood like a 'big brother' now
There may have been hard feelings when she was first sent home, but since then, Miller-Keyes has had time to reflect on her relationships with both Randolph and Underwood. All in all, Miller-Keyes has noted she hopes to maintain a close friendship with both of them — and she's even said how her relationship with Underwood has totally shifted since her heart was broken.
As she told Us Weekly, "If you look at past, like, prior contestants, they're friends … with the lead. That's exactly what happened in this situation." She then added that she "was able to detach my emotions and my feelings, and Colton's like a big brother to me and I love him as a friend."
As far as what Randolph thinks, she seems to enjoy being in such close proximity to Miller-Keyes, too. She frequently posts photos of the two of them hanging out, and recently, she wished Miller-Keyes a happy birthday with this Instagram post. "True friendship is rare and I'm lucky to have found a true gem. Love you and can't wait to celebrate with you when you are home," the post was captioned.
Fans are raising their eyebrows at this Instagram photo
Miller-Keyes, Randolph, and Underwood may have an amazing friendship now, but fans can't help but think their closeness is a bit strange all things considered. And Miller-Keyes post one photo to Instagram that really had her followers talking. "She got the final rose, I got the third wheel," she captioned this photo that was taken of Randolph and Underwood kissing with her standing nearby.
While some praised her for her "amazing" sense of humor, others thought the photo and caption were very odd. "This makes me so uncomfortable," one of her followers commented, and another added, "This is literally SO uncomfy." Yet another wrote, "But you kissed him first. I don't know how ya'll are friends. You were crying at the final rose asking what went wrong. Weird that you're friends and third wheel with them."
If their dynamic works for the three of them, then that's all that matters in the end. Though if more photos like this end up online, Miller-Keyes may want to prepare herself for the backlash.
Check out Showbiz Cheat Sheet on Facebook!