'The Bachelor': Did Chris Harrison Hint That Peter Weber and Hannah Brown Might Get Back Together This Season?
Hannah Brown had a rough time on The Bachelorette. She had several men on her season who didn't appear to be there for the right reasons, she let one guy manipulate her into keeping him around for way too long, and she ultimately ended up with someone who had a girlfriend the entire time he was on the show.
Perhaps, the biggest travesty of Brown's time on The Bachelorette was that she let Peter Weber slip through her fingers. But some of Bachelor Nation is still holding out hope that the two may rekindle their flame at some point.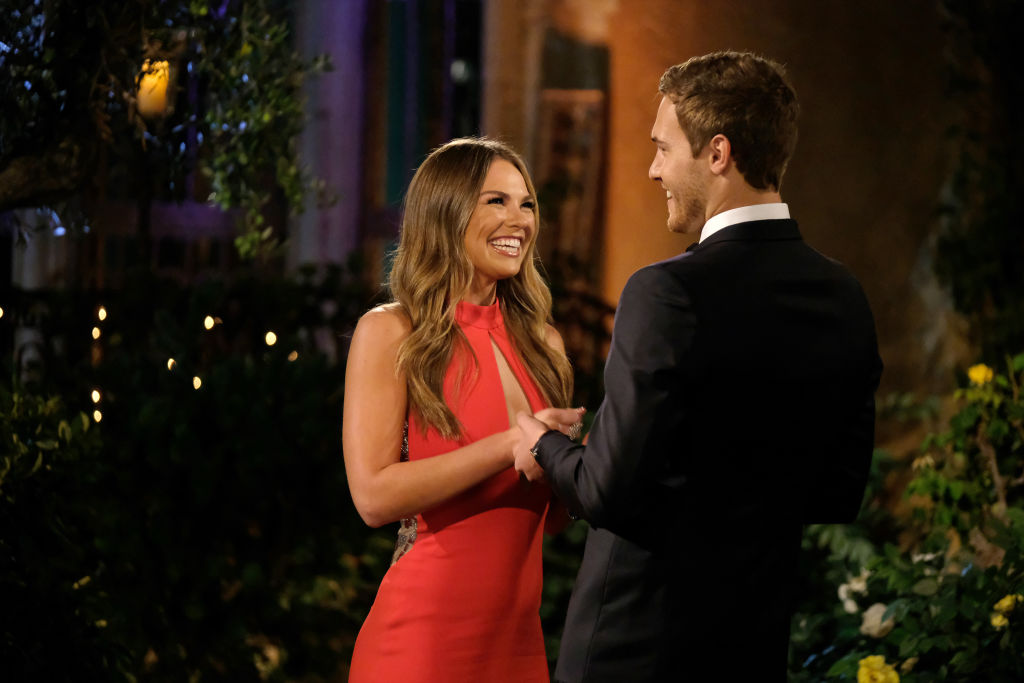 What happened on Hannah Brown's season?
Brown and Weber connected instantly on her season of The Bachelorette. It seemed like he was genuinely there for Brown and was serious about creating a future with her. He was also the source of much conversation after Brown admitted to having sex with him four times in a windmill. But ultimately, Weber was sent home after making it to the final three. Brown ended up choosing Jed Wyatt, but eventually broke things off with him after finding out that he had a girlfriend the whole time that he was on the show.
"I am not with Jed anymore," she revealed during her After the Final Rose special. "The engagement is over, we are not together. That is not what I said yes to. When I said those things, the things that I said to him on my engagement date, I thought that was my day, and I feel like that was taken from me and how special that was, and it's been really hard to gravel with that, but I know that what I got is not what I ever wanted for a life partner and love that is not built on a foundation of trust and honesty. I have grown so much, and I know I deserved more than that."
Is Chris Harrison holding out hope that Brown and Weber will get back together?
Since Brown's season ended, she went on to win Dancing with the Stars and Weber went on to become the Bachelor. But host Chris Harrison still hasn't lost faith in the spark between the two.
"Her and Peter, they just have this thing," he told Entertainment Tonight. "That intangible kind of chemistry and it's one of those things that no matter how much you think you're over somebody, when you see each other, it's a thing. I'll let them deal with that on the show, but… there is some serious chemistry between the two, that's just undeniable. That's why we wanted to have her back on the show."
Weber did invite Brown to participate in his season of The Bachelor, but whether or not she accepted is still unknown.
While Brown's hectic DWTS schedule makes the chances pretty slim that she went on Weber's season as a contestant, she does make an appearance on the season.
 "It's not just, 'Hey, I'm here to hit you on the shoulder and say good luck,'" Harrison said of Brown's time on Weber's season. "It's more than that."