'The Bachelor': Does Cassie love Colton Back?
Part one of The Bachelor finale took place last night, and we learned that Colton wants to spend the rest of his time on the show fighting for Cassie. To show how utterly serious he is about moving forward with Cassie, he broke off his relationships with Tayshia and Hannah G. In their finale interviews with Chris Harrison, both women said they were shocked (Hannah G. especially) when Colton came to their rooms to break up with them. They were both visibly emotional talking to Harrison on stage. When Colton was brought out to talk to each of them separately, he seemed visibly uncomfortable, too, naturally. Talking to an ex after you've broken up is always hard, talking to an ex on live television after America watched you break up with them is unimaginably cringeworthy.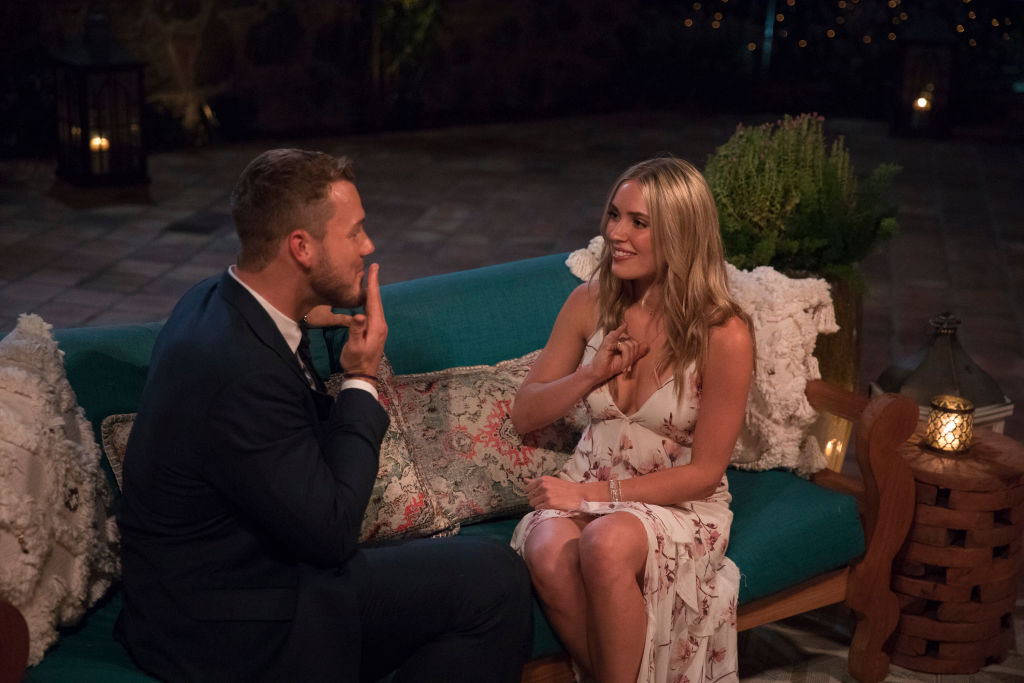 Colton's decision to fight for Cassie

Colton has decided to fight for Cassie. On their final date, he told her that even if she left right now he wouldn't stop fighting for her. But does Cassie want to be fought for? When Colton broke up with Tayshia and Hannah G. both women were incredibly heart broken. They sobbed, they freaked out, they couldn't believe it was real. But as Cassie was preparing to leave, she was packing casually and talking to the camera about how she's excited to go home and see her friends and get back to her old routine. In one of her on-camera interviews, she spoke about how Colton is ready to settle down with a wife and she's just not ready for that (maybe she shouldn't have gone on The Bachelor then?).

Did Cassie ever have strong feelings for Colton?

Even looking back at Cassie's hometown date and their day date in Portugal, Colton was so obviously very smitten with Cassie and though the two have chemistry, Cassie doesn't seem as into Colton as he is into her. She probably likes Colton just fine, but never imagined it would get this far.

Flash forward to Harrison's heart-to-heart with Colton about "where to go from here." Harrison asks Colton: "What if she's just not into you?" He even brought it up again on stage during the live finale. Colton responded by saying that he's a pretty good read of people and he can tell that she has strong feelings for him (even highly perceptive people can stagger in their judgment when it comes to love). So he's going off of his intuition rather than what Cassie's told him.

Cassie's reasons for leaving

When Cassie was breaking up with Colton, she cited a few reasons for her decision to leave. She asked him how he could love her when he's dating two other girls, so he broke up with the two other girls. She told him that everything was moving too fast, so he told her to forget the show's timeline and that he doesn't need to propose to her at the end of this. Then she told him that she loves him but she's not "in love with him," and that she just doesn't know if she can get to where he is. She told him he deserves to be with someone who's madly in love with him (i.e. not her). There really isn't anything Colton can do about that one. Like he said during "Women Tell All," just because you're the bachelor doesn't mean people have to love you.

Read more: 'The Bachelor': Demi Was the Star of Women Tell All

Check out The Cheat Sheet on Facebook!