'The Bachelor': Hannah G. Reveals The Moment She Fell in Love With Colton
Hannah Godwin was blindsided on the most recent season of The Bachelor. She was absolutely certain the show's star, Colton Underwood, would be proposing to her at the end of their journey. But he broke up with her in Portugal before their fantasy suite date to chase after Cassie Randolph, the season winner and his current girlfriend.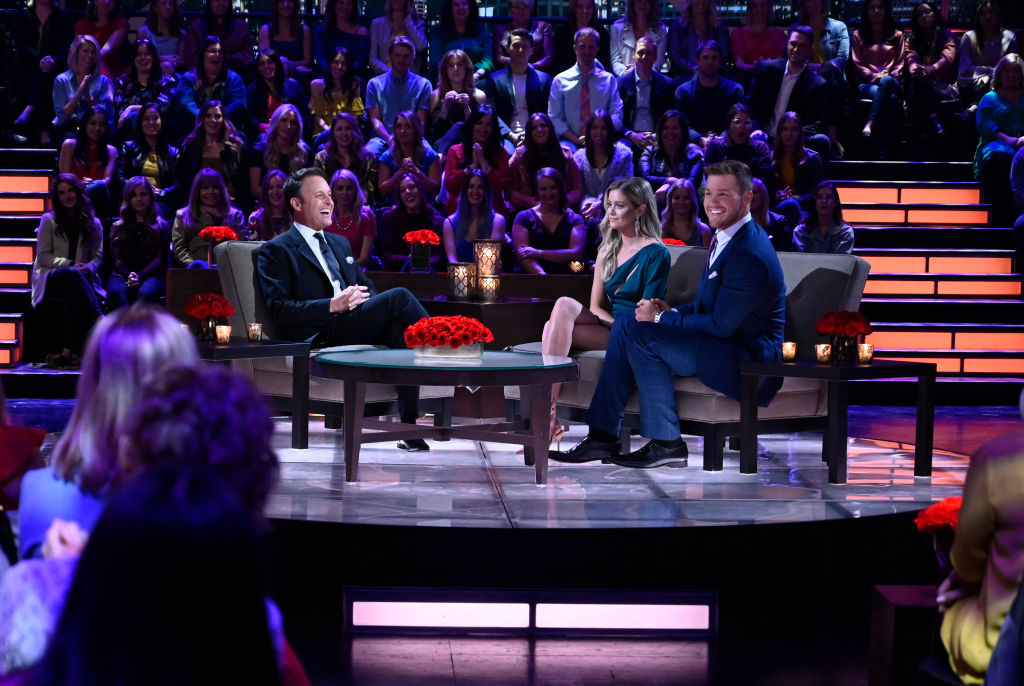 It was evident to viewers that Colton and Hannah G. had an intense connection. He gave her the first impression rose after meeting her that first night at the mansion, and their chemistry was off the charts from that moment forward.

Colton started to fall in love with Hannah G. on night one

One of Hannah G. and Colton's big moments was never aired. The moment Colton told Hannah G. he was falling in love with her.

"The scene that was cut out was when he told me he was falling in love with me ever since the first night. They cut that out and I was like 'what?' I didn't really care to see it, but I think it definitely kind of robbed me of this relationship that I took so seriously for months. Everybody was probably like 'why was she so upset?' It was because all of this stuff happened and nobody saw the reasons why, and it was a big part of my life," Hannah G. said in a recent interview with former Bachelor contestant Olivia Caridi on her podcast, Mouthing Off.

Another moment that was special to Hannah G. that wasn't shown was her one-on-one date with Colton in Vietnam. Hannah G. says, despite what was shown, she and Colton did a lot more than make out the whole time. In fact, they had some pretty great conversations.

"When I watched [that episode] I was literally like 'Oh my gosh I am so sorry mom, dad, teachers I used to have, professors…' That was definitely just a small portion of how that date went," she said. "We got to hang out so much. We walked around in our robes and we ended up having tea and talking and talking about things I was kind of struggling with being there. Even in the mud bath we were talking about how we grew up and stuff and how I grew up in a cul-de-sac and the cul-de-sac life, and he was talking about how he grew up and stuff and really just kind of figuring out if this many weeks in we still had the connection we had the first night, and we did and we talked through it […] That's how that went down. But at the same time they can only air so much and for some reason, they just really went all out on the makeout stuff."

The moment Hannah G. remembers falling in love with Colton

Olivia asked Hannah if there was a specific moment she could recall when she knew she was starting to fall in love with Colton.

"I think there were a bunch of different moments that kind of added up together, but one that just sticks in my mind was during our date in Vietnam when we were in the shower–no I'm just kidding–but we were in our robes and I was going up the stairs and he was doing his interview. Ugh I kind of hate talking about it now, but it was so powerful," she said. "He stopped his interview and he just walked up to me and I was having to leave to go get ready for the night and we just got to have a few moments of hanging out just us and whenever I left I felt like 'I don't want to leave and I don't think he wants me to leave either.' I was getting ready for dinner that night and I was just so excited to hang out."

Read more: 'Bachelor in Paradise': Who Hannah G. Hopes to Meet at the Beach
Check out The Cheat Sheet on Facebook!