'The Bachelor': Hannah G.'s Favorite Makeup Products for Perfect Skin
We all know Hannah G. from Colton's season of The Bachelor as the cute little blonde with a passion for rapping. She initially stole our former bachelor's heart, winning the first impression rose, and maintained a serious connection with him throughout the season until she was sent home without a fantasy suite date.
She also has flawless skin.

Even before her Bachelor debut, Hannah G. had experience being an influencer. She started modeling in her hometown, went to school for business marketing, and celebrated the rise of Instagram, as it gave her a platform to merge all of her interests: photography, modeling, fashion, and beauty.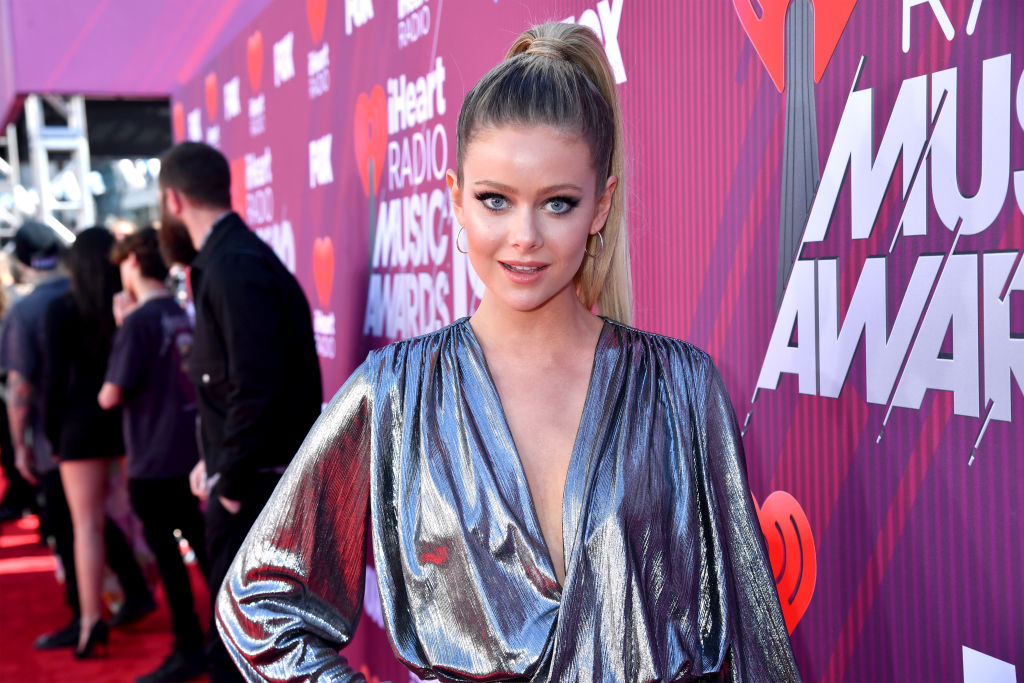 She's still passionate about makeup and all things beauty-related and frequently features tips on her Instagram and blog.

Here the makeup products Hannah G. swears by.

The Morphe brush

"I've used every brush/beauty sponge on the shelves & somehow I find that this one by Morphe does the best. I use it for foundation and concealer & TRUST me it blends + buffs everything to perfection without wiping away any product. They always say the brushes are truly the most important part and having a good one (plus a good price) is a game changer," she says of Morphe's Deluxe Buffer.
She also adds that, when applying makeup, it's best to use circular/tapping motions to get the fullest coverage.
The setting spray Kylie Jenner's makeup artist uses
"I've gone through the high-end & the low-end sprays & I feel like this one does the best at prepping my face & making it STAY (no joke). Once I saw Kylie Jenner's makeup artist using I knew I had to hop on the bandwagon. So many of the other setting sprays out there charge extra for other ingredients but really I've noticed (after using three bottles) that this natural one is really all I need to keep that all day coverage," she says of the Mario Badescu facial spray.
She adds that it's best to spray on the user's face before applying any makeup and again afterward.
L'Oréal foundation
Hannah G. sticks to a reasonably priced foundation. She says L'Oréal's Infallible Pro-Glow and True Match work just fine for her.
"I use foundation so often that it doesn't make sense for me to purchase a high end one (girls gotta pay to eat somehow too lol). I've found that this drugstore L'Oréal is the best duo mix for me. Having dry-ish skin, I always reach for luminous finishes. I definitely notice my makeup lasting longer with the 24-hour foundation + I notice my skin looking like REAL SKIN with the lumi one. The spf in one of them is a must & it doesn't flash back in pics. This duo and yellow based tone is perfect for me," she writes on her blog.
Hannah G.'s favorite highlighter
Lastly, the product Hannah recommends to anyone who asks: Sephora's Custom Enhancer Drops.
"Yes, it's a bit pricier but it lasts me almost half a year. The shine it creates is unlike any other liquid highlighter & it's more "dewy" looking rather than "sparkly". I apply this on my cheek bones, middle of nose, and above my upper lip. You can thank me later," she writes.
She adds that it's important to apply the highlighter after applying the user's foundation and concealer but before any setting powder. Hannah says she runs the stick directly along her face and then blends with a dome brush. For special occasions, she applies some to her shoulder and collar bones.
Read more: 'Bachelor in Paradise': Who Hannah G. Hopes to Meet at the Beach
Check out The Cheat Sheet on Facebook!