'The Bachelor': Is Cassie Jealous of What Colton Had With Hannah G.?
Colton Underwood and Cassie Randolph have publically been together for a few months now since The Bachelor's ended. Despite being unsure of Colton during his season, Cassie's seemed to fallen genuinely in love her grand prize, and the two are reportedly very happy together.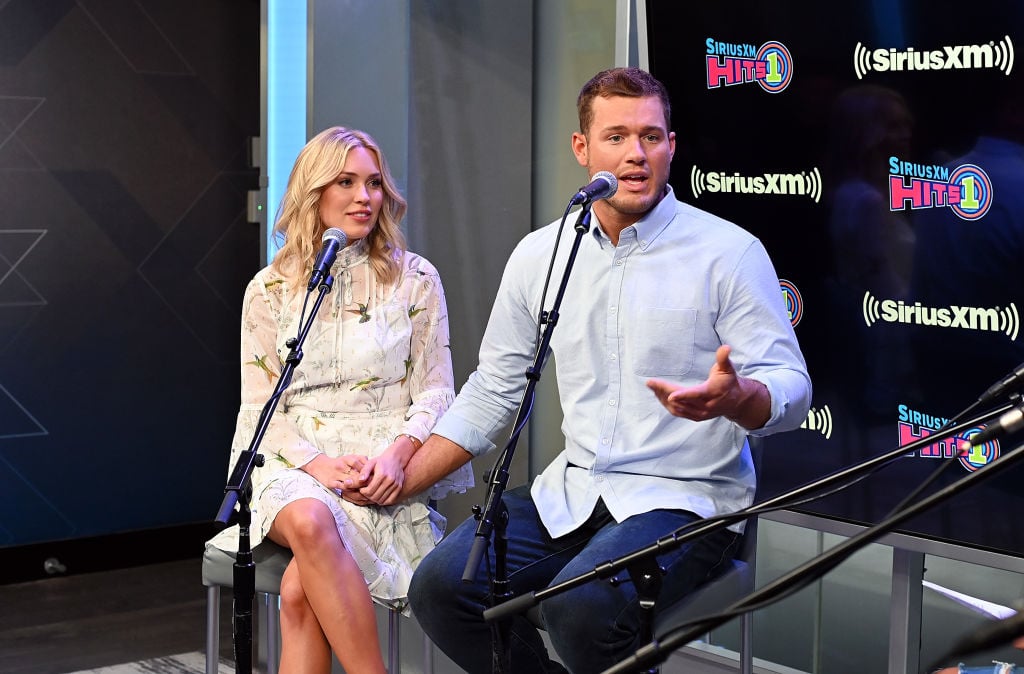 In a recent interview with Jenny McCarthy on The Jenny McCarthy Show on SiriusXM, Cassie spoke about the hardest part of watching Colton's season back: the intimate connections he had with a few of the other contestants.

"It was really hard watching him–honestly the making out I can get over. But having actual connections with girls and having deep conversations with them was really hard because I was like 'Oh, ok. You guys actually had deep conversations that I have to watch,'" said Cassie.
Anyone who watched Colton's season probably thought of one name in particular upon Cassie's admission: Hannah Godwin.

Hannah G.'s connection with Colton

Hannah G. was arguably the runner-up after Cassie. She and Colton shared an intense connection during his season, and many fans were convinced she'd be awarded his final rose. When he broke up with her before their fantasy suite date, Bachelor Nation was shocked.

In several interviews following the end of Colton's season, Hannah G.'s spoken about how strong she'd thought their connection was, and how she was blindsided when he broke things off.

A couple months ago she told former Bachelor contestant Olivia Caridi on her podcast, Mouthing Off, about her intimate date in Vietnam with Colton. She says they did a lot more than makeout, despite what was shown in the episode.

"[Making out] was definitely just a small portion of how that date went. We got to hang out so much. We walked around in our robes and we ended up having tea and talking and talking about things I was kind of struggling with being there. Even in the mud bath we were talking about how we grew up and stuff and how I grew up in a cul-de-sac and the cul-de-sac life, and he was talking about how he grew up and stuff and really just kind of figuring out if this many weeks in we still had the connection we had the first night, and we did and we talked through it and we kind of put each other in each other's perspective and stuff like that," she told Olivia.

Hannah G. wasn't alone in thinking she and Colton had a connection. Other contestants saw it, too.

"He would wink at me and some girls would be like 'Hannah he is literally talking to you the whole time,' and I would be like 'no!' but in my head would be like 'wait does not everybody else feel like that? That's crazy,'" she told Olivia.

Is Cassie jealous of Hannah G.?

Cassie doesn't seem like a very jealous person. In fact, it was really important for her that Colton be friends with Caelynn Miller-Keyes since the two got so close during their time on the show, and Colton had a strong connection with her, too.

Cassie probably didn't love watching the Hannah G. stuff back, but that doesn't necessarily mean she's jealous. Colton and Hannah G. don't talk anymore, whereas he seems to lightly be in contact with a few of his other former contestants, but that could be because Hannah G. still needs time to heal, not because Cassie doesn't want them to be in contact.

Cassie also knows how madly Colton's in love with her. He didn't jump a fence for Hannah G. so she's got nothing to stress about.