'The Bachelor': Is Colton Underwood Still Planning on Proposing to Cassie Randolph?
The Bachelor usually ends with a couple getting engaged. Colton Underwood's season ended differently in many ways, but one is that he isn't engaged with the woman he picked, Cassie Randolph. Is he planning on proposing after the show? Here is everything you need to know.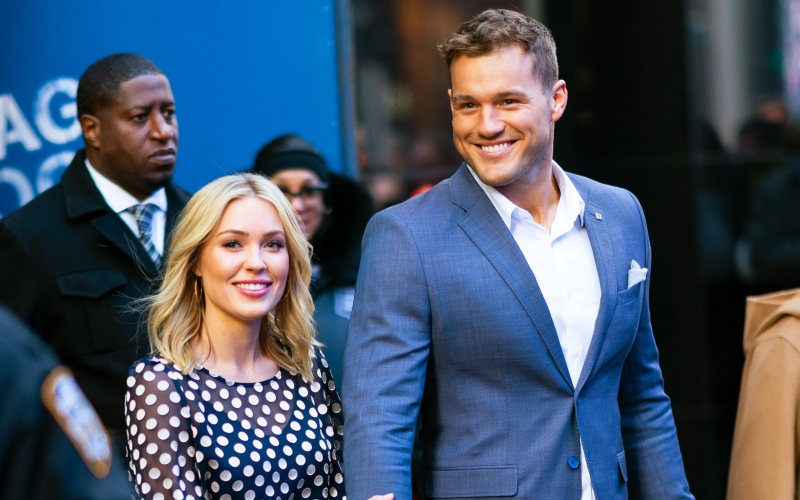 Cassie Randolph previously dumped Colton Underwood because she wasn't in love with him
Underwood's season of The Bachelor took a shocking turn when frontrunner Randolph decided to leave him. She said that she wasn't in love with him and it obviously bothered her that her father didn't give Underwood's approval to propose.
She also talked about not being ready to get engaged. Underwood responded by saying he is okay with just staying together instead of proposing at the end, but Randolph still decided to leave.
So getting engaged has been a touchy subject for the couple. Has that changed since filming the show?
Underwood referred to Randolph in an Instagram post as his "future wife"
Things might have turned around between the couple. Underwood had many labels for Randolph in one of his latest Instagram captions.
"I have my best friend. I have my girlfriend. I have my future fiancé. I have my future wife. But most importantly I have you. Let's do this thing they call life… together… forever," part of the caption read.
Randolph also posted to her Instagram. She didn't mention a future engagement, but she did write about her feelings for Underwood.
"The last 4 months, just focusing on "us" have been amazing and you have become my best friend," Randolph wrote "You have shown me the purest, strongest love that any girl could ask for. You jumped a fence, took a risk, and challenged the "rules" to fight for us."
She continued with, "I can't even begin to describe how lucky I feel to have you by my side. I am so excited to see what is next for us in this new phase of our "journey"… I'd jump a thousand fences for you and "like, I know, I KNOW" that I love you more than words, point blank♥️ ps. you still give me butterflies."
He also said Randolph will have a ring on her finger one day
The former football player also talked about their future in an interview. It looks like an engagement is possible.
"She doesn't have a ring on her finger yet," Underwood told People "But she will, one day." Randolph then said "We definitely talk about our future engagement" and "We're both excited to get to that point."
For now, the reality stars are just enjoying living in the same city. "I am now a California resident," Underwood revealed. They are also waiting to move in together.
"Our goal is to buy a house in Huntington Beach in the next year, but we probably won't move in together until we're engaged or married," he said. "As much as I want her to live with me, it's a big step and something we both take very seriously."
It sounds like Underwood definitely has engagement plans in the future, but the two are still just enjoying their relationship together. They also won't be moving in together until they make that next step.
Read more: 'The Bachelor': Has Colton Underwood Watched Cassie Randolph's Other Reality Show?
Check out The Cheat Sheet on Facebook!