'The Bachelor': Kirpa Sudick Addresses Rumors That She And Cam Ayala Are Dating
Bachelor Nation met Kirpa Sudick on Colton Underwood's season of The Bachelor (she was the contestant who mysteriously ended up with a chin injury one episode that was never addressed).
Her official ABC bio read: "This beautiful and spunky California girl works for her dad's dentistry business as a dental hygienist. She loves hiking, reading, cooking and swimming. Her one deal breaker? Colton better floss."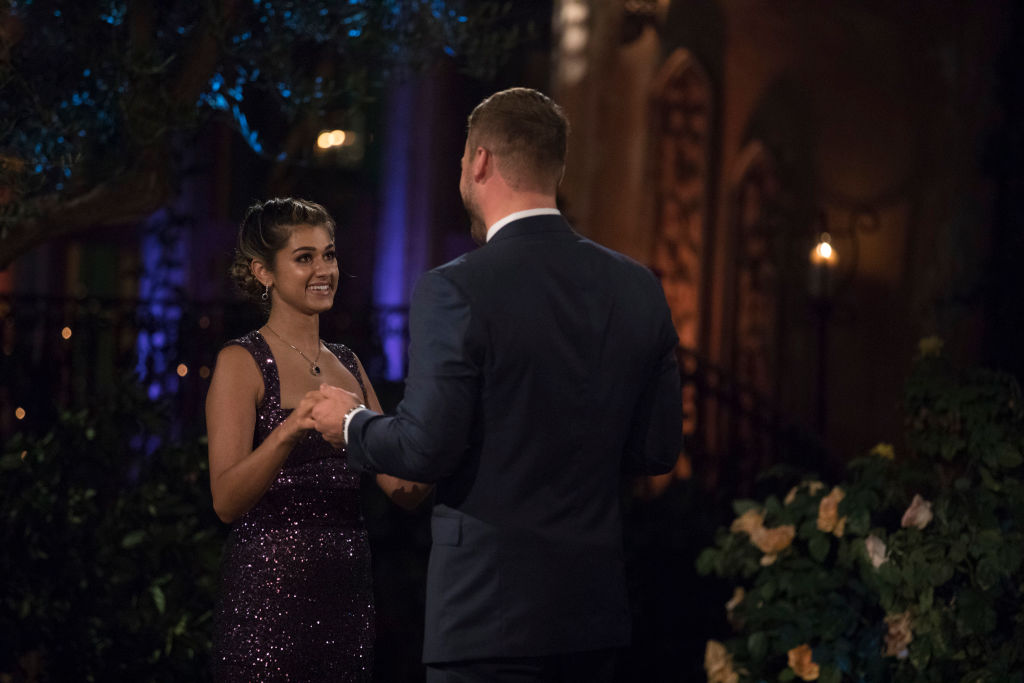 Bachelor fans first met Cam Ayala during Hannah Brown's season of The Bachelorette. He quickly became known as ABC Cam as his catchphrase was "Always Be Cam." He, rather aggressively, made a point to insert himself into various situations at the mansion that he hadn't been invited to, including one group date.
Cam was also a part of this past season of Bachelor In Paradise. Even before the show began filming, he made it clear that he had his eye on Caelynn Miller-Keyes. Miller-Keyes humored him for a couple episodes but quickly jumped ship when Mike Johnson walked down the stairs to Paradise (this was before Dean Unglert arrived).
The photo that sparked rumors that Kirpa and Cam are dating
Kirpa recently posted a series of photos featuring herself and Cam to Instagram in honor of the software sales manager's 31st birthday. The first photo showed her and fellow season 23 contestant Alex Blumberg getting cozy with Cam and then two more of her and Cam in front of a wall that says "I love you so much."
She captioned the photo: "happy birthday to this gem of a human. so glad you're in my life @camronayala" along with a red heart.
Bachelor Nation's reaction to the photos of Cam and Kirpa
The photos caused Bachelor fans to take to the comments to inquire about the nature of the two's relationship.
"Omg like they're seriously dating tho [Instagram User] and omg he's a Virgo," wrote one fan.
"PERFECT COUPLE so happy for you guys," commented another.
"wait are they dating lmao," wrote another.
"ok but… SHIPPPPPPPP," wrote another.
Kirpa and Cam say they are just friends
Both Bachelor Nation members told Us Weekly that they're not dating.
"We are just friends and not dating! I've just been very lucky to have met so many great people through The Bachelor!" Kirpa told the publication.
"We are strictly friends," Cam told Us. "She and a couple of others came into Austin, Texas, this weekend for my birthday/going-away party."
So there's nothing romantic going on between Kirpa and Cam, but if they ever decide to take their relationship in that direction, it looks like they have a lot of support.
Read more: 'The Bachelorette': Mike Johnson and Demi Lovato Reportedly Went On A Date And Were Set Up By Hannah Brown