'The Bachelor': Mike Johnson Addresses The Show's Diversity Problem
As of the Bachelor In Paradise finale, Peter Weber was officially named the next bachelor. While many fans are excited to watch Pilot Pete's love journey, many fans are also disappointed that Mike Johnson didn't get the gig.
As soon as Mike was sent home on Hannah Brown's season of The Bachelorette, fans started to petition for him to become the next bachelor. He's a sweetie with a huge, contagious smile. He's a veteran, and he would have been the first black bachelor in the franchise's history.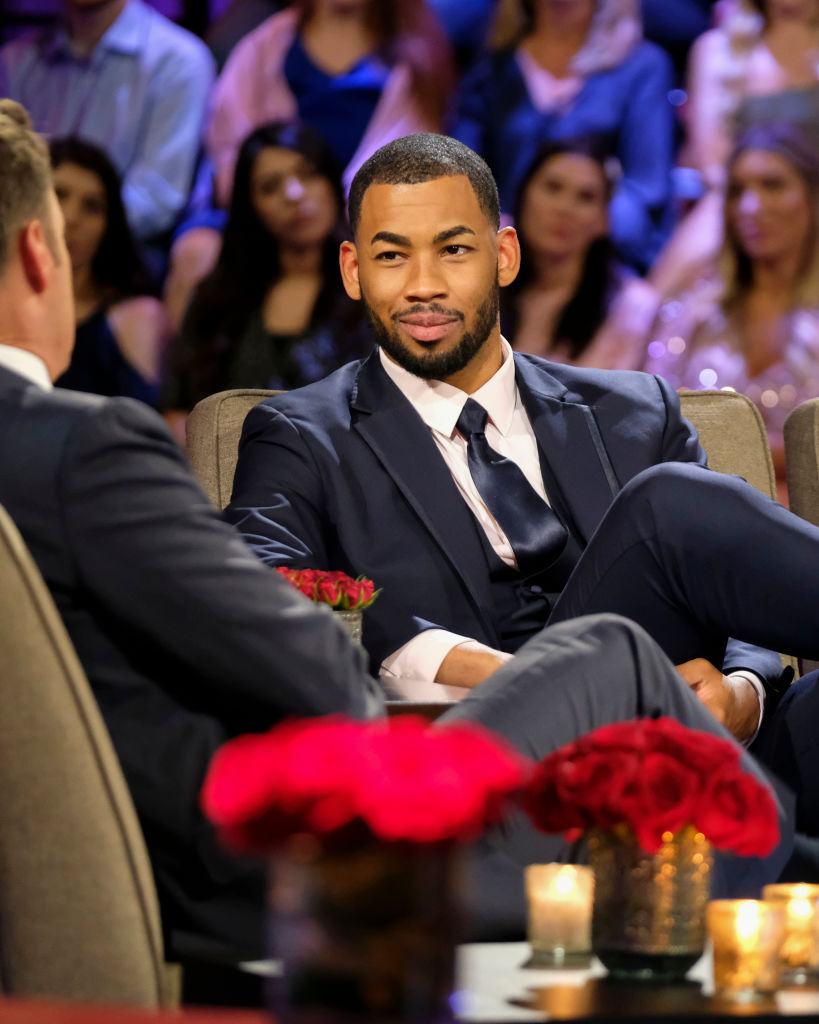 Bachelor Nation thought Mike might find love on this past season of Bachelor In Paradise, but he never really hit it off with anyone. After he went home, Bachelor Nation was even more hopeful that he'd get the leading role. But he didn't.
On Bachelor Happy Hour's latest episode, Mike confirmed that he was "100% in talks to be the next Bachelor."
"People probably didn't think I was considered to be the Bachelor because I was trying to be so respectful of the crew at Bachelor world and I didn't want to speak about it. Even when I went on TV. I thought that was being extremely respectful and a gentlemen of me to the Bachelor world. And Peter didn't do those interviews so he didn't have to go through that. I 100% wanted to be the Bachelor. Reasons being: One, I do want to find a wife. Two, it was bigger than me and I wanted to represent for all people of color," he said.

Mike Johnson wants 'The Bachelor' to include people 'outside of just black and white'
Mike wants The Bachelor to work on representing different types of people in the lead role.
"Talking about people of color, they need to have an Asian Bachelor, they need to have an Indian Bachelor," he said on the podcast. "They need to have other people outside of just black and white."
Rachel Lindsay, the franchise's first black bachelorette, agreed with Mike in that there's a definite representation problem in the franchise.

"I'm sure [ABC has] some reason for not picking [Mike], and I'm going to trust in that, but at the same time, the system isn't working in giving us a bachelor who is a person of color. So we need to change the system. Something has to be done. Break the rules, step outside the box, give the people what they want!" she told Entertainment Tonight.

Mike Johnson is at peace with not being the bachelor now, but he was 'sad' and 'annoyed' upon first finding out
Though Mike, initially, was disappointed to learn he's not the bachelor, ultimately, he's at peace with the decision.
"When I first found out, I'm not gonna lie — I was sad. I was annoyed when I very first found out," he said on the podcast. "But then, I think by the end of the night, I wasn't annoyed no more because I was appreciative and thankful that they told me 'No' right then and there, because now I can focus on myself. I'm just blessed because I know I'mma find my wife and find my queen."
Read more: 'Bachelor In Paradise': Nicole Lopez-Alvar Absolutely Roasts Clay Harbor In A Comment On His Instagram