'The Bachelor': Were Any of The Women Mean to Hannah G. After She Was Awarded The First Impression Rose?
The first impression rose is a big deal on every season of The Bachelor and The Bachelorette. Oftentimes, the show's star gives the rose to the person they'll ultimately choose to be their partner. For this reason, that first mini-ceremony always comes along with some drama. It's not uncommon for the person awarded the first impression rose to feel as if they have a sort of target on their back.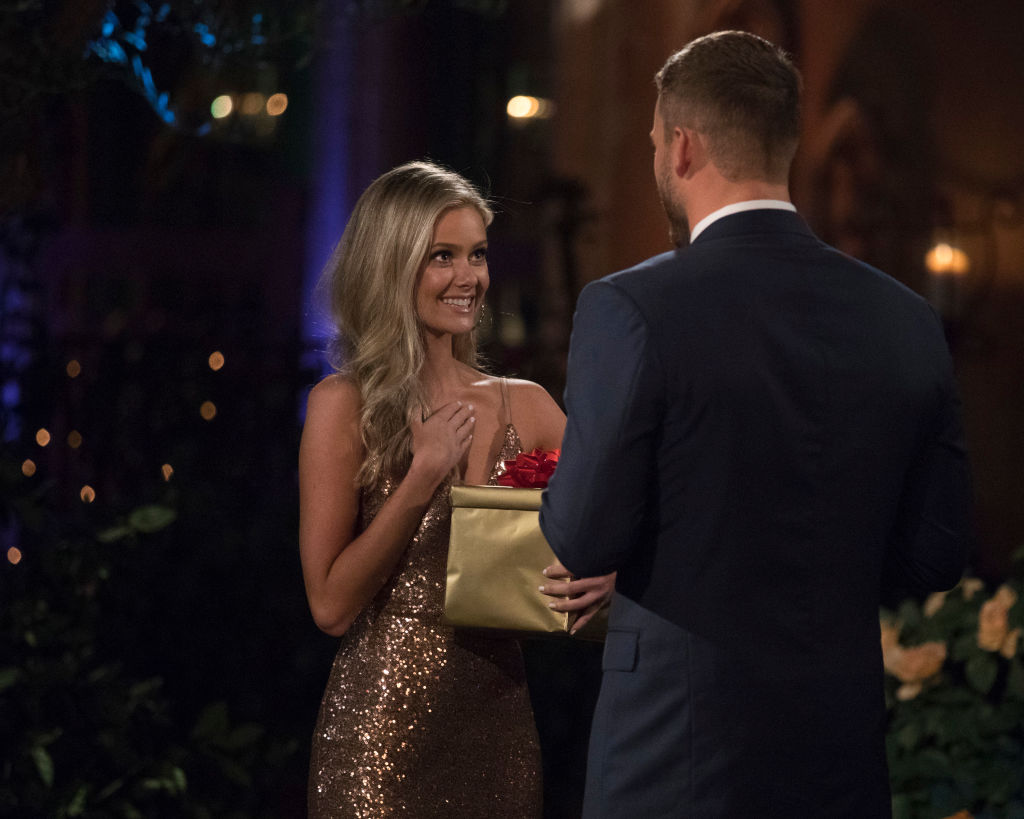 Hannah Godwin was awarded Colton Underwood's first impression rose on this most recent season of The Bachelor. For much of the season, Hannah G. and viewers alike thought it'd be her at the end with Colton, but he broke up with her before their fantasy suite date to chase after Cassie Randolph.

Hannah G. on staying out of mansion drama

Hannah G. was famously known for staying out of drama in the Bachelor Mansion. In a recent interview with former Bachelor contestant Olivia Caridi on her podcast, Mouthing Off, Hannah said that her drama-free persona was more a result of not getting her quotes featured on the show than her actively avoiding it.

"It's not that I'm too scared to speak up or anything. It would just be, like, a lot of the time, so many strong personalities would take over anyways so I would say something and I guess they just wouldn't air it. I think there were just definitely a few chats that I had with girls where I thought they would be on there but they weren't," she said.

The 'right reasons' drama

Cassie, on the other hand, was notoriously wrapped up in the "right reasons" drama of the season. A handful of the girls felt Cassie and Caelynn weren't ready for marriage (with Cassie, they ended up being correct).

Hannah told Olivia that she tried to speak to Colton about the "right reasons" drama on their date in Colorado, but he brushed past it.

"I tried to bring it up to Colton in Colorado but none of that was shown–I didn't matter that day. But I was like 'hey I just want to talk about this whole crazy thing that's been going on this week–the 'right reasons' thing,' and he literally stopped and he was like 'I know it's not you let's just talk about something else' and I was like 'ok,' but I was gonna try to put my stance in and be like 'listen to things but also have your own opinion but also there's a big majority rule kind of thing,'" she said.

Did Hannah G. have a target on her back after she was awarded the first impression rose?

Just as she successfully stayed out of the "right reasons" fiasco, Hannah G. also said she doesn't think she was the source of any drama after being awarded the first impression rose.

"I think people were pretty supportive, that I know of. If they were talking about it behind my back it was like way behind my back because I didn't hear it and I also just didn't care. I was just like 'you know what, I'm just gonna be friends with all of you guys, this is gonna be a weird thing, whatever.' I think a lot of the girls ended up being like 'Oh my gosh congrats' or something. It was good vibes," she said.

Read more: 'The Bachelor': Did The Producers Give Hannah G. More Time With Colton Than Other Contestants?

Check out The Cheat Sheet on Facebook!