'The Bachelor': Why Fans Think Lauren B Met Arie Before the Show
Arie Luyendyk Jr. had a crazy finale on The Bachelor, choosing to propose to Becca Kufrin and turning away Lauren Burnham. Then he went on to break the engagement with Kufrin because he still had feelings for Burnham weeks later. This only added to the confusion many fans already had about Burnham and Luyendyk Jr.'s connection.
The show hardly showed any real conversation between the two, yet the Bachelor had no problem professing his love to her. Since then, fans have been putting a few things together — like how the two met before the show.
So what happened before the show and what did the two talk about after in order to reunite? Here are seven things you need to know.
1. Lauren Burnham reveals he texted her on New Year's Eve
On the finale, Luyendyk Jr. said he was open with Kufrin about how torn he still was between her and Burnham. They also mentioned that he talked to Burnham since he made his final decision on the show. So when was this and what did he say?
"He texted me on New Year's Eve, 'I think this is maybe crossing the line, but I'd like to talk,'" Burnham said, according to People. She then said when he told her about his feelings, "I did have some reservations." This is because "I was just afraid he would change his mind again."
After talking for some time, Burnham said that she then became less skeptical. "I was just like, 'We need to do it, you need to take the risk if this means a lot to you and you need to follow your heart. If not, then we don't need to talk anymore.'"
Next: This is when The Bachelor star knew he was in trouble.

2. Luyendyk Jr. said hearing Burnham's voice again made him realize he was in trouble
The Bachelor also gave his perspective on their conversations before leaving Kufrin.
"As soon as I heard your voice, I was like, 'Ohh … I'm in trouble.' Because there's no denying that I love you so much," he said to Burnham. "That conversation that we had changed everything for me because I knew that there was still a chance."
Next: So is Burnham worried he'll change his mind again?

3. Burnham says she is no longer worried he'll change his mind again
The two are now engaged, and Burnham isn't worried that Luyendyk Jr. is going anywhere. "I totally respect his decision to follow his heart," she told People. "I don't blame him for it, and I think it's made us stronger in the end."
Next: Their proposal wasn't a surprise to either of them.

4. Luyendyk Jr. said Burnham mentioned wanting to get engaged to him
The proposal on After the Final Rose wasn't a thoughtless decision. The two have talked about it before.
"Lauren told me I'm four months late on this proposal, and I wanted to give it to her and I wanted everyone at home to share in it," he said on the show.
Next: This is how fans found out Burnham and Luyendyk Jr. met before.

5. In the finale, Burnham tips fans off that she met Luyendyk Jr. before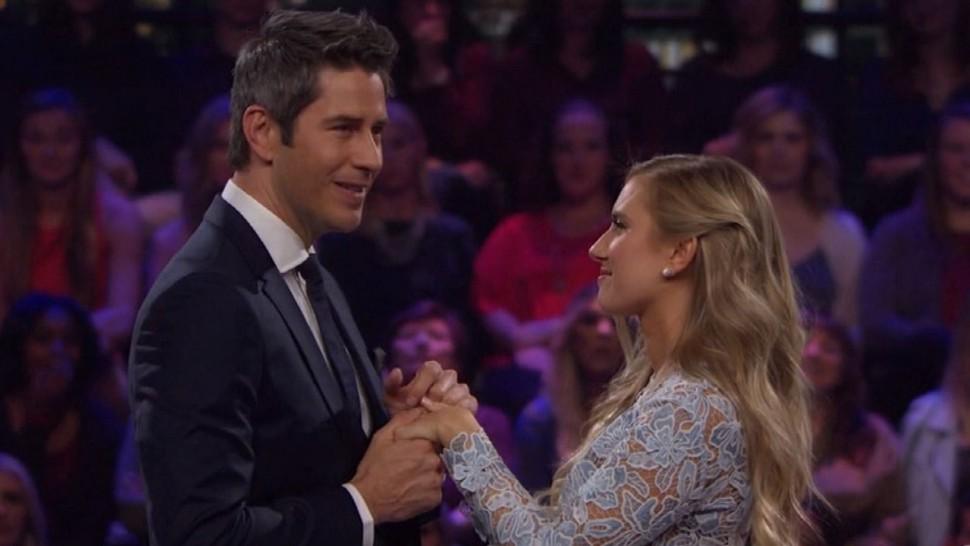 Burnham and Luyendyk Jr. had an interesting conversation before he had to make his final decision. He said, "It feels like it's been forever since I saw you step out of the limo."
Burnham then responded, saying, "I can still picture the first day … me walking up to you and you forgetting that you met me in Dallas."
Since a lot of fans don't understand what draws the two together, this had many fans thinking that this could be the answer: They met before and reconnected on the show.
Next: This is what Burnham showed about their first meeting in the first episode.

6. In the first episode, Burnham gave him a picture from their first meeting
Fans of the show probably forgot by now, but this was mentioned in the premiere. When Burnham got out the limo she gave Luyendyk Jr. a framed picture of them posing together from the show where she met him.
Next: A producer clarifies where they were when they first met.

7. A producer clarified that Burham went to one of Luyendyk Jr.'s races
After some confusion, a producer named Robert Mills tweeted to clear things up. He tweeted, "Here isbis [sp] for everyone. Lauren went to a race in Dallas and met Arie there. #TheBachelorFinale."
Follow Nicole Weaver on Twitter @nikkibernice.
Check out The Cheat Sheet on Facebook!