'The Bachelor': Why Peter Weber Is Reportedly the Frontrunner for the Starring Role
There are talks of who will be the new star of The Bachelor. It could be someone from The Bachelorette or Bachelor in Paradise. Peter Weber is reportedly the frontrunner for the role. Find out why and who else is being considered.
There are multiple contestants being considered for The Bachelor
Now that The Bachelorette is done people are wondering who will be the star of The Bachelor. The names that have been mentioned are Mike Johnson, Tyler Cameron, and Peter Weber.
Rob Mills, ABC Entertainment's Senior Vice President of Alternative Series, Specials & Late-Night Programming talked to Entertainment Tonight about what they're looking for to fill the role.
"It's changed over the years," said Mills. "You do look at who people want. … Like after Becca Kufrin's season, the last thing you left with is, 'Oh my gosh, Blake [Horstmann] is so heartbroken. He needs to find love.' And then you find that everything, especially now in the world, everything moves so quickly."
He continued, "People forget about that. Then you have to think, who's going to have the most interesting story arch for 24 hours? With Colton [Underwood], that was a really interesting story. This guy is a virgin, but he really wants to fall in love. … Who's gonna be the story that we can stretch out over 10 weeks?"
The executive confirmed that Johnson is being considered. "He's got a great story. We have somebody who has served our country, has really suffered through heartbreak. … You've got a billion-dollar smile and he looks great. He's got a following; those are the reasons he's in contention more than, 'Oh, this is so great, we can check that off now.'"
Tyler Cameron might not get it
The runner-up had a lot of fans throughout the season. He didn't win Brown's final rose, but there seemed to be a chance of them reuniting.
That's because Brown asked him out for drinks in the live finale. Cameron seemed open to meeting with her and he was later seen leaving her place with an overnight bag. However, he was then seen going on a date with Gigi Hadid.
Chris Harrison thought that Cameron dating multiple women would hurt his chances of becoming the bachelor. "If Tyler is bouncing around from girl to girl and loving the life and enjoying the limelight — which, by the way, good on him. That's fine. If that's what you want to do right now, I don't blame him. He's probably enjoying life really, really well — but that's not someone we're going to want to have as our bachelor or bachelorette," the host told Entertainment Tonight.
Peter Weber is reportedly the frontrunner because of his backstory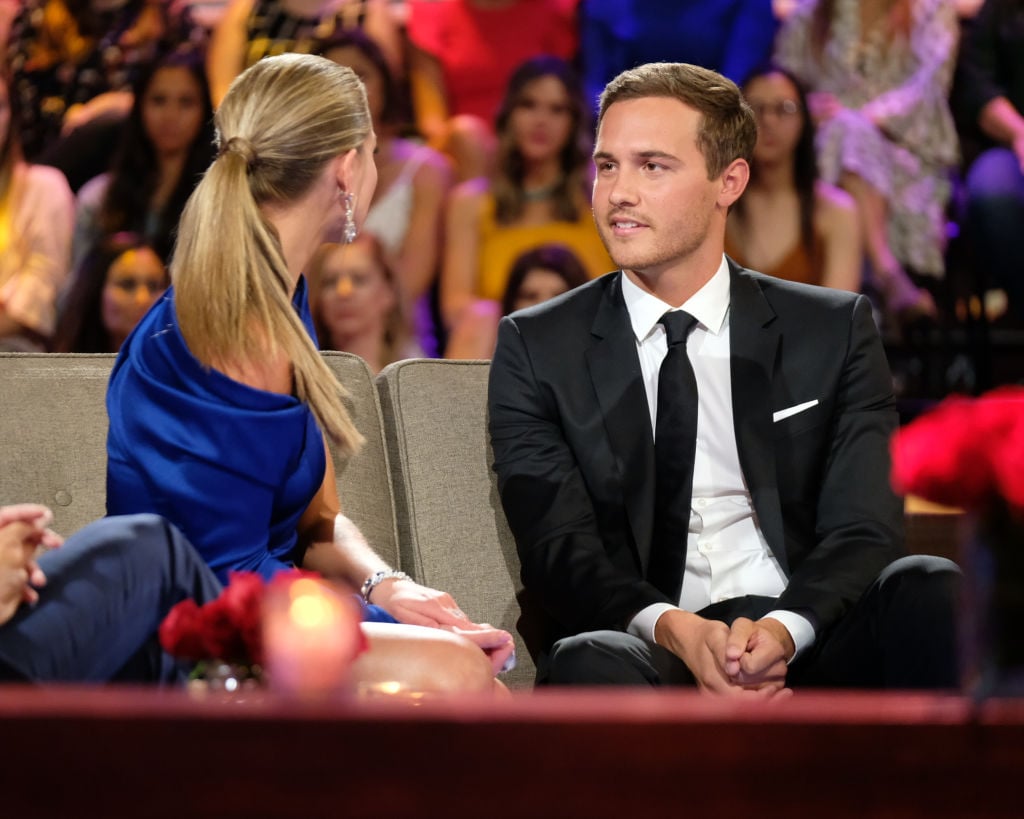 Weber made it very far in the season so it's not surprising that he's being considered for the role. He reportedly is a favorite with those who will make the final decision.
"Peter has always been their guy," a source said according to E! News. "He's older, he has a career and he has a great backstory. He can definitely carry a show."
Weber is 27-years-old and is a pilot for Delta Air Lines. There is still some time before a final decision is going to be made.