'The Bachelor': Why Tayshia Still Stands by Warning Colton About Cassie
Colton Underwood's season of The Bachelor ended differently than most expected. While we finally got the answers as to why the star had the infamous fence-jumping scene for Cassie, we also never got a final rose ceremony for a proper send-off of the last two ladies who didn't win his heart. Hannah G. and Tayshia made it known from the beginning that they were there to win Colton's heart — and while Colton didn't love them back, their genuine nature still made them totally lovable to fans throughout the entire season.
Cassie and Colton may be together now, but we can't forget when Tayshia actually warned Colton that Cassie may not be ready for marriage. Here's why she stands by her warning despite their happy ending.
Tayshia told Colton during their one-on-one that Caelynn and Cassie weren't on the show for him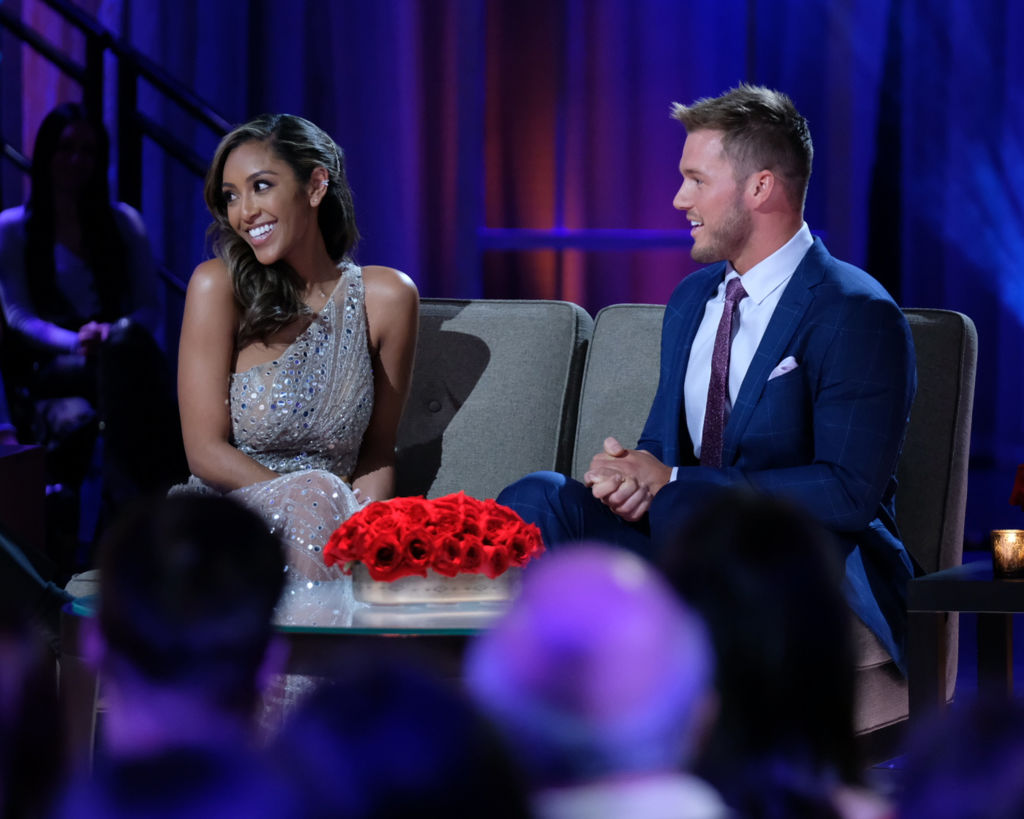 Tayshia seemed to show all of her cards to Colton in Denver, and she wasn't afraid to speak her truth when it came to the other contestants, either. Bustle reminds us during their one-on-one date, Colton and Tayshia discussed which women in the group may not be ready for marriage at the end of their journey. And Tayshia spilled that Cassie and Caelynn may not be prepared for engagement if they're chosen.
As Tayshia said, "They're already talking about being the next Bachelorette, and they also have said that they don't think they're going to be ready to get engaged at the end of this." She also added that the two of them were discussing "what parties they're gonna hit up after this and the people they're gonna get to know and where they're gonna get to go." Colton admitted that was terrifying for him to hear. "If I get down on one knee and say I love somebody and it wasn't reciprocated, for me, that would be probably the worst moment in my life. That's my greatest fear," he told Tayshia.
Tayshia still stands by what she said at the time regarding Cassie's intentions
Cassie and Colton are totally in love now, but it seems Tayshia wasn't necessarily wrong about Cassie not being ready for marriage. We know now that Cassie broke up with Colton before the season ended, as she knew she wouldn't be ready for marriage. And while Colton and her settled everything and are now taking their relationship slow, Tayshia still notes that she stands by everything she said on The Bachelor.
As Tayshia told Entertainment Tonight during an interview, "I do still stand by what I said. I mean, ultimately, Cassie wasn't ready for an engagement at the end, and that's what I said. I didn't make up anything." Tayshia did note that the entire ordeal was overblown by the media, however, but it was still a big deal to her that Colton knew the truth. Regardless, she hopes Colton and Cassie are happy together now. "She did what was right for her and they're doing well now, so I hope that they get engaged [in the future]," she said.
Will we see Tayshia on Bachelor in Paradise?
Tayshia's fun-loving attitude and loyalty to Colton made her a favorite amongst fans — so will we see her looking for love again in the future? We're not totally sure yet, but we can't forget what she told Colton during the After the Final Rose special. Elite Daily reminds us she said, "You've taught me a lot, and you've really made me want to look forward to a really exciting relationship. Because I know that's in store for me, and I can't wait for that to happen." Perhaps this means she's open to looking for a new relationship in paradise, too.
We also know that while Tayshia loved Colton, she wasn't too shocked that he sent her packing. She told Entertainment Tonight, "I just felt something was off [in our fantasy suite]." She also mentioned that in the end, she's happy with how it went down" since Colton found happiness. No matter where we see Tayshia in the future, we're hoping she'll find the man of her dreams, too.
Check out The Cheat Sheet on Facebook!