'The Bachelorette': Does Tyler C. Want To Get Back Together With Hannah B.?
Last night's Bachelorette finale was certainly dramatic, just as Chris Harrison promised. Hannah Brown gave her final rose to controversial contestant Jed Wyatt just before she learned he came on the show with a girlfriend. We also learned that Brown had additional issues with how Wyatt had been acting since the show ended. She mentioned that he went home and told his friends that he had "won," not that he had gotten engaged. She mentioned getting texts from a couple of women about being in Wyatt's apartment and getting pushed into the pool (yikes!). 

Wyatt Came out and apologized but Brown made it clear that their relationship was over. She didn't want to enter a relationship with so little trust.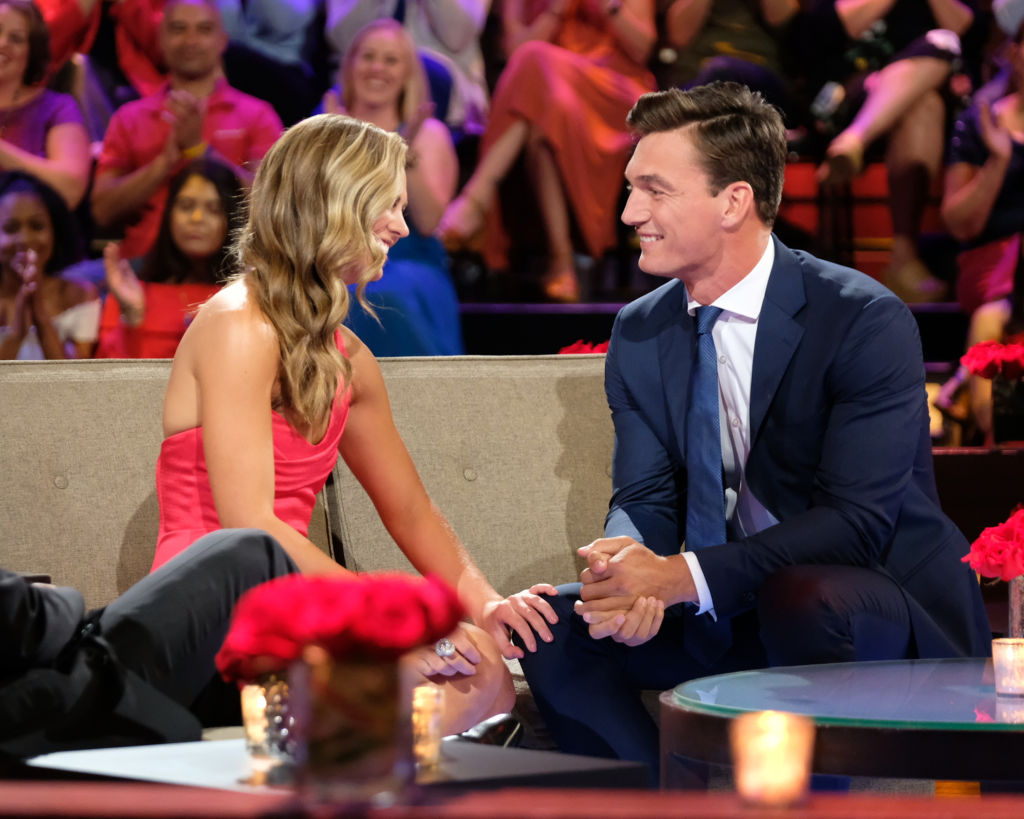 Then Tyler Cameron came out, America's sweetheart. Cameron was beaming when he saw Brown and Brown was giddy to be next to Cameron. By the end of his hot seat interview with Harrison, Brown had asked Cameron out for a drink.

Does Tyler C. want to give his relationship with Hannah B. another shot after she dumped him?

When Brown asked Cameron out for a drink he said he'd love to. After such big, dramatic breakup it's no surprise Brown and Cameron aren't rushing into a serious relationship. But is Cameron interested after getting his heart broken? It definitely appears that way.

All season Cameron has been supporting Brown from afar. He's stood up for her on Twitter when people slut-shamed her and cheered her on as she "handle[d] business."

This morning, he posted a photo to Instagram of him and Brown along with a caption that said he's "looking forward to that drink."

"Dear HB,
What a ride… I'll make this short and sweet. This journey with you is something that I will always cherish. I am so grateful for all the experiences that we shared together. You taught me so much about myself and pushed me to be a better man. I learned so much from you and so did the rest of Bachelor Nation. You were what we all needed as a lead. You showed strength and grace in the most beautiful way. You kept it real and gave us all of you. As one chapter closes, another one begins. The world is yours girl! Excited to see what you do with it. Looking forward to that drink," he wrote. 
Cameron was very clearly in love with Brown during his time on the show. His proposal said it all:

"From the moment I met you, you captivated my soul. I always knew the man I wanted to be, and I knew I'd get there one day, but I didn't know how. Then I met you, and I realized the man I was meant to be–it took you to push me to get there. I have grown so much emotionally and spiritually and am so madly in love. I know our love was slow to start, but it's a light that will burn forever."

He said it himself: his love is "a light that will burn forever."

It's safe to say he's at least excited to give his relationship with Brown another shot. 

Read more: 'The Bachelorette': Hannah Initially Thought Tyler C. 'Was a F*** boy,' Now 'Cannot Let This Guy Go'