'The Bachelorette': Fans Are Finally Chilling Out With The Negative Comments On Jed Wyatt's Instagram
Jed Wyatt wasn't the most popular figure in Bachelor Nation after Hannah Brown's Bachelorette season finale aired.
Shortly after getting engaged, Brown learned that Wyatt had come on the show with a girlfriend waiting for him back home.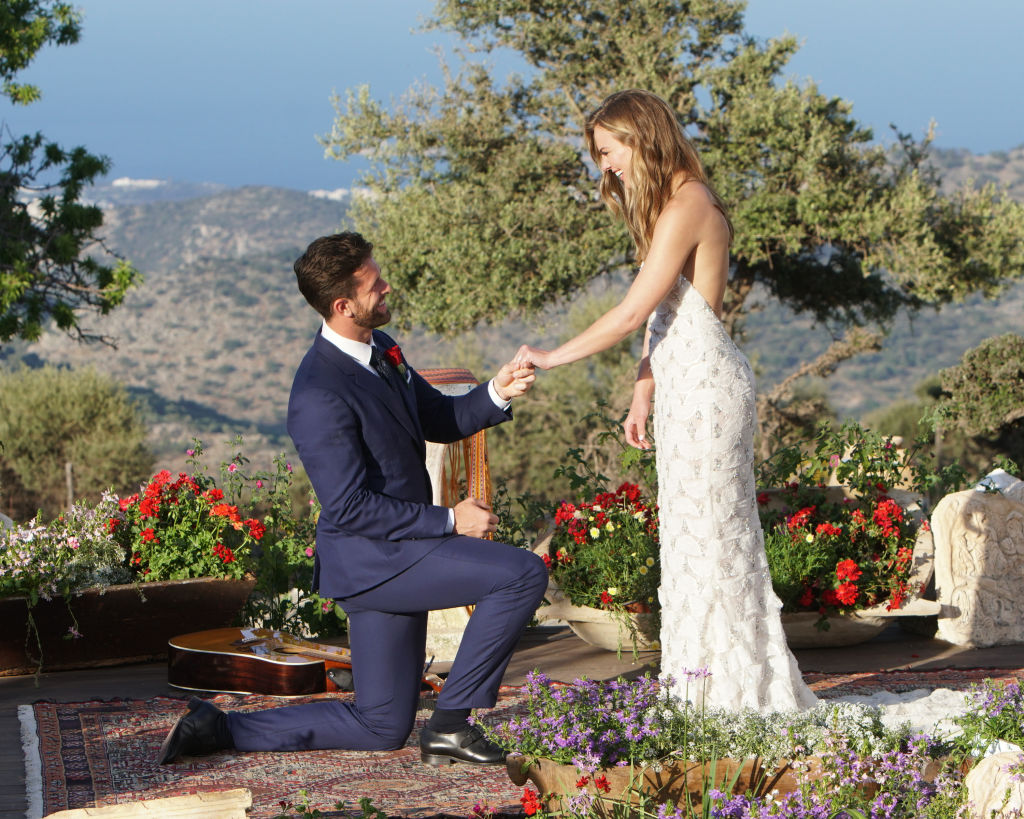 "The second night after we got engaged, Jed tells me that he had been hanging out with this girl before he left to come on the show. I was like 'When was this?' And I remember him saying 'a week before the show.' And I was like 'Ok, so you broke it off.' He said 'yes.' He told me it was nothing. It was hard to hear but I tried to let that go," she explained.
Brown continued: "Then a few weeks later, I get news that there was a People Magazine article that was out and I start reading it and it was not the same story that I was told. The article said that he didn't really end the relationship before he came here. The extent of that and what was withheld from me after I've already said 'yes' is not ok."
On "After The Final Rose," Brown announced that she had ended her engagement to Wyatt.
To a solemn audience, Wyatt apologized.
"From the bottom of my heart, I want you to know that I'm sorry […] By lacking details to you, the things that you deserve, and the things that you want, it kind of–not kind of–it ruined what we found here in a place that I never would have expected to find love like this with someone that I wanted to spend the rest of my life with. And I know that you felt the same and I'm sorry that I took away that experience from you. I'm sorry that this has hurt your family, your friends, Bachelor Nation, everyone, my family, I'm sorry. I'm responsible for this. I will own up to it all day," he said.
The negative comments that plagued Jed Wyatt's Instagram
For weeks afterward, Wyatt's Instagram was filled with comments that called out the reality star's behavior.
"your selfish act caused Hanna to lose her chance at finding real love. You played her bigtime and you & your family treated her terribly. You all should be ashamed to using Hanna like that. The poor girl was broken hearted by your lies," wrote one Bachelorette fan.
"Maybe u should of thought of all of that before u went on the show and acted as if all was good yet manipulated the entire lives of other people…I guess sometimes there's consequences to pay for manipulation.." commented another in response to the post Wyatt made about fans "verbally attack[ing]" his family.
As a result, Wyatt took a brief hiatus from the social platform. He ceased posting for a few weeks but, as of August 6, Wyatt's returned to the Gram, and the comments he's received have been a lot less critical.
'Bachelorette' fans are starting to leave Jed Wyatt alone on social media
On Wyatt's most recent post wishing his father a happy birthday, he received mostly well-wishes.
"This Patrick Dempsey look your workin' is great! Love the hair! And, Happy Birthday to your Dad!" wrote one fan.
"This is so sweet!" posted another.
It seems Bachelor Nation has, mostly, moved on. There's plenty of other content to focus on, after all. Bachelor In Paradise is as dramatic as ever, Brown is about to make her Dancing With The Stars debut, and Bachelorette runner-up Tyler Cameron is full-blown dating supermodel Gigi Hadid. There's just not enough time in the day to criticize Wyatt on Instagram anymore.
Read more: Former 'Bachelor' Colton Underwood has a Secret Show in the Works