'The Bachelorette': Hannah B. Says Her First 'Indescribable Connection' Was With Luke P.
Hannah Brown and contestant Luke P. had an immediate connection on The Bachelorette. Hannah B. awarded Luke P. the first impression rose after he was the first man to steal her away after she gave the welcome toast, and he was the only person to comfort her after she found out that one of her contestants, Scott, had come on the show with a girlfriend.

In the first couple of episodes, she's seemed to appreciate his bold behavior–something she's been encouraging all her contestants to exhibit. Luke P.'s boldest act to date was proclaiming his love for her so early on in the process.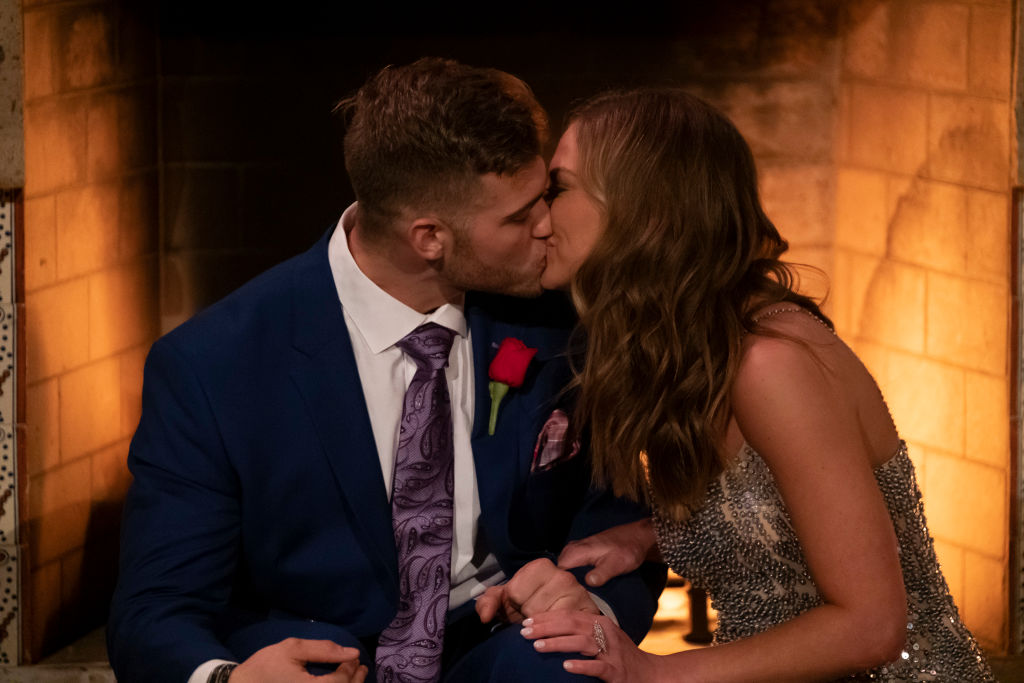 "He was the first person I had a connection with. Like, real, indescribable connection with I would say. So if anybody was gonna say it I would more so believe Luke out of anybody. But even when he started talking I was like 'Oh God, he's saying it. Are you really saying it? Yup, he said it.' So part of me was giddy because this guy that I'm starting to like more than likes me, but likes me at least. So there was excitement in that but at the end of the night I started questioning it a little bit, too. Also, I'm there for people to start developing feelings for me at this quick pace and so there was a part of me that was a little hopeful," she told ET in a recent interview, explaining what was going through her head the night Luke P. announced his love for her.

Hannah Brown doesn't deny her intense chemistry with Luke P.

Before this night, Hannah B. says she and Luke P. shared 'undeniable chemistry.'

"Even just kissing him there's this chemistry that is just undeniable. Yeah, there is definitely a physical attraction there that accelerated way faster and off the charts compared to a lot of my other relationships. And that massage was one of those moments," she said of the episode where Luke P.'s shirt came off and he gave her a massage.

Hannah B. says that, at this point in the show, her and Luke P.'s "emotional and physical connection is like far beyond the other men."

Why Hannah Brown told Luke P. to slow down

Because their attraction was so fiery off the bat, Hannah B. said she had to keep herself from only focusing on Luke P.

"I mean I'm not gonna pretend like it's not obvious from that last episode. I'm like 'ahh' about Luke P.," she said, making a face that indicates how hypnotized she is by her first impression rose winner. "So I really was struggling last episode with 'OK, like, it's not just Luke P.' But him being like 'I'm starting to fall in love with you' was like 'Yay!' but also like 'Alright, that's a lot at one time. Let me not go all-in right now because if I do that then what am I gonna do the rest of the time?' So I really did kind of have to pump the breaks for myself with him because I am one who would just zero in on somebody. And if we're looking right now, Luke P. was really easy for me to zero in on."

We know from the following episode that Hannah B. asks Luke P. to pump the breaks. She asks for some space so she can experience other contestants and, you know, be The Bachelorette. We'll have to see if Luke P. can keep his cool and feel safe in the chemistry the two have already established or if he blows up from insecurity. If the preview's any indication, being patient doesn't seem to be Luke P.'s game.

Read more:'The Bachelorette': Does Hannah B. Like Luke P. Because She 'Can Relate' To The Season Villain?