'The Bachelorette': Did Hannah Brown Give Her First Impression Rose to The Season Villain?
Hannah Brown's season of The Bachelorette kicked off last night and it went a lot smoother than a lot of fans were anticipating. She spoke clearly, she didn't appear too visibly nervous, and she held her own when she found out that one of her contestants came on the show with a girlfriend. The preview shown at the end of the episode showed her giving her men a few stern talking to's and continuing to stay true to herself. Hannah B. may just have an entertaining, cringe-less season after all.

Dealing with the man who had a girlfriend, Scott Anderson, took some time away from Hannah B.'s getting to know all of her contestants. At the end of the evening (or should we say, in the early morning), several contestants told the camera that they never got a chance to speak with Hannah B., and many of them were ready to blame it on Scott.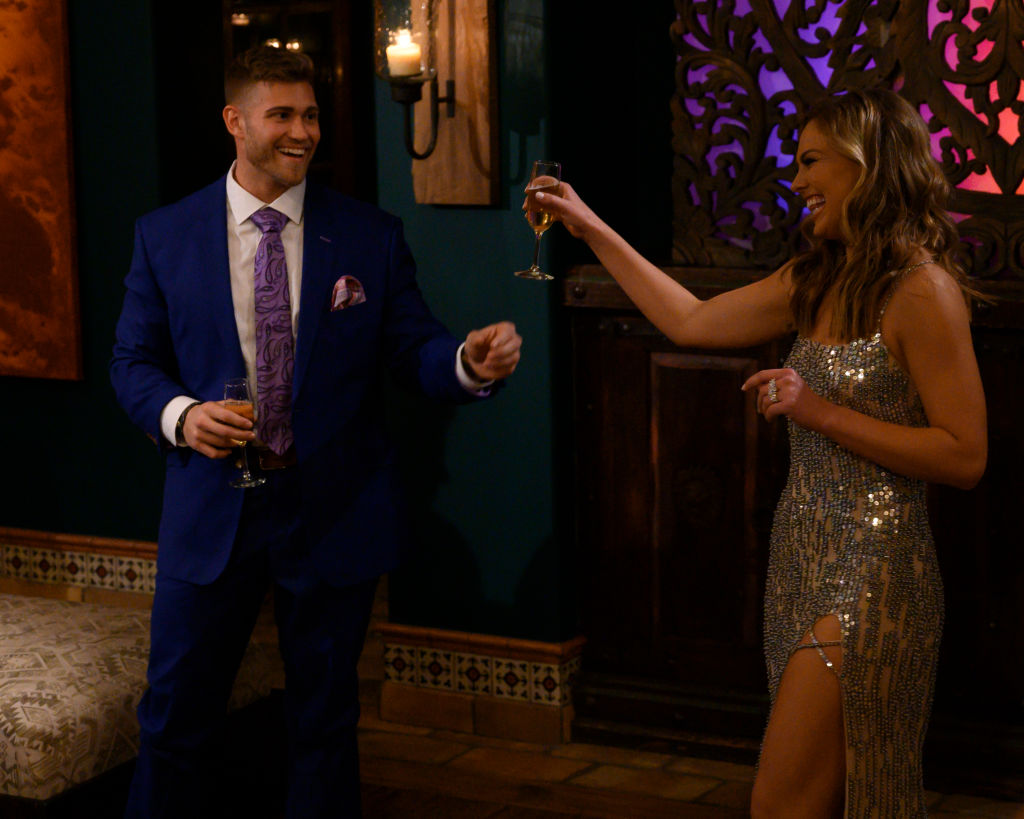 Though she handled the situation well (and all by herself–no help from Demi Burnett, Katie Morton, or Chris Harrison needed), Hannah B. was still a little shaken after sending Scott home. She told Chris Harrison, off the bat, that one of her biggest fears in being The Bachelorette was finding out contestants weren't being honest with her. Honesty and "realness" are big for Hannah Brown.

She took some time to walk around outside and breathe. After some time alone, contestant Luke Parker came to the rescue to comfort her. He sort of made it about himself, but essentially told her it made him upset to see her upset and that he's definitely there for her. She seemed to like that.

But in the previews shown at the end of the episode, we saw Luke P. acting like a loose cannon. Hannah Godwin, who was also on Colton Underwood's season of The Bachelor with Hannah B., says she's not so sure about this could-be villain who Hannah gave her first impression rose to.
"He obviously has a lot of different sides, so hopefully she sees all of them," she told ET. "I think she was kind of vibing with Luke. I could tell they were vibing a little bit."
She noted that his "beast" entrance is probably what won Hannah B. over.
Luke P.'s introductory video
Luke P. didn't do himself any favors in his hometown introductory video. A former Casanova who found Christ after his years of womanizing left him feeling hollow? Hard pass. But wait! He has a cute niece (was anyone else worried about how poorly she was propped up?)! So he's undoubtedly "ready to get married."
People can change, but let's hope Luke P. really left all of his womanizing back in college, for the sake of Hannah B.'s heart.
Luke P. showed initiative
Though the preview hinted that Luke P. may very well end up as this season's villain, he showed a lot of initiative on night one. He growled when he got out of (hopped on top of) the limo, he was the first to pull her aside once she completed her toast, he was the first person to comfort her after the Scott drama, and he was very clear about his intentions. Whether he's the villain or not, Hannah B. obviously likes a man who knows and gets what he wants. So take notes, boys.   
Check out The Cheat Sheet on Facebook!