'The Bachelorette': Hannah Brown Says It Was Hard To Watch Jed Wyatt's Hometown Back
Hannah Brown's hometown date with Jed Wyatt's family didn't go as smoothly as she hoped. Where she was warmly welcomed and met with excitement during her family gatherings with the Webers, Camerons, and Parkers, the Wyatts appeared to be a little more skeptical of Brown.
Brown had two tough conversations with Jed's mom, Gina, and his sister, Lily.
Gina told Brown that she knows Jed is "just another guy" to her. When Brown assured her that "he's not," and that she told Jed that she was falling in love with him, Gina protested: "Do you say that to all of them?"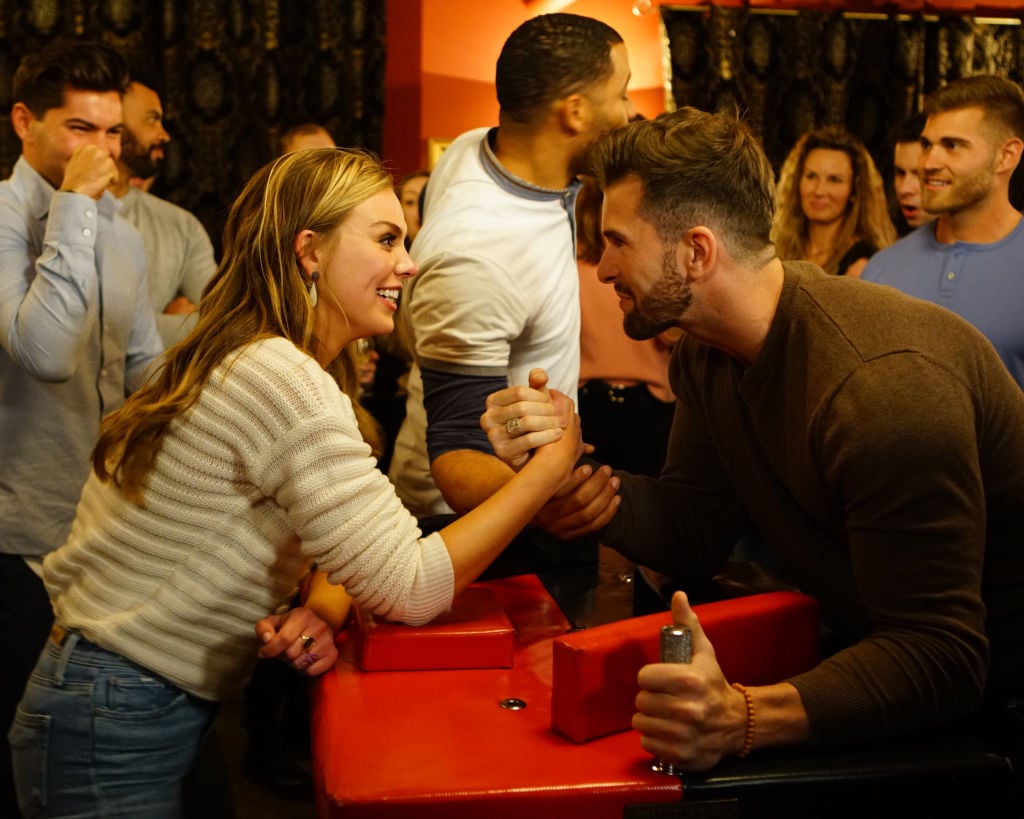 And when Brown asked Gina if she thought Jed is ready to get engaged she replied:
"I wouldn't have felt that way before just because he's a musician. You don't get a diploma to be a musician. So Jed's had to have jobs and try to create time and space to do his music. It's his heart and it's his soul so–he couldn't go to work full-time and do music. So his path is different, it's very different."
Brown's conversation with Lily wasn't any less awkward.
"I'm very protective over Jed and making music makes him so happy and honestly, like, him potentially falling in love with you, I'm like, I'm not sure that it's a good thing," she told Brown.
Lily has come out saying the scene of her and Brown was edited to make her "look so mean," but there's no denying the snippets that were shown were definitely tense.
Hannah Brown says Jed's family doesn't understand 'The Bachelorette'
During a recent interview with ET that took place during the filming of the Men Tell All episode, Brown spoke about how "hard" it was to wach Jed's hometown date back.
"I mean, it's always hard to watch back, but ultimately every family is going to be protective and have questions about this whole experience," she said. "I think Jed's family definitely had questions about the experience and didn't understand it. So that was, of course, hard."
Does Hannah Brown end up with a 'lying sack of poo?'
When Brown's season of The Bachelorette first began airing she did another interview with ET where she said she doesn't want to end up with a "lying sack of poo." Many fans are worried Brown will end up with Jed since, during filming, she was unaware of his ex-girlfriend drama.

At the Men Tell All taping, ET asked Brown if she did, indeed, end up with a liar. 
"Well, we don't know who I end up with yet," she said. "We will have to continue to watch."
When asked the same question, host Chris Harrison also took the opportunity to tease the rest of the season.
"I really don't know [if she ends up with a liar]. I don't know. That remains to be seen," host Chris Harrison teased. "We will find out and that's part of the beauty of the live finale is I don't know what's going to happen. With Peter, with Tyler, with Jed, with all of them. I think there's a lot of questions to be answered."
Read more: Hannah Brown Says Her 'Heart Gets Broken A Lot' Thanks To Her Season Of 'The Bachelorette'