'The Bachelorette': Hannah G. Is Wary of Hannah B.'s First Impression Rose Winner, Luke P.
Hannah Godwin, along with a handful of other former contestants from Colton Underwood's season of The Bachelor, watched Hannah Brown's first night as The Bachelorette from a Los Angeles hotel.
Unlike many Bach fans, Hannah G. and the rest of the women watching from Colton's season knew Hannah B. had it in her to express herself clearly (something she's, historically, had trouble with).
"It seemed like when I was watching last night, that she was putting her feelings into words… she was speaking from the heart," Hannah G. told ET. "I was tearing up. I was so proud of her, and I feel like this is really going to work for her."
Hannah G. went on to talk about how she definitely noticed that Hannah B. was interested in Connor S. (their makeout scene gave it away).
She also mentioned contestant Jed's guitar skills.
"[And] Jed, his music, that was really good," she shared.
How Hannah G. feels about the first impression rose winner, Luke P.
One contestant that she's not too sure about, though, is Luke P. Luke P. was awarded Hannah B.'s first impression rose. He entered the mansion by letting out a big Hannah Beast-style growl after exiting the limo. He was the first man to pull her aside, and the only person to comfort her (that we saw) after she found out that one of the contestants, Scott Anderson, came on the show with a girlfriend. He told her that he wanted her to know that he was definitely there for her, and she seemed to appreciate it.
Hannah B. doesn't know a ton about Luke P., but she knows he takes initiative and wanted to reward that kind of behavior.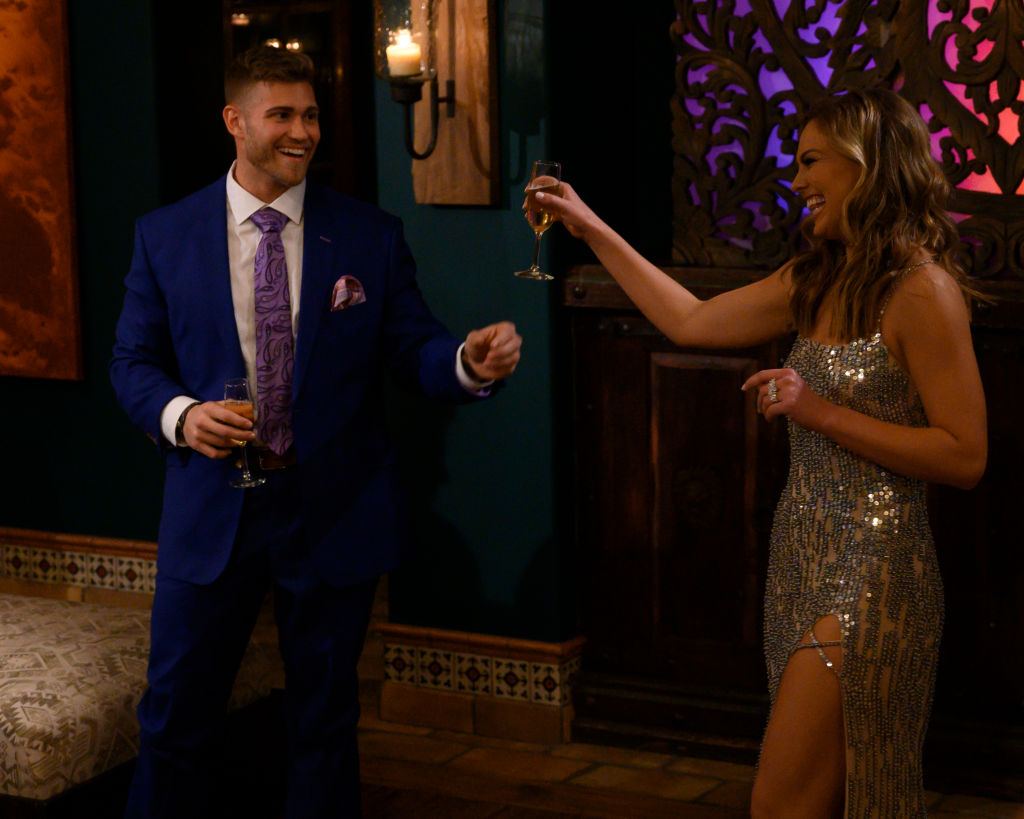 What Hannah B. didn't see, at the time, was the preview leading into the coming weeks that showed Luke P. screaming at other contestants. Chris Harrison has said that this season gets violent. After the preview we were shown, it wouldn't be shocking to learn that Luke P. is at the heart of the violence. He certainly has a temper.
Hannah G. told ET that she hopes that Hannah B. can really get to know who he is.
"He obviously has a lot of different sides, so hopefully she sees all of them," she said, mentioning the preview of Luke P. yelling in a man's face.
But, for now, she definitely sees that Hannah B. has a crush.
"I think she was kind of vibing with Luke. I could tell they were vibing a little bit," she said. "There's obviously a fling there."
Hannah G. didn't blatantly mention any of the men she felt Hannah B. definitely wasn't into (except for Scott, obviously), but said her friend has a tell when she's not feeling it with a guy.
"She totally wears all her emotions on her sleeve and on her face… but she has the classic 'Hannah might be awkward' smile… [when] she shows all of her teeth, she's not into it," she said.
Read more: 'The Bachelorette': Was Scott, The Contestant With a Girlfriend, Planted by Producers?
Check out The Cheat Sheet on Facebook!