'The Bachelorette': How Hannah Brown Found Out About Jed Wyatt's Ex-Girlfriend
It's been a dramatic season for Hannah Brown. After finally getting rid of toxic contestant Luke Parker, she thought she was more or less in the clear. But after giving her final rose and getting engaged to Jed Wyatt, Brown found out that the Nashville musician came on the show with a girlfriend.

Last night's finale showed how all of the Wyatt ex-girlfriend drama unfolded.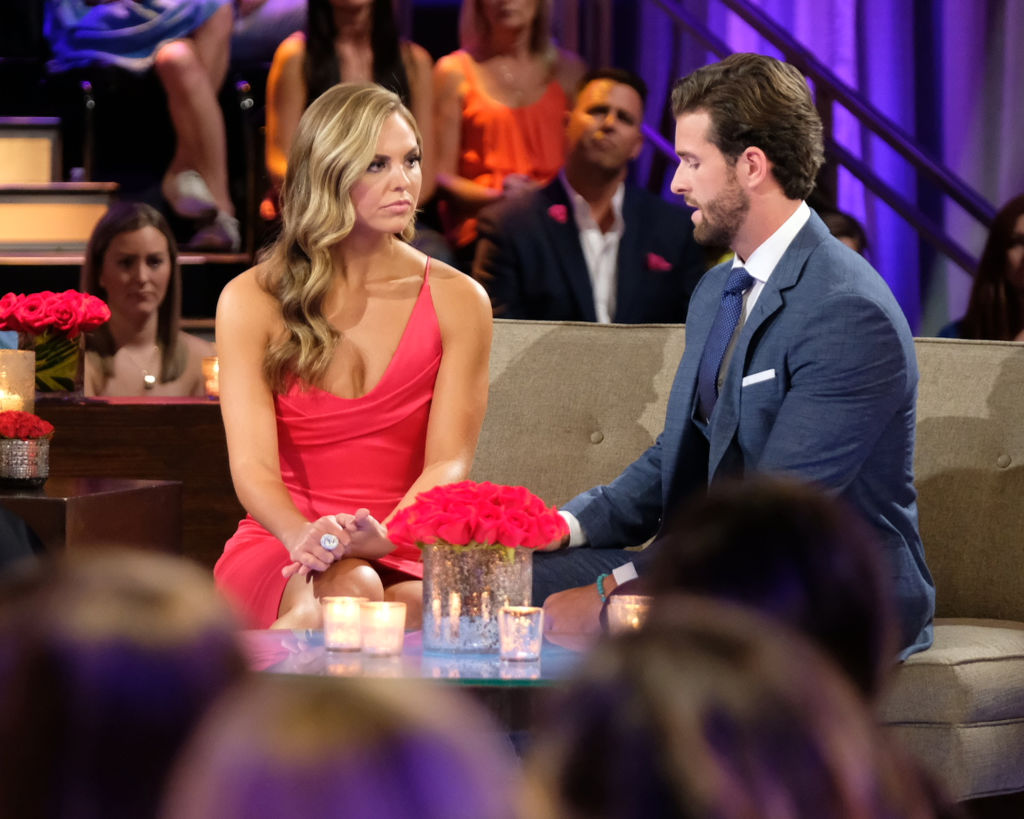 After a happy engagement scene in Greece and a slideshow of photos and videos detailing Brown and Wyatt's post-engagement life, we see Brown in Los Angeles waiting in a house to talk to Wyatt about the ex-girlfriend rumors.

How Hannah Brown learned that Jed Wyatt had a girlfriend when he came on 'The Bachelorette'

"The second night after we got engaged, Jed tells me that he had been hanging out with this girl before he left to come on the show. I was like 'When was this?' And I remember him saying 'a week before the show.' And I was like 'Ok, so you broke it off.' He said 'yes.' He told me it was nothing. It was hard to hear but I tried to let that go. Then a few weeks later, I get news that there was a People Magazine article that was out and I start reading it and it was not the same story that I was told. The article said that he didn't really end the relationship before he came here. The extent of that and what was withheld from me after I've already said 'yes' is not ok. Jed has muddied the waters of our future together and it's not what I thought I said 'yes' to," she told the camera.

A dark vehicle drops Wyatt off at the house and Wyatt begins to tell his side of the story. It comes off… suspicious, to say the least.

"There's two very different views on what actually happened. So I guess I'll start with that so you can have the full thing," he began.

"When I met her I was very single. I was going out with my friends, and just being young and having fun and I didn't feel like it was an exclusive thing. I was dating around. It never felt like a relationship to me," he told Brown before telling her that he went on trips with this woman, both to Gatlinburg and the Bahamas, and that this woman he wasn't in a relationship with threw him a surprise party for his birthday and had met his parents. 

Jed Wyatt ended his relationship without telling his ex-girlfriend
"I leave and after I landed in LA and started this whole thing, that was like a goodbye for me, which is not a proper goodbye. It's not the right way to do it. It's not close to the right way to do it. It wasn't a verbal goodbye. To me, I ended it in my heart, not verbally," he explained to Brown.
To summarize: Wyatt ended his non-relationship in his head but not aloud to the other party of the non-relationship. 

Brown eventually called off her engagement because she didn't want to jump into a marriage that was built on dishonesty. Based on the "After The Final Rose" audience's reaction, it's safe to say she's fully supported in her decision. 

Read more: 'The Bachelorette': Tyler C. Writes A Sweet Letter To Hannah B. On Instagram About "That Drink"